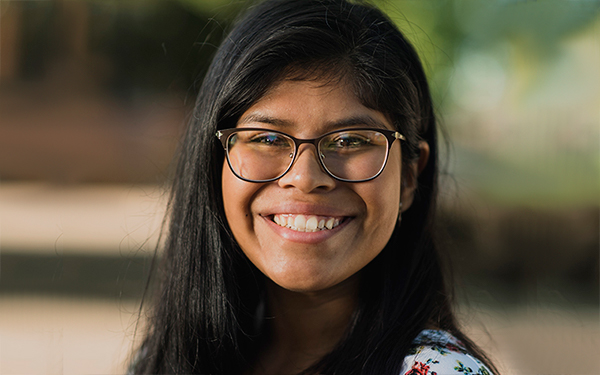 Envision your impact.
You could help students like Wendy Calva Luna '22, a current student in the SEED Institute for Sustainability. Wendy hopes to make a difference in the world by studying the intersection of health care and environmental issues through SEED's intensive program that connects current students with thought leaders in sustainability. A gift to the SEED institute would provide a stipend to students like Wendy so they can pursue their passions at Regis and make a difference in our communities.
Regis Gives Day Causes
Whether you choose to make your gift to scholarships, community initiatives, the University as a whole, or one of our 30 other causes, your generosity has a profound and lasting impact. So, find your cause, make a gift and help our students transform the world.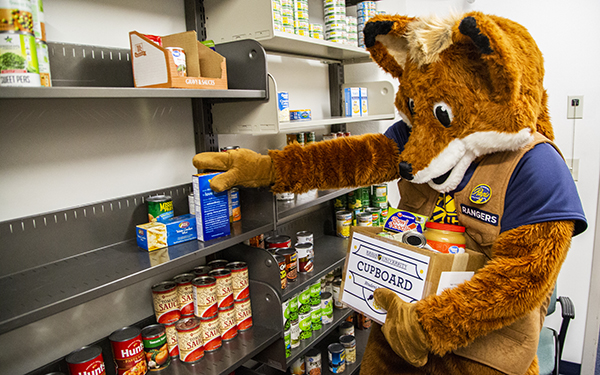 Envision your impact.
Your gift could impact students like Claire Segura '24 who has utilized the Regis Cupboard, an on-campus food pantry and one of the many philanthropic causes featured on Regis Gives Day. Claire had this to say about the impact of the Cupboard on her life:
"Me and my mom live paycheck to paycheck and sometimes we aren't able to afford all the food we need. Being able to receive food for free from the Cupboard is amazing. I would love to be able to use the Cupboard for the rest of the time I'm at Regis."
Frequently Asked Questions
What is Regis Gives Day?
Regis Gives Day is a 24-hour challenge to inspire our community members to make gifts of any size to the Regis causes they care about. Over 30 causes have been identified as priority funding areas for the University. Every gift makes a difference.
How do I make a gift?
Regis Gives Day will officially launch on April 14, 2021. On that day, return to this page, which will be directed to our live donation platform where you can make your gift.
Can I make a gift from outside the US?
Yes! Many International Regis alumni, parents and friends have participated. If you encounter any issues with your payment, please contact annualsupport@regis.edu.
How can my gift make a difference?
Gifts of all sizes make a difference by providing funds that can be spent right away on the most pressing needs of the cause you supported. Gifts of small dollar amounts can add up to make a large impact. Last year, gifts under $250 added up to over $200,000.
Is there a minimum donation amount?
The minimum donation amount is $2.
Can I give via a check, wire transfer, or other payment method?
Yes! Please contact us at annualsupport@regis.edu and we will help you arrange your gift.
Why can't I find a particular cause?
On Regis Gives Day, we focus on the highest priority funds of schools, colleges and programs across campus, so there is only a subset of funds available on the Gives Day site. If none of our priority projects inspire you, please select Other and write in the cause you want to support.
When Regis Gives Day goes live on April 14, you will be able to view detailed project descriptions for each fund that outlines what your gift will support. We will also group projects into categories to assist you in gifting to the area or cause that is most meaningful to you. If you really can't decide, we recommend supporting the Regis University Excellence Fund, which is flexible dollars used for the greatest funding needs at the University.