Experiential Learning Programs
Go beyond theory with experiential learning opportunities that test your knowledge in real-world settings. Immerse yourself in projects that draw upon your prior work experience and build the kind of skills employers are looking for. 
Our graduate programs put your skills into practice. Most graduate programs at Regis University feature opportunities to collaborate with peers, faculty, and corporate partners in settings outside the classroom. Explore some of our experiential learning opportunities and see how you can t
ake on real-world challenges to apply your thinking to impact your community and the world around you.
Health Care Professions
Doctor of Pharmacy
In our Doctor of Pharmacy program, you will apply real-world learning in every year of the program. In the first three years, you'll interact one day a week with patients, caregivers and other health professionals in your Introductory Pharmacy Practice Experiences. Service learning projects are incorporated into your courses, giving you first-hand views of the environments and issues that your future patients will face. The fourth year of the curriculum is entirely experiential, with seven, six-week experiences in pharmacies, hospitals, clinics and other settings.
---
Counseling and Family Therapy
Our master's degree programs in Counseling and Marriage and Family Therapy each give you the opportunity to engage in experiential learning, beginning in your first class. You'll participate in 10 hours of service learning during our Cultural Issues and Social Justice class, where you'll have the opportunity to engage in community events or community agencies with clients and service providers. After completing basic courses and advanced skills classes, our students begin their clinical component, where you'll provide services to community clients under live supervision from faculty.
---
Biomedical Sciences
You will engage in experiential learning in all of your Biomedical Sciences courses. Courses are closely coordinated and include cross-course Team-Based Learning, where you'll apply course material working together as a team, rather than simply acquiring it. You'll also complete a 100-hour academic externship, engaged in a real-world biomedical or clinical research environment in the Denver area, adding valuable experience and providing services to biomedical clinicals and researchers in our community.
---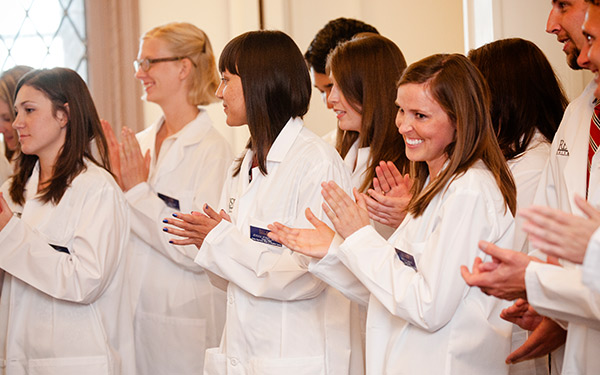 Student Story: Changing Gears
See how our M.S. in Biomedical Sciences program is giving students real health care experience through clinical externships in Denver.
Business and Education
Nonprofit Management
The Service Oriented Field Experience (SOFE) is a unique, blended, experiential learning capstone class within the Master of Nonprofit Management program. SOFE blends aspects of social justice and nonprofit leadership, helping you experience the reality of being a nonprofit/nongovernmental organization (NP/GO) leader. This eight-week class gives you an opportunity to travel and learn from your global counterparts, and past students have visited countries such as Belize, Guatemala, Mexico, Ireland, Peru, South Africa, Tanzania, Rwanda and Uganda, as well as various places in the U.S.
---
Health Services Administration
Our graduate Health Services Administration program features an experiential, applied capstone project. Projects differ each year, but you'll typically be asked to complete a feasibility study for a nonprofit health care organization in Colorado. You'll help evaluate new business endeavors, including components like the market, information technology, human resources, financials, their mission and more. Our partner organizations have often implemented ideas into their businesses upon completion of the project.
---
Graduate Education Licensure
Our Graduate Licensure Education programs offer experiential learning activities that apply educational theories to real-life experiences. Service learning projects in the community help you gain first-hand knowledge about the services, after-school activities, and support that your students need outside the walls of the classroom. Develop the knowledge you need to work with parents, caretakers and educational professionals on support systems and services your students will rely on daily. These experiential and service-based opportunities provide the skills you'll need to become educational leaders.
---
Science and Craft Brewing
Environmental Biology
Our Environmental Biology program uses cutting-edge techniques (i.e. GIS, use of R) via real-world environmental fieldwork in the Rocky Mountains and in the California desert. You'll be asked to engage in the world in a way that will help you achieve personal goals and augment environmental monitoring efforts in your community via a research project with a faculty member or a 100-hour academic externship, which may lead to publication and assisting nonprofit environmental groups.
---
Genetics and Genomics
Our graduate certificate in Genetics and Genomics offers dedicated class time for researching primary data and generating research projects of your choice. All written work has a required biomedical ethics section and you'll be asked to integrate your primary research topic into this ethical framework. Further, current biomedical topics in the media are addressed and discussed with an eye toward the ethical responsibilities of researchers and medical professionals when reporting findings.
---
Applied Craft Brewing
In the Business of Brewing and Brewing Practicum courses within the Applied Craft Brewing program, you'll work directly with breweries and community organizations dedicated to craft brewing and will become involved in a growing industry that's vital to our local community. The culmination of the certificate is a 160-hour internship experience that you'll undertake at a local brewery. You'll work with local brewers and their employees, applying the knowledge you've gained through your courses.
---