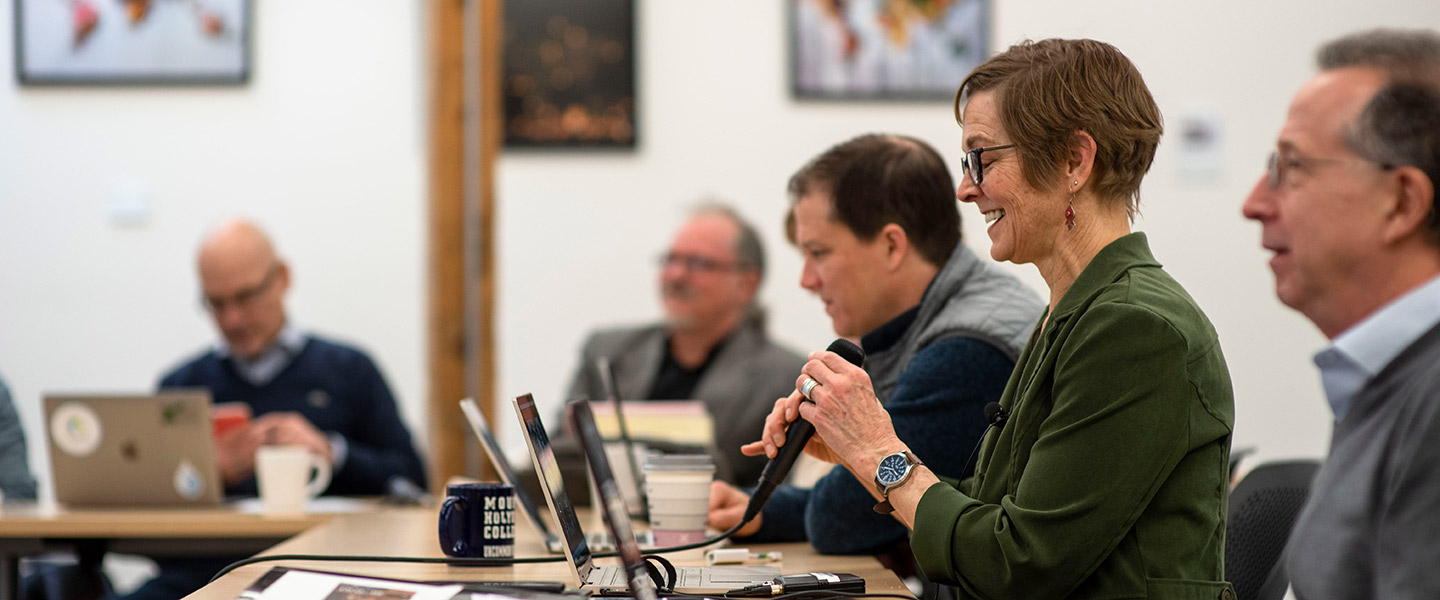 Osher Lifelong Learning Institute
The Osher Lifelong Learning Institute (OLLI) at Regis University is an adult learning membership program that offers inquiring adults, age 50 and "better," the opportunity to pursue lifelong learning in a relaxed non-competitive atmosphere. Thanks to the generosity of The Bernard Osher Foundation, Regis OLLI joins a network of more than 120 institutes across the U.S. that are helping older learners find personal fulfillment.
Questions?
Need more information? Interested in teaching? We have answers to your questions. Contact Marie Friedemann, Regis Site Manager.
2022 Summer Short Topics Series
All classes in this series will be conducted live online every Tuesday at 10 a.m. to 11:30 a.m. from May 31 through Aug. 9. Registration for each webinar is $10.00 or $70.00 for the series of 10.
May 31: Colorado's Election Model: Dr. Todd Choate, Colorado State Election Director
June 7: Top Five Herbal Products: Complementary or Confusion: Dr. Monika Nuffer
June 14: Introduction to Cryptocurrency: Matt Millen, Denver Crypto Group.
June 21: Corruption and Racketeering: An Examination of FBI Sting Operations: Dr.Vincent Wincelowicz, Professor Emeritus, Regis University and former undercover FBI agent
June 28: Colorado Wildfire Resistance: Urgency and Paths to Action: Marguerite Harden, Local Resiliency Manager, Colorado Resiliency Office and Alec Rodriquez, Resilience Youth Network
July 12: Cannabis: Is it Real Medicine or Just Recreation: Dr. Laura Borgelt, Associate Vice Chancellor, University of Colorado, Anschutz Medical Campus
July 19: Making the Pitch: Developing and Writing The Fireballer: Mark Stevens, Author
July 26: Purposeful Travel: Seize the Moment for Post-Pandemic Travels: Bruce Caughey, coauthor, The Colorado Guide
August 2: Lost Restaurants of Denver: Kristen Autobee, author
August 9: Later Years of Vietnam War: A Navy Attack Pilot's Experiences: Don Stanton, Naval Aviator, Jim Higgins, Vietnam Veteran and Deputy Assistant Secretary of Defense
About OLLI
OLLI Membership
To join the Osher Lifelong Learning Institute at Regis University and start connecting with like-minded peers who seek enriching educational opportunities, simply register for classes. Become a member of this lifelong learning organization, today.
Membership Benefits:
Take classes at any or all of the OLLI locations
Participation in as many classes, workshops and seminars as desired (space permitting)
Reduced price participation in OLLI sponsored events
Receipt of the OLLI newsletter three times per year
Notice of non-advertised DU events (usually at no cost)
Invitations to social events
OLLI membership card that allows participation and discounts at DU and in the community
Use of the DU library at the Anderson Academic Commons

Who are OLLI members?
Our members come from diverse backgrounds and professions and share the desire to stay intellectually active and engaged. No one is a stranger for long at OLLI because everyone who joins has the same desire to learn and share expertise in the company of peers.

When are classes held?
Lifelong learning through OLLI meets for three eight-week terms during the year. The fall session begins on September 12, the winter term begins in mid-January, and the spring term begins on March 28,2022. Classes meet weekly for two hours either in the morning or afternoon for four, six, or eight-week periods.
What does OLLI offer?
Classes cover academic subjects in history, music, political science, writing, literature, philosophy, science, religion, global issues, and more. Workshops and seminars expand the OLLI academic curriculum for adults. OLLI sites around the Denver metro area offer classes where members participate in interactive learning.
How are classes taught?
Most discussion classes are facilitated by OLLI members who have the professional knowledge of, or a scholarly interest in, a subject. Some are lecture classes taught by retired faculty members, community and civic leaders, and independent scholars. Courses may be facilitated in person or offered virtually (on Zoom).