Your college experiences is about more than just what you learn in a classroom. With a host of activities and organizations, from club and intramural sports to the Regis Ramblers and a variety of academic and social clubs, there's something for everyone to get involved in at Regis.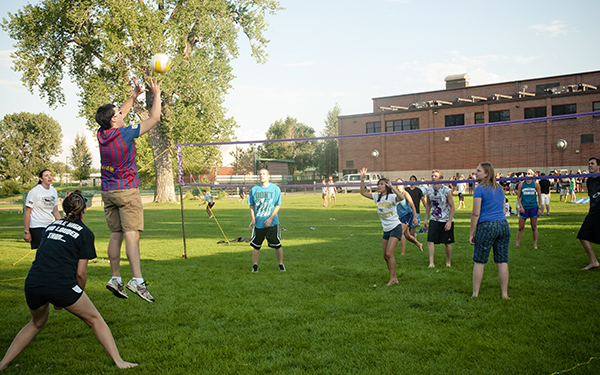 Intramural and Club Sports
Interested in joining a team? Regis has both intramural sports and club sports available for you to nurture your athletic passions. Intramural Sports are a social way for Regis students, faculty and staff to be healthy and active in a recreational experience, and Club Sports are student-run and offer an outlet for you to compete against other colleges and university's club teams.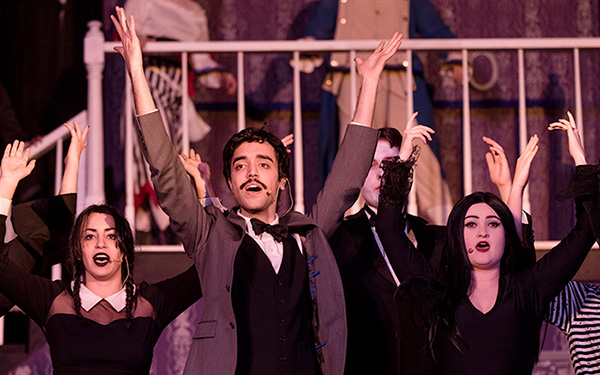 Regis Ramblers
The Ramblers is an all-inclusive musical theatre club, casting and welcoming any students who express an interest in being involved in a production. Dating back to 1996, the Regis Ramblers have produced and performed shows from The Sound of Music and My Fair Lady to Legally Blonde and The Wedding Singer.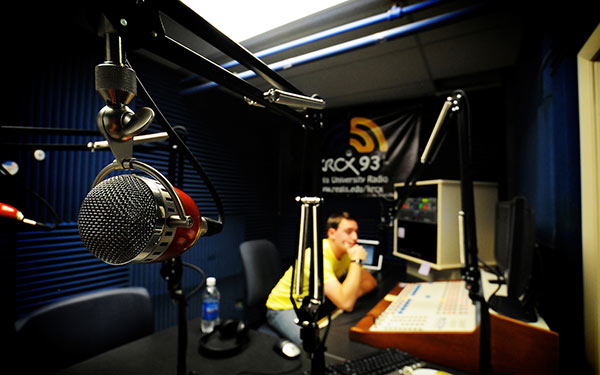 KRCX Regis Radio
Regis University is home to Denver's oldest college radio station. From its fabled origins of a dorm room shortwave broadcast, the station has evolved to the profound sound we are today.
Academic and Affinity Clubs
1LEADS
1LEADS exists to celebrate and support first generation students at Regis. First Generation students are students who are first in their family, aside from their siblings to attend a four year college. 1LEADS aims to create events and support groups to assist and celebrate the first gen experience.
Asian Student Alliance
Asian Student Alliance is a club that promotes and encourages Asian diversity. Asian Student Alliance makes an active and intentional effort to volunteer and create events for both the Regis University and Colorado community. Our events range from making and serving delicious Asian-cultured food, watching traditional lion dances, having celebrations that celebrate the culture for those within and outside of Asian communities, and engaging in outings meant to educate and entertain participants. Most importantly, Asian Student Alliance tries our best to provide our members with leadership opportunities and networking that can be applied toward their futures.
Black Student Alliance
We, as the Black Student Alliance aim to steward a culture of inclusive excellence, the pursuit of social justice, and intentional community building. We create safe spaces at Regis University through upholding the Jesuit values by caring for the whole person, and aiming to uplift the Black community. Above all we hope to create a healing and justice oriented support system for both the Black community and the great Regis community.
Feminist Student Alliance
The purpose of the Feminist Student Alliance is to educate students about the history of and current feminist movements, empower students with the message that anyone can be a feminist, and to acknowledge various intersections of students at Regis University. Our organization will stand by the belief that women's rights are human rights and human rights are human's rights. We want to create a safe space for the Regis community to come together to learn and take action around issues of gender.
Health and Exercise Science Club
The purpose of the Pre-Physical Therapy Club is to strengthen the community around health and exercise science majors, and also provide a resource for students planning to go into physical therapy. We do this by educating students about the fields a Health and Exercise Science major can get involved with, and help members of the club be more competitive when applying to PT school. For further information about club meetings and location, please email HPPTC.
In Between
In Between is a national bicultural organization that supports and unites Asian Americans who feel they do not fully align with either their Asian or American culture. This includes Asian Adoptees, Wasians, Hapas, and generational Asian Americans. For more information, please email InBetweenRegis.
Legally Jesuit 
Legally Jesuit strives to educate, inform and develop young professionals to enter the legal industry by way of introduction, preparation and mentorship.
Neuroscience and Psychology Club
The purpose of the Neuroscience and Psychology Club is to build community between students with a shared interest in neuroscience and psychology as well as help aid their future academic progress by offering opportunities for growth and vocational discernment.
Physics Collaborative Community
The purpose of the Physics Collaborative Community is to provide physics students with learning, collaborating, and networking opportunities that prepare them for future careers and graduate schools. Through collaboration with other Regis organizations, the Physics Collaborative Community (PCC) strives to embody the Regis missions and make physics relatable to the local community. The goal of the PCC is to educate community members on how to use physics as a tool to view and explore the world from a scientific and analytical perspective.
Regis University Mathematics Association
The Mathamatics Association strives to develop a community of people interested in mathematics and create a regular gathering for collaboration on challenging problems and explorations into interesting fields of mathematics.
Queer Student Alliance
The Queer Student Alliance (QSA) exists to create a place for queer students on campus to feel wholly embraced and safe. The QSA will push to create an environment that helps students learn about queerness in a constructive manner, and where young queer people can meet healthy examples of queerness. We strive to foster a queer community for queer students where they can fully express their whole identity, not just their queerness.
Student Disability Alliance
The purpose of the Student Disability Alliance is to spread awareness and advocacy for the entire spectrum of disabilities, dismantle ableist ideologies, & to create an open space for sharing experiences, stories, and ideas.
SOMOS
SOMOS exists to provide support, celebration and appreciation, and knowledge of the Latinx culture. All students of every age, race, heritage, gender, religion, etc. are welcome. SOMOS is also a club that strives to reach out to the community with Latinx events and resources. The group is also to provide comfort and unity amongst students of color who feel on the margins. The group also welcomes others who want to join in celebrating our culture and learn more about the Latinx heritage.
Social Organizations
Alpha Omega
Alpha Omega strives to provide a spiritual outlet and conversation for all people, especially non-Catholic students.
Board Game Club
The mission of Board Game Club is to create a space for both board game enthusiasts and casual players to form an inclusive community to play board games and relieve stress. To interact face to face without the distraction of technology.
Crochet Club
Crochet Club strives create a stress-free and creative community of crocheters and knitters that work towards improving crochet and knitting skills, and creating and donating projects for different non-profit service organizations.
CyComp
Regis University's CyComp is a computer and cyber security focused club designed for cyber awareness campus wide to promote safe technology use, and engage in activities that teach students valuable industry skills to prepare for high level security careers. 
Fellowship of Christian Athletes
The purpose of Fellowship of Christian Athletes is to lead every coach and athlete into a growing relationship with Jesus Christ and His church.
Film Club
The Regis Film Club strives to give students of all majors and backgrounds the opportunity to explore and express themselves through the medium of film.
Global Medical Brigades
This organization exists for the purpose to provide adequate healthcare to remote and underresourced communities in the countries of Panama, Honduras, Ghana and Greece.
Hide & Go Seek Club
The purpose of Hide & Go Seek Club is to engage the members of Regis community and beyond in an active game of hide & go seek, as well as additional games and activities, which will promote teamwork and overall health of the Regis community.
Pub Club
The Pub Club strive to foster community among the students in Walker's Pub through games, events and services that help Walkers become a place of camaraderie.
Publishing & Editing
Publishing & Editing exists to publish, print, and distribute student and alumni work and artistry to the Regis community. Each year, we publish the highest quality of academic work in Thirty-Three 33 and a diverse array of artistic work of all media in Loophole. To learn more visit Regis University Student Journals. 
Regis University Students For Life
Regis Students for Life exists to educate and work with our peers to uphold the Catholic Church's belief in the dignity of the human person and answer the question, "How ought we live?" as it pertains to issues about human life and dignity from conception to natural death. 
Ski & Snowboard Club
The goal of this club is to bring likeminded students, faculty and staff of Regis together to share their love of skiing and snowboarding, and to extend their passion to others seeking a way to break into Colorado's favorite pastime.
Society of Asian Scientists and Engineers
SASE is dedicated to the advancement of Asian heritage scientists and engineers in education and employment so that they can achieve their full career potential. In addition to professional development, SASE also encourages members to contribute to the enhancement of the communities in which they live.
Student Athlete Advisory Committee
The Regis University Student Athlete Advisory Committee (SAAC) is a group of student-athletes that seeks to unify the Regis campus, excel in community service, as well as create a better all-round college experience for not only student-athletes but the Regis community as a whole.
Sustainbility Club
Sustainability Club aims to follow the Jesuit value of living for and with others through education of conservation issues both on campus and around the world. In order to help build a campus that is more sustainable, we strive to promote earth-conscious behavior among the student body by using a creative and integral mindset to withhold the Regis tradition of compassionate activism through social outreach. In an ever-changing world, Sustainability Club understands the difference that we can make, especially when we work together to care for our common home.
Tipi Loschi Regis Catholic
Tipi Loschi strives to create a community of Catholic students who encourage one another to strive for holiness in their everyday lives and to take part in the sacraments of the Catholic Church regularly. The group is meant to create a community where there are consistent bible studies, holy hours, rosaries and intentional friendships with one another rooted in Christ.
YoungLife College
YoungLife College introduces young adults to Jesus Christ and helps them grow in their faith. We do this by providing fun, adventurous experiences, going where kids are and building personal relationships with them, and earning the right to share the Good News of Jesus Christ.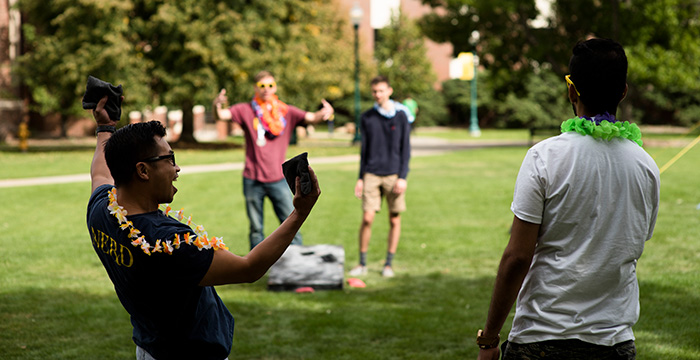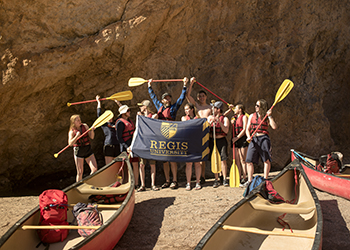 Alpha Epsilon Delta
Alpha Epsilon Delta (AED) is the National Health Preprofessional Honor Society dedicated to the encouragement and recognition of excellence in pre-professional health scholarship, including medicine, dentistry, physician assistant (PA), veterinary, and others. Contact 
aepsilond@regis.edu
 for more information.
Alpha Sigma Nu (ASN) is the national honor society of Jesuit colleges and universities in the United States. The society was founded in 1915 at Marquette University to honor a select number of students each year on the basis of scholarship, loyalty and service. Contact swojcieh@regis.edu for more information.
Lambda Pi Eta
Regis University's School for Professional Advancement is affiliated with the National Communication Association (NCA), and our chapter (Lambda Pi Eta) recognizes, fosters and rewards outstanding scholastic achievement in communication studies. Contact lpe@regis.edu for more information.
National Society of Collegiate Scholars 
The National Society of Collegiate Scholars seeks to recognize and elevate higher achievers through service, scholarship and leadership. Contact ncsc@regis.edu for more information.
SALUTE National Honor Society
Regis University is a participating school in the SALUTE Veterans National Honor Society. SALUTE is the first national honor society established for student veterans and military service members in 2-year and 4-year institutions of higher education. It was established in 2009 through the ACE/Wal-Mart Success for Veterans Grant, and is headquartered out of Colorado State University. Please contact milvetservices@regis for more information. 
Tri Beta Honor Society
Beta Beta Beta (TriBeta) is a national biological honor society specific to undergraduates interested in scientific research and improving the understanding and appreciation of biological studies. The purpose of Beta Beta Beta Biological Honors Society is first and foremost, to create a community of students within Regis who are interested in science research and related endeavors. TriBeta will provide information on topics relating to science, such as summer research internship applications, graduate school applications, science career options, and faculty research opportunities.

Interested in starting a club? Have questions about how to lead your new student organization?
If you are interested in starting a new club, please complete the Club and Organization Annual Registration Form.  If you have any questions or want to connect with a current club, please contact the Office of Student Activities by email, by phone at 303.458.3505 or stop by our office on the 2nd floor of the Student Center.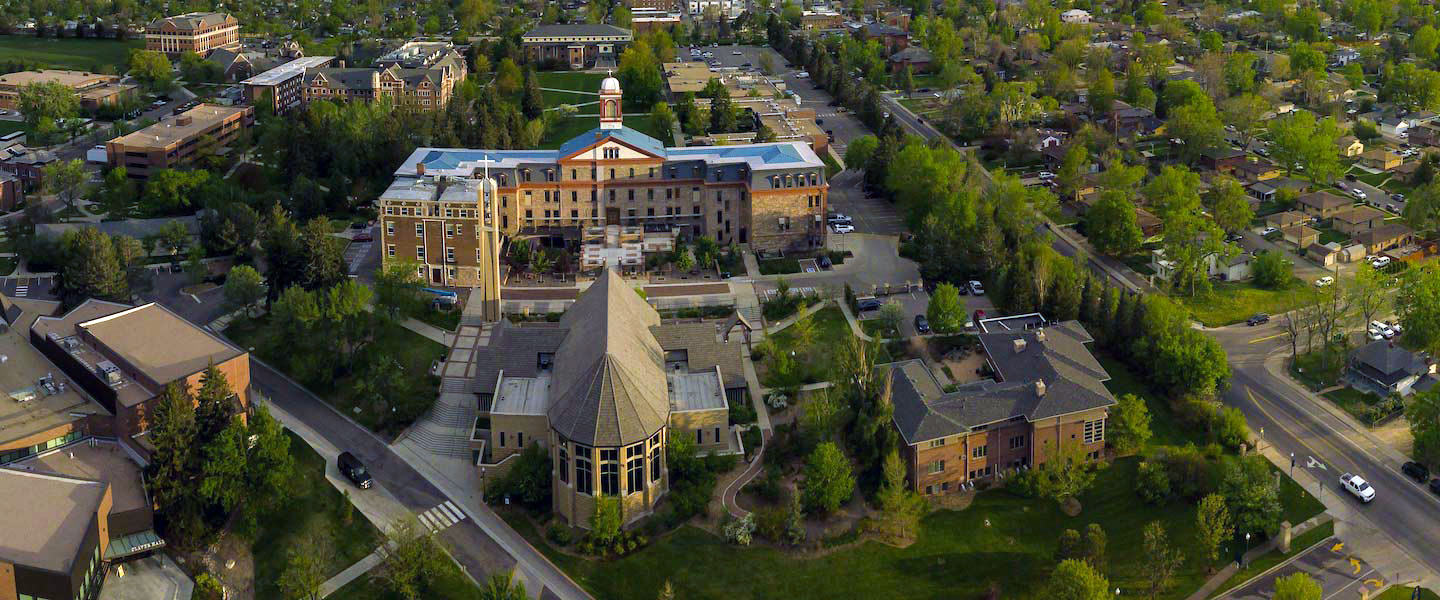 Student Activities
Location:
Student Center 2nd Floor
---
Hours: 
Monday-Friday
8:30 a.m. – 5 p.m.
---
Contact:
303.458.3505
studact@regis.edu