The Ramblers is an all-inclusive musical theatre club - casting and welcoming any students who express an interest in being involved in a production. While students of all academic interests and majors make up the core of the production, the program has benefited from the continued growth of Regis' music department and the continued improvement of the performance space that has come with that growth.
---

2021 Performance: You're A Good Man, Charlie Brown
Happiness is great musical theatre! With charm, wit, and heart, You're A Good Man, Charlie Brown explores life through the eyes of Charlie Brown and his friends in the Peanuts gang. Charlie Brown, Lucy, Linus, Sally, Schroeder and a beagle named Snoopy navigate the joys and pitfalls of childhood: chaotic baseball games, unrequited valentines, World War One flying beagles and five-cent psychiatry. This revue of songs and vignettes, based on the beloved Charles Schulz comic strip, is the ideal first show for those who would like to do a musical. Musical numbers include "My Blanket and Me," "The Kite," "The Baseball Game," "Little Known Facts," "Suppertime," and "Happiness." Guaranteed to please audiences of all ages!
You're A Good Man, Charlie Brown opened in New York City on March 7, 1967, and played for 1,597 performances at the theatre 80 St. Marks, with Gary Burghoff in the title role. This version was revived on Broadway in 1971 and played for 32 performances at the John Golden Theatre. A new version, You're A Good Man, Charlie Brown (Revised), was presented on Broadway in 1999 and played for 149 performances at the Ambassador Theatre, with Tony Award-winning performances by Roger Bart as Snoopy and Kristin Chenoweth as Sally.
Artistic Team
Director: Tanner Kelly
Choreographer: Tracy Doty
Credits
Licensor Credit:  You're A Good Man, Charlie Brown is presented by arrangement with Concord Theatricals on behalf of Tams-Witmark LLC.  www.concordtheatricals.com.
Author Credit 
You're a Good Man, Charlie Brown
Based on The Comic Strip "Peanuts" by Charles M. Schulz
Book, Music and Lyrics by Clark Gesner
Additional Dialogue by Michael Mayer
---
History of the Ramblers
The Regis Ramblers musical theater club was started in the fall of 1995, by Regis computer science professor Dr. Dennis Steele and his daughter, Shannan.  Shannan at that time was a student at Regis, and together they began what has become an important piece of the Regis experience for hundreds of students and alumni.  In the spring of 1996, the Ramblers performed their first musical to a sold out audience..."Li'l Abner." The following years would bring new challenges, teamwork, and a collection of Ramblers alumni who have continued to support and be entertained by the thriving club to which they once belonged. 
Now, Ramblers is entering a new chapter in its time at Regis. After many successful years of existing as a student club, it is now being offered as a college course! The Ramblers student leaders, Student Activities, and the Music Department have joined forces to bring a new musical theatre learning experience to students at Regis. All students, no matter their major, are welcome and encouraged to join in the fun. Under the current direction of Tanner Kelly as director and Tracy Doty as choreographer, Ramblers is looking towards the future and plans to stick around to entertain the Regis community for years to come.
Past Performances
| | | | |
| --- | --- | --- | --- |
| 2019 | The Wedding Singer | 2007 | Footloose |
| 2018 | The Addams Family | 2006 | Crazy For You |
| 2017 | Urinetown | 2005 | West Side Story |
| 2016 | Bye Bye Birdie | 2004 | Fiddler on the Roof |
| 2015 | Drowsy Chaperone | 2003 | Guys and Dolls |
| 2014 | Legally Blonde | 2002 | South Pacific |
| 2013 | Joseph and the Amazing Technicolor Dreamcoat | 2001 | Camelot |
| 2012 | Duelin' Doo Wop (World Premier Original Musical) | 2000 | The Sound of Music |
| 2011 | Little Shop of Horrors | 1999 | My Fair Lady |
| 2010 | Fame | 1998 | Seven Brides for Seven Brothers |
| 2009 | Annie Get Your Gun | 1997 | The Music Man |
| 2008 | Grease | 1996 | Lil' Abner |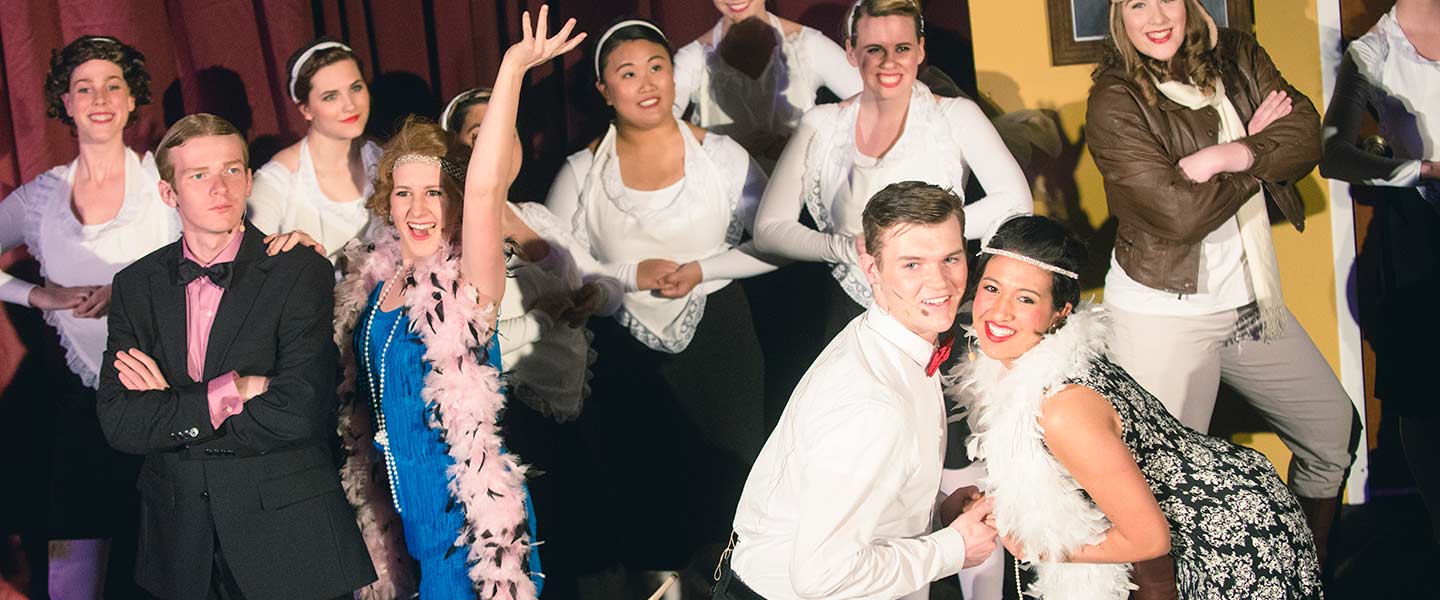 Get in touch with the Regis Ramblers to find out additional information about future productions, auditions and past shows.