Campus Visits for Incoming First-Year and Transfer Students
How do you know if a school is the right fit? The best way is to see for yourself. When you visit Regis University, you'll witness our tradition of academic excellence and our dedication to Jesuit values. Experience Regis in action and see what it's really like to live, learn and grow here.
Jump to: Featured Events | Group Visits | Virtual Tours | Getting to Campus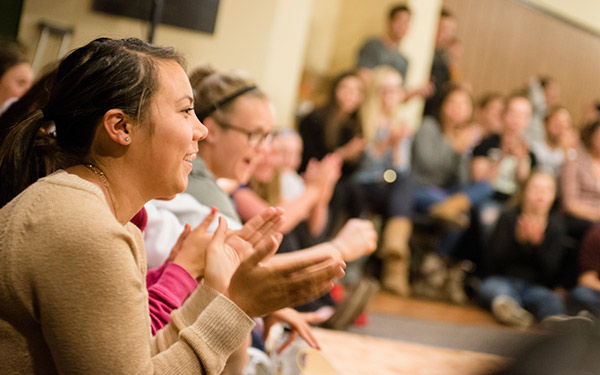 Scholar Dinner Series
Join us for this exclusive event series for high school juniors and seniors who have demonstrated outstanding academic achievement. Attendees will have the opportunity to explore Regis in depth, including a campus tour, an interactive panel presentation and a sit-down dinner with Regis deans, faculty, current students and distinguished alumni.
Join us for one of four distinct dinners based on your area of interest:

Getting to Campus
All of our campus visits begin in David Clarke Hall, which is easily accessed via the Ranger Way entrance off of 50th Avenue/Regis Boulevard. Parking is available in Lot 1 East.

How Do Virtual Visits Work?
Our virtual visits utilize Zoom technology. After registering for a virtual visit, you'll receive an email with instructions about how to join from any desktop computer or mobile device. We recommend testing your device prior to joining.
---
COVID-19 Update: Our campus is open and we are taking precautions to ensure a safe on-campus visit experience. We will continue to update our coronavirus response page as new information and guidance become available.
Vaccine and booster recommendations: All students, faculty and staff are recommended to have a verified COVID-19 vaccine, and are encouraged to be up to date with all vaccine boosters, as they are eligible, to keep our community safe.
Mask requirement: The University's indoor mask requirement expired March 14, 2022, with exceptions for health care facilities or classrooms. The University encourages use of the N-95 and KN-95 masks for the best protection against the Omicron variant.
Location, Hours and Contact Information