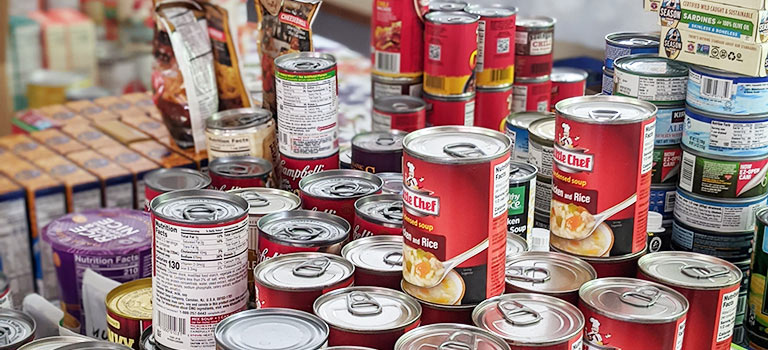 Conversation in Action
If you plan to join us for this Regis Conversation, we invite you to bring a non-perishable food item to contribute to our food drive in support of the Denver Rescue Mission. Your donation will make a difference for our neighbors facing food insecurity this Thanksgiving season.
Our Panel
Dr. Amin Asfari (Moderator)
Dr. Amin Asfari is an Associate Professor and Program Chair for the Undergraduate and Graduate Criminology programs at Regis University. Born in Kuwait, growing up in New York City, and later moving to North Carolina where he taught at various colleges and universities, Dr. Asfari brings a unique perspective to the Criminology Department. His research and publications are interdisciplinary and currently include journal articles, book chapters, edited and co-authored books on topics such as Muslims and police, Muslim assimilation, white supremacists mass shooters and conspiracism, as well victimization and Islamophobia in correctional institutions among others. He is a frequent presenter at the American Society of Criminology, the Concerned Philosophers for Peace, as well as an invited speaker at Universities, community organizations, as well as various media outlets.
---
Dr. Robert Davis
Dr. Robert L. Davis is the founder and Executive Director of Seasoned With Grace UnBoxed, a nonprofit committed to helping develop strong authentic leaders who create healthy workplace cultures and bringing communities together to develop solutions around public safety and policing. He has over 20 years of experience as a senior pastor, family life educator, hospice chaplain, bereavement coordinator, and community leader. He is the author of two books: Seasoned With Grace: God's Recipe for Healthy Family Communication and 12 Steps to Becoming an UnBoxed Leader Workbook. Robert also serves as project coordinator for the Denver Task Force to Reimagine Policing and Public Safety, the nation's largest community-led task force developing community-based solutions around policing and public safety. The Task Force has released a comprehensive set of 112 recommendations addressing five strategies to create a community-centered public safety model harnessing five strategies to create a community centered model of public safety.
---
Josh Geppelt
Josh Geppelt serves as Vice President of Programs for the Denver Rescue Mission, a 131-year-old Christian social-services agency serving the Colorado Front Range. In his role, Josh ensures alignment between community needs and the organization's efforts, as well as government relations, system collaboration, and growth strategies. Josh currently serves as a Strategic Advisor for Denver's Department of Housing Stability, on Mayor Johnston's Homelessness Transition Committee, and as a founding member of the Homelessness Leadership Council. Outside of his work with Coloradoans experiencing homelessness, Josh has served in a variety of ministry and non-profit environments, in both staff and board roles. Josh holds a Bachelor of Arts Degree in Marketing from Cedarville University, and a Master of Arts Degree in Sociology from Regis University, with an emphasis in Restorative Leadership. Josh lives in Northglenn with his wife Claire, sons Gibson and Lincoln and daughter Arden.
---
Meghan Shay
Meghan Shay joined Step in March of 2019. She has 19 years of experience supporting mental health and addiction recovery. Meghan previously served as Chief Mission Advancement Officer for a large behavioral health care nonprofit before joining her local police department and office of the mayor as Public Information Officer. While at the PD, she established an Amnesty with Treatment Partnership for individuals struggling with addiction which has since helped hundreds. Meghan has recently been appointed the new Executive Director of STEP Denver.
---
Dr. John Thexton
Dr. John Thexton has been serving with historically marginalized communities since 1998. He currently serves as Sr. Director of Community life at Denver Rescue Mission. He is a Regis affiliate faculty member in the Master in Nonprofit Management program and teaches organizational leadership internationally. John weaves sociology, psychology, and theology together to better understand the complex issues informing homelessness to construct more effective communal responses.
---