Regis University Names Salvador Aceves as University's Incoming President
Sheryl Tirol
December 08, 2022
University CFO will be Regis' First Lay and First Latino President
The Regis University Board of Trustees has selected Salvador D. Aceves, Ed.D. as the incoming President of Regis University, effective January 1, 2023. Dr. Aceves, who will be the University's first lay and first Latino President, has been in the role of Senior Vice President and Chief Financial Officer at Regis University since 2014.
"Dr. Aceves brings not only experience but also finely honed insight into the role of Regis University's next president," said Fr. Greg O'Meara, S.J., a Regis Trustee and search committee member. "Initially, he is an academic's academic. In his 37 years in higher education, 29 were spent in faculty positions. His carefully considered and mapped-out vision for Regis insists that we link minds and hearts, faith and reason, so that Regis meets its full potential as a Catholic and Jesuit University of the Rockies."
Aceves' selection follows an eight-month national search conducted by a 16-member search committee comprising Trustees, faculty, staff, alumni, and students. Dr. Jo Ann Rooney, a Regis Trustee and former president of Loyola University Chicago, chaired the search committee and Isaacson, Miller, a national executive search firm with extensive education and nonprofit experience, managed the search. In the eight months, the search committee conducted surveys, held numerous listening sessions, and solicited nominations on outstanding candidates. This feedback was critical to the search and finding the best candidate.
"As Regis University Trustee Chair and proud Regis alumnus, I am extremely excited to welcome Dr. Aceves as our next President," said Derek Scarth in announcing the selection. "Dr. Aceves understands and is committed to the importance of a Jesuit-Catholic education and the servant responsibility that comes with his new role to our entire community. I also want to extend a tremendous amount of gratitude to the search committee. Because of the commitment and discernment of these individuals, the path for Regis and our next phase of greatness is in good hands."
Prior to joining Regis, Dr. Aceves worked extensively at other Jesuit universities as both an administrator and faculty member. He served as Associate Vice President for Academic, Financial Planning & Analysis at Fordham University, where he also held an appointment as Associate Professor of Accounting in the Gabelli School of Business. Previously, he served as Vice Provost and chief planning and budget officer for the University of San Francisco, where he also held a faculty position as Associate Professor of Accounting, teaching in both the School of Business and Management and the School of Law, and was the recipient of five teaching awards. Dr. Aceves graduated from the University of San Francisco with a Bachelor of Science in Accounting and a doctoral degree in education with a focus on global business. He also holds a Master of Science in Taxation from Golden Gate University. Earlier in his career, he worked at both Price Waterhouse and Citibank.
Dr. Aceves says he is excited to get going on his vision for a thriving Jesuit Catholic institution. "Regis has a bright future if it harnesses the power of a nearly 500-year Ignatian educational tradition that is transformative and whole-person centered. Regis has a bright future if it creates a strategic plan that is bold and distinctive to prepare students to help build a more just, humane, and sustainable world."
Dr. Aceves intends to focus on four areas as he begins his Presidency:
Invite families who already share a commitment to Jesuit Catholic education to support their sons and daughters to continue their education at Regis University and reach out to our Colorado and national partners to support their employees through a Regis education.
Announce a significant gift every quarter.
Partner with the provost to reimagine traditional, post-traditional, graduate, and doctoral education that is both market responsive and financially sustainable.
Reimagine the institution's governance structure and align with the Board's revised governance structure to develop an intentional campus culture that empowers the community to make timely decisions that address the needs of faculty, staff, and students.
"Regis University is very fortunate to have Salvador lead at this time in history, not only as the first layperson to take the helm but the first Latino," states Regis University Trustee Nita Gonzales. "Dr. Aceves is a highly talented individual whose career and personal accomplishments have given him the skill set and capabilities needed to lead, to meet the many needs and challenges that Regis University, our City, our State, and our Nation face today. His commitment to Regis is personal – he brings impressive credentials, a deep and active commitment to social responsibility, and Ignatian values and spirituality." She added that his background and experience will also be instrumental to Regis' Hispanic Serving Institution designation initiative and furthering the Jesuit mission at the University.
Dr. Salvador D. Aceves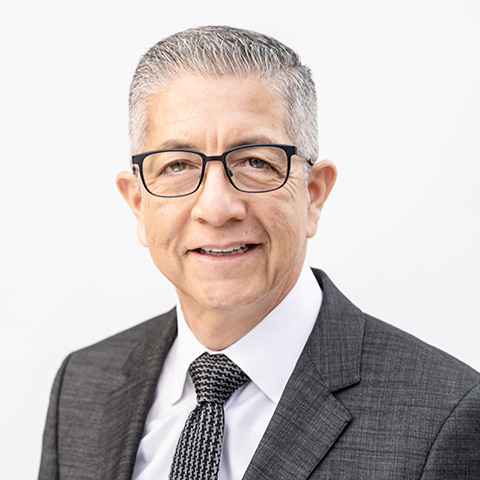 About Regis University
Established in 1877, Regis University is a premier, globally engaged institution of higher learning in the Jesuit tradition that prepares leaders to live productive lives of faith, meaning and service. Regis University, one of 27 Jesuit universities in the nation, has three campus locations in the Denver metro area and extensive online program offerings with more than 6,000 enrolled students. For more information, visit www.regis.edu.