Program Snapshot

Program Format
Real-time video-conferenced classes may be attended in person at the Posner Center in Denver, or as part of a live online video conference environment from anywhere in the world

Time Commitment
8-week terms
2-3 years of part-time study
Program Details
Want to learn more? This is for you:
Get all the details on our Master of Development Practice program, including course requirements and application materials.
Specialization Options
You may choose to specialize in one of two areas, gaining advanced skills and in-depth knowledge in either education or environment.
Optional MDP specializations including environment and education
Average student-to-faculty ratio at Regis
of Regis master's graduates report working in their degree field*
*Regis First Destination Survey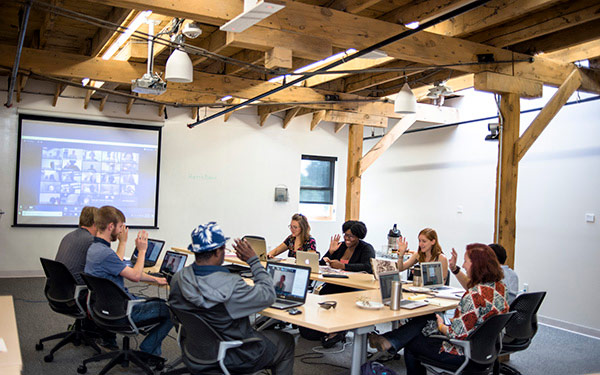 Learn from anywhere in the world.
All Regis MDP courses occur in the IEEE Global Classroom at the Posner Center for International Development in Denver, CO. Classes are held in real time and may be attended in person or remotely from anywhere with an internet connection. Classes are generally held from 7-9 a.m. Mountain Time (MT). Most Regis MDP students choose to take courses on a part-time schedule over 3 years — ideal for busy working professionals.
The Regis MDP is a member of the Global Association of MDPs and an academic partner of the Posner Center for International Development.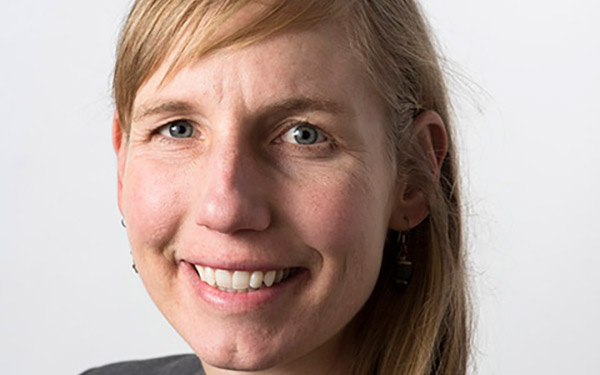 "I am especially proud of our decolonized approach ... and the intentional way we create community."
Name: Emily Van Houweling
Title: Associate Professor
Hometown: Bend, Oregon
To apply to the Master of Development Practice program, you will need:
Completed online application
Official degree-bearing transcript(s) from a regionally accredited college or university
Resume
Essay responding to the essay prompt
International students are integral to our program and are encouraged to apply. If your first/native language is not English and you did not obtain your undergraduate degree in English, TOEFL or equivalent English language test scores are required. If your undergraduate degree is from an institution outside of the U.S., a course-by-course International Credit Evaluation is also required from a NACES-approved member.
Real people. Really invested in you. Contact your admissions counselor today and learn how we help you each step of the way.
Tuition for the 2023-2024 academic year: $599 per credit hour
For information on program-specific fees visit regis.edu/cost. Tuition and fees are subject to change.
Total program credits: 42
The Regis Development Practice program is committed to bringing a diverse, international cohort of students together for a truly global development education. This requires financial accessibility for students from a wide range of local economies. The MDP will work within its available resources to make participation in the program feasible for qualified students.
Regis offers a variety of scholarships, grants and other programs to help you pay for school. U.S. students should visit Financial Aid for more information. International students seeking financial support should submit a statement describing their economic situation, including their ability to contribute to their education, as well as a letter from their employer verifying their salary, obligations, and other factors to mdp@regis.edu for consideration.
Learn More About Financial Aid Options
Submit International Student Documents
Are you a Returned Peace Corps Volunteer (RPCV)? We are proud to welcome RPCVs to apply for admission to this extraordinary program as Coverdell Fellows, where your knowledge and experience will find a home within our applied graduate studies. Please contact your admissions counselor for Coverdell Fellowship financial benefit details.
As Posner Center for International Development's partner in delivering development practice education to the Rocky Mountain West, we are proud to offer a Master of Development Practice tuition benefit to tenants within the Posner Community. To learn more, contact an admissions counselor.
Frequently Asked Questions
The IEEE Global Classroom at Posner Center is equipped with state-of-the-art video conferencing technology enabling live, interactive, virtual-visual classes that connect students from around the world with those attending in person. No one need relocate to Denver for full and inclusive participation in these applied graduate studies.
If you're new to the Regis MDP, attending a class, whether in person or virtually, will be a very different experience from classes you have attended before. Because MDP classes are so different we conduct an orientation, called Base Camp, to ensure students are prepared to be full and active participants in the Global Classroom, whatever their location.
Class meeting times have been arranged to accommodate the many international locations of our students. For example, classes for each cohort meet two days per week for approximately two hours per session. Below is an example of how the same two hours fall out across multiple time zones; be sure to calculate an hour adjustment for your individual time zone.
Denver, USA: 7 - 8:50 a.m.
Sao Paulo, Brazil: 10 - 11:50 a.m.
Kigali, Rwanda: 3 - 4:50 p.m.
Ho Chi Minh, Vietnam: 6 - 7:50 p.m.
A Culture of Excellence
Want to learn more? This is for you:
The Master of Development Practice is offered by the Development Practice Department within Regis College.