Guided by the Jesuit principles of cura personalis (care for the whole person) and service to others, Regis University continues to closely monitor developments of the COVID-19 coronavirus pandemic, adhere to public health requirements, and strive to make our campus and community as safe as possible. This website will provide updates and guidance to our community as Regis follows its mission and maintains operations through such protocols as social distancing, enhanced cleanings and remote work and learning precautions.
Returning to Campus
To permit students to enjoy the full campus experience and a Regis, Jesuit education, the university has developed a comprehensive plan to start the traditional fall semester early and complete it before Thanksgiving, along with thorough contingency plans to avoid any severe disruptions. This includes offering in-person, hybrid and blended learning environments, all fully in compliance with physical distancing requirements to curtail the spread of the virus. Our robust online degree and certificate programs will continue. For more specific information regarding safety measures that have been put in place, view Student Affairs' Regis Ready Plan for the fall semester. 
Testing and Tracing
Since instant test results are not yet available, the mass testing of students (known as surveillance testing) is not an effective deterrent. Regis consulted with Colorado public health officials who, based on CDC guidelines, do not recommend surveillance testing. Instead, Regis is mandating daily symptom monitoring for faculty, staff, students, vendors and visitors via the CampusClear app (which also will assist in rapid contact tracing should someone become ill) and providing COVID-19 testing for people who symptomatic or who have had close contact exposure, as defined by the CDC, with a symptomatic person. As the situation is changing rapidly locally, these protocols may change.
Daily Health Monitoring
All faculty, staff, students, vendors and visitors are required to use the free CampusClear app, developed by our fellow Jesuit institution Creighton University, to privately report individual health status on a daily basis. Research has demonstrated that daily self-screening can have a meaningful impact on reducing the spread of COVID-19. To assist in compliance, a reminder notification will be sent each day.
COVID-19 Testing On Campus
The university's Student Health Services department will soon offer testing on the Northwest Denver campus by appointment, or will assist symptomatic or exposed students in getting a test at centers near the university. The state has recently opened a free, drive-by testing center at WaterWorld, which is two miles from the Thornton campus and six miles from the Northwest Denver campus. These centers hope to provide results within four days. The university has designated a residential hall wing for students who need to be isolated due to symptoms or close contact. Close contact is defined as:
Within 6 feet of someone who has COVID-19 for at least 15 minutes

Provided care at home to someone who is sick with COVID-19

Direct physical contact with the person (touched, hugged, or kissed)

Shared eating or drinking utensils

Sick person sneezed, coughed, or somehow got respiratory droplets on you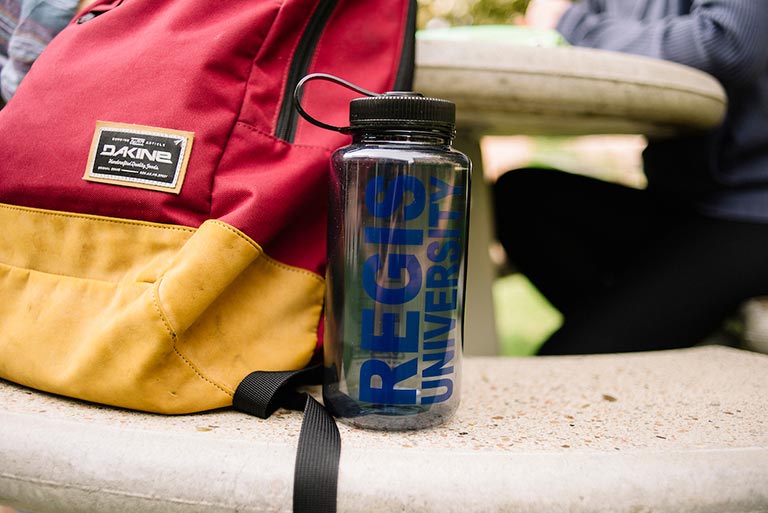 Thinking about studying at Regis?
Click on the PDFs below for helpful answers to more of your COVID-related questions.
Custodial staff is conducting enhanced cleaning operations for all buildings and offices are being supplied with additional cleaning supplies. All restrooms in unlocked facilities are cleaned twice daily. Sanitizer stations, plexiglass shields, social distancing reminders and other related signage are being installed throughout campus. Chairs and desks are being removed to ensure proper socially distanced occupancy in classrooms. Our 90-acre campus is an arboretum with more than 1,300 trees and many open spaces for fresh air (and classes) and additional social spacing. The mountains are within view and worth the trip for a respite and mountain-crisp air.
The state of Colorado and the City and County of Denver have been aggressive in its response to the pandemic. Face coverings are mandatory in the state of Colorado when inside public spaces, including businesses and government facilities and while riding public transportation – and on Regis' campuses. The state is open but with restrictions on public gathering sizes and indoor capacities in certain businesses, and social distancing is encouraged. Colorado's test positivity rate is 8%, compared to 19% in Arizona and Florida. (The COVID Tracking Project)
For updates on the local situation, visit:
State of Colorado
City and County of Denver