Guided by the Jesuit principles of cura personalis (care for the whole person) and service to others, Regis University continues to closely monitor developments of the COVID-19 coronavirus pandemic, adhere to public health requirements, and strive to make our campus and community as safe as possible. This website will provide updates and guidance to our community as Regis follows its mission and maintains operations through such protocols as social distancing, enhanced cleanings and remote work and learning precautions.
Spring classes underway; looking ahead to summer session
The traditional spring semester is under way after starting one week later than usual, with spring break replaced by a mid-semester break day on March 5. Our robust online degree and certificate programs for adult learners continue on regular schedules. Registration is open now for Summer Session offering 3-week intensives to 8-week courses online and on-campus. The courses help students cross core requirements off their list without sacrificing any summer fun.
To permit students to enjoy the full campus experience and a Regis, Jesuit education, the university is following a comprehensive plan fully in compliance with physical distancing requirements to curtail the spread of the virus. For more information on safety measures, view Student Affairs' Regis Ready Plan.
Reporting Protocols
If a student reports that they have tested positive, or a close contact like a roommate has tested positive, they should contact the Dean of Students immediately. They also can use the #CampusClear app or this form to report a positive test.
If an employee reports that they have tested positive, they are to notify Human Resources immediately. They also can use the #CampusClear app or this form to report a positive test. 
If you test positive for COVID-19, you should immediately isolate yourself (do not physically attend class or work) and seek medical attention, and notify either the Dean of Students (Students) or Human Resources (Faculty/Staff)
If you were in close contact with someone who tested positive (like a roommate), you should quarantine (strictly limit movement) and seek a COVID-19 test, either at Student Health Services or at a state testing center (the closest is six miles away at WaterWorld).
Testing and Health Monitoring
The university conducted surveillance testing for all residential students upon their return to campus and prevalence (or random) testing will occur throughout the spring semester. All faculty, staff, students, vendors and visitors are required to use the free CampusClear app, developed by our fellow Jesuit institution Creighton University, to privately report individual health status on a daily basis. Research says that daily self-screening can have a meaningful impact on reducing the spread of COVID-19.
Vaccine distribution
Colorado is now in phase 2 of vaccine distribution. All Coloradans 16 and older are eligible to receive the Pfizer vaccine, and all Coloradans 18 and older are eligible to receive the Moderna. For information on vaccine distribution by county, visit the state's vaccine tracking site. More than 1.3 million Coloradans are now fully vaccinated.
COVID-19 Testing On Campus
The university's Student Health Services department offers testing on the Northwest Denver campus by appointment, or will assist symptomatic or exposed students in getting a test at centers near the university. The state has recently opened a free, drive-by testing center at WaterWorld, which is two miles from the Thornton campus and six miles from the Northwest Denver campus. These centers hope to provide results within four days. The university has designated a residential hall wing for students who need to be isolated due to symptoms or close contact. Close contact is defined as:
Within 6 feet of an infected person for a cumulative total of 15 minutes or more over a 24-hour period
Provided care at home to someone who is sick with COVID-19
Direct physical contact with the person (touched, hugged, or kissed)
Shared eating or drinking utensils
Sick person sneezed, coughed, or somehow got respiratory droplets on you
COVID-19 Cases
The City and County of Denver and surrounding counties are now at Level Blue on the state of Colorado's COVID dial (https://covid19.colorado.gov/covid-19-dial). That means COVID test positivity rates are below 5%, incidence rate is at 36-100 cases per 100,000 people, and there are no more than two new COVID-19 hospital admissions per day. Indoor capacity, from restaurants to gyms, is now 100% capacity with 6 feet between parties. Outdoor event capacity remains restricted in Denver County. Continued vigilance is required especially to avoid spreading the B.1.1.7 variant. Indoor face coverings remain mandatory and social distancing continues to be strongly encouraged. Check current status by county.

Spring 2021 (Beginning 1/4/2021) - Last Updated 4/15/2021
Campus Cases: 5 | Recovered Cases: 95
Residential: 2 | Commuter: 2 | Employee: 1 | On-Campus Isolation: 2 | On-Campus Quarantine: 0
Current Campus Case Rate: 0.002%
Colorado Test Positivity Rate: 4.5%
Spring Semester Case Count: 100
Current cases reflect the number of positive cases and are not yet recovered. Campus rate is calculated as current positive cases per 1,000 people per DPHE guidelines; based on ~2,500 people on the Northwest Denver campus during a typical weekday. Semester case count is the cumulative number of positive cases since traditional students returned to campus and the fall semester began. All data based on campus cases reported to the university by students and personnel. Positivity rate is the percentage of total tests coming in positive in the entire state of Colorado, as reported by the Colorado Department of Public Health and Environment at https://covid19.colorado.gov/data.
FAQs
The new schedule moves the start of traditional semester classes for these students back by eight days to Jan. 19 and eliminates the week-long Spring Break to avoid risks from off-campus travel. The semester will end on its previously scheduled date so that finals and Commencement will not be affected. Classes will continue to meet in-person or in hybrid learning environments.
Regis students enrolled in 5-week, 7-week, 8-week and variable terms, as well as online degree and certificate programs, will continue on a normal schedule and start on Jan. 11, 2021.
Full time campus-based Doctor of Pharmacy and Doctor of Physical Therapy students should consult with their program administrators regarding their specific spring schedules. Classrooms have been modified to ensure social distancing measures are in place. Enhanced cleaning and disinfecting schedules will continue.
Every class has a home shell in our online learning system (designed for classes that take place fully online) which will enable a smooth shift from in-person to a virtual learning environment should it become necessary.
No, by eliminating spring break, we are able to deliver the same amount of instruction time as a traditional semester. This schedule also reduces risk by not having students travel during a spring break.
Classes will be offered in in-person, hybrid or blended learning environments. Faculty have the technology and training to integrate remote or virtual learning with in-person learning when social distancing requires it, or to go fully virtual if we must adapt to a more restrictive environment.
Every class will have a home shell in our online learning system (designed for classes that take place all online) which will enable a smooth shift to a virtual learning environment if stay-at-home directives are reimposed. Our faculty are planning now for even more engaged learning opportunities should this be necessary once again.
The cost of delivering a college class is virtually the same whether it is in-person, virtual or online. Two main factors of tuition cost are personnel (the faculty) and the number of students in the class. Also, tuition alone does not fully cover the cost to universities, which also rely on donations, federal and state support, investment income, and other revenue. In addition, universities seek other sources of funding for technology and physical infrastructure so that these costs are not passed along to students.
In accordance with the Center for Disease Control Guidance for Congregate Living Facilities, we will follow strict signage, hygiene, social distancing, screening, and isolation protocols in our residence halls and dining facilities. Our residential students will be asked to sign a social contract promising to abide by these protocols. To minimize the potential for spreading the virus, we will limit our residence hall rooms to two occupants and are prepared to move to singles should it become necessary. We also will enforce a "no outside guest policy" to limit potential exposure and transmission from guests not adhering to our protocols.
In addition to posting signs reminding residents and staff of the importance of handwashing and sanitizing, we will ensure best practices for sanitation and housekeeping with enhanced cleaning and disinfecting schedules. We will limit gatherings in accordance with local ordinances and are removing and rearranging furniture in common areas in the residence halls and dining hall facilities to encourage social distancing. We will monitor for compliance.
We have reserved rooms for quarantining students if necessary and will have our food service provider deliver meals to ensure safety.
The University will maintain its residency requirement for all first-year and second-year traditional undergraduate students that requires all such students to live in Residence Hall Housing for four consecutive semesters, not including summer sessions, with certain exceptions, all of which are described more fully in the Residence Life & Housing Handbook located in the Ranger Front Porch.
Face masks or face coverings must be worn by faculty, staff, students and guests when on campus. Appropriate use of face masks or coverings is critical in minimizing risks to others near you. You could spread COVID-19 to others even if you do not feel sick.  Please see 
Face Covering/Mask Guidelines & FAQs
 for additional guidance.
Our dining operation will move to exclusive grab-and-go service when required by public health guidance.
The University also is preparing by adopting "test, trace and separate" mitigation plans to implement as needed to ensure a safe campus. If needed, any of the following measures could be adopted based on guidance from the public health department and the Centers for Disease Control and Prevention:
Adjust the size of in-person classes and gatherings;
Permit "super hybrid" classes that students may attend in person or remotely;
Adjust the number of personnel who work on campus or remotely;
Implement social distancing protocols, including the wearing of masks; and
Restrict entrances and exits to buildings, with temperature checks.
Students seeking accommodation for reasons of health and safety (for themselves or a loved one) are encouraged to reach out to our Office of Student Disability Services for resources and support.  They can be reached at disability@regis.edu.
Students who want to only take online classes this spring should contact their academic dean.
For veteran students receiving benefits, the VA is maintaining the same guidelines as in spring 2020. VA students expecting the residential housing allowance (BAH) must attend at least one classroom session per term in order to receive the classroom BAH continuously throughout the semester.
If the university has to move to 100% online classes at any time during the semester due to public health concerns with the pandemic, veterans receiving GI Bill benefits will be paid their BAH through the end of the semester.
For international students on an F1 Visa, Regis University joined the successful legal fight that forced the Trump Administration to reverse its directive that said F1 Visa students cannot take all of their classes online and remain in the U.S.
Continuing international students who are currently in the U.S. may continue to take online courses and remain in the U.S. in F1 status. Continuing students who are currently outside of the U.S. may attend online courses and keep their F1 status so they can return to the U.S. at a later date. New students who have a 100% online class schedule for the fall semester are not permitted to enter the U.S. Instead, their Form I-20 will be deferred to spring 2021 so they can arrive in the U.S. next semester to attend classes on-campus.
A hybrid format may consist of a limited number of students in a class on campus while other students are logged in virtually at the same time, to attend class. It may also consist of partial online instruction and partial on campus instruction, with social distancing modifications. It may also refer to a "flipped classroom," in which students are expected to view lecture videos and read materials outside of class, enabling us to use valuable classroom time for active learning and application. It varies by academic program and the needs and requirements of that particular course and program.
Regis adopted a hybrid learning model last fall for three reasons: 1) to ensure that enrollments in courses do not exceed guidelines for social distancing relative to capacity in a physical classroom space; 2) to create conditions for individual students who need to self-isolate or who are ill so that they can remain connected virtually with course learning until they are able to return to a hybrid learning; and 3) to be better prepared as a community if all Regis courses need to transition during the semester to an exclusively virtual format because of another Stay-at-Home order from state or federal authorities.
Most faculty who teach undergraduates are currently preparing to preserve substantial features of their in-person teaching because we believe that this kind of teaching and learning is one of the things which most makes Regis distinctive and a value to our undergraduate students. There are some classes being offered remotely (something new for traditional undergraduates this year) so that we are able to ensure that total enrollments in courses do not exceed guidelines for social distancing relative to our available physical space. Our hope is that no incoming first-year student has too many of these courses on their schedule, and many will not have any such courses.
Yes. On March 27, 2020, the President of the United States signed H.R. 748 the Coronavirus Aid, Relief, and Economic Security (CARES Act), which established emergency relief funds to organizations and individuals affected by the coronavirus pandemic.
Higher Education Emergency Relief Fund
Yes. On December 27, 2020, the President of the United States signed into law the Coronavirus Response and Relief Supplemental Appropriations Act (CRRSAA), which provided over $21 billion to be allocated to colleges and universities under the Higher Education Emergency Relief Fund (HEERF).
Clean Campus and Classrooms
Custodial staff does enhanced cleaning operations for all buildings and offices are being supplied with additional cleaning supplies. All restrooms in unlocked facilities are cleaned twice daily. Sanitizer stations, plexiglass shields, social distancing reminders and other related signage are installed throughout campus. Chairs and desks were removed to ensure proper socially distanced occupancy in classrooms and there are 22 designated outdoor classroom spaces, weather permitting.
Our 90-acre campus is an arboretum with more than 1,300 trees and many open spaces for fresh air (and classes) and additional social spacing. The mountains are within view and worth the trip for a respite and mountain-crisp air.
More Information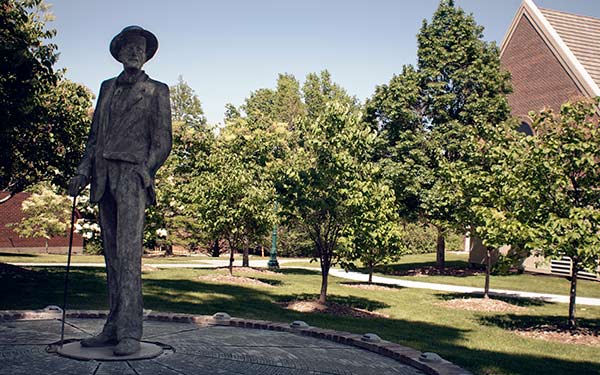 Get an inside look into our beautiful campus from the safety of your own home.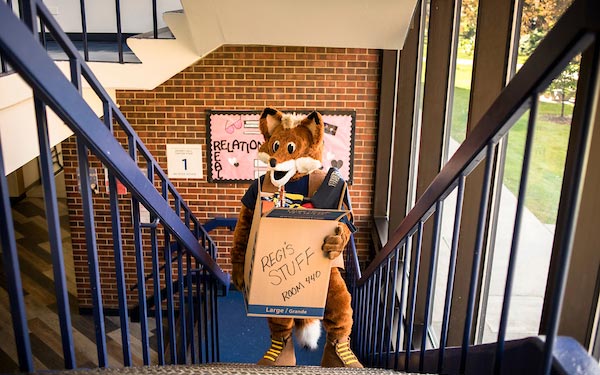 Learn about housing opportunities available to you.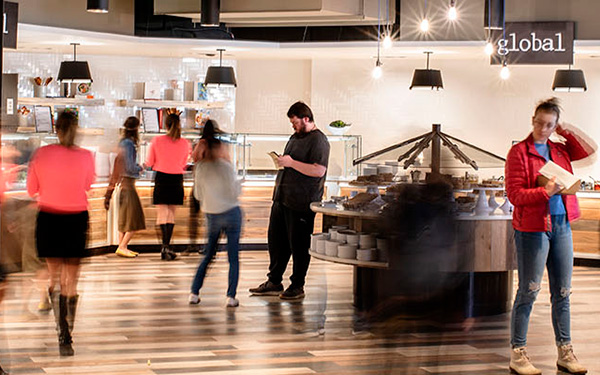 See cafe hours, food options, meal plans and more.
Latest updates for students and Regis personnel
Employees, faculty and staff should regularly check one.regis.edu for information regarding university operations.