Clinical Education Experiences
The clinical education component of the Regis University DPT program is recognized nationally for its contemporary and innovative approach to hands-on education. These experiences are a formula for success, proven by the 100% employment rate of recent graduates. Since 2007, all School of Physical Therapy graduates have found employment in the field within six months of completing the necessary licensure exams.
To enter the field of physical therapy with a competitive edge, graduates need to be confident, autonomous practitioners. DPT students complete an initial 6-week clinical experience in the second year of the program, followed by an 8-week experience; and end the program by completing two consecutive 12-week or one 24-week clinical experience. To enhance the student breadth of clinical skills, students are exposed to several different practice settings and must complete a minimum of one clinical experience outside of Colorado, and one experience in a rural setting.
Clinical Education Speaker Series
Presented by the Regis University School of Physical Therapy
Northwest Denver Campus
Thursday, September 15, 2022
7:30 - 9 a.m.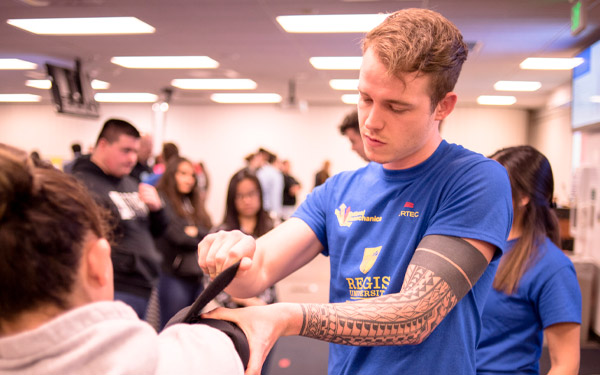 The Student Perspective
"They get to take the knowledge that they learn in school and apply that in the real world to patients that they'll see in the future."
-Matthew McLean, PT, DPT | Regis Clinical Education Scholar
Clinical and mentoring experiences play an integral part in developing students to become independent thinkers and autonomous practitioners. The Clinical Education Scholar Program (CESP) is designed for clinical instructors, site coordinators of clinical education and alumni to receive additional support in mentoring current physical therapy students in their clinical setting. The CESP program allows students to foster a close relationship with our clinical faculty, and to provide learning experiences for students that are aligned with our curriculum and mission.
Interested in becoming a Clinical Education Scholar? Submit the application or contact the Clinical Education Administrative Coordinator if you have any questions. Clinical faculty that mentor a minimum of one or two students a year can qualify for a range of benefits from library access to tuition credit in the Fellowship in Orthopaedic Manual Physical Therapy program. 
Students have the opportunity to complete a 1-3 week alternative clinical experience in American Physical Therapy Association (APTA) advocacy or canine rehabilitation.
International opportunities currently include Tanzania and Peru. Students with a passion for global health issues can apply to the RHCHP Global Health Pathway, which is an interprofessional curricular thread that expands a student's understanding of managing health issues facing global populations.
Clinical Site Liaison Program
To best partner with our clinical faculty and to provide the best student experiences possible, each clinical site has a designated Clinical Education Team member who is their liaison and builds strong individual clinical partnerships.
---
Clinical Education Advisors
Each Regis DPT student is assigned a Clinical Advisor. The Clinical Advisor is available to help each student determine which potential clinical sites best fit their educational goals and works with the clinical instructor(s) and student to maximize all aspects of the learning experience.

---
Clinical Faculty Development
The Regis University School of Physical Therapy offers APTA Level I and Level II Credentialed Clinical Instructor Training along with other clinical faculty opportunities for professional continuing education.
View Clinical Faculty Resource Manual
---