Service Oriented Field Experience (SOFE)
SOFE (MNM 6770E-W) is an experiential learning capstone course offered within the Master of Nonprofit Management program. The SOFE program provides you with professional, real-world experience as you work directly in a nonprofit organization either abroad or in the local Denver community. SOFE programs are currently offered in East Africa.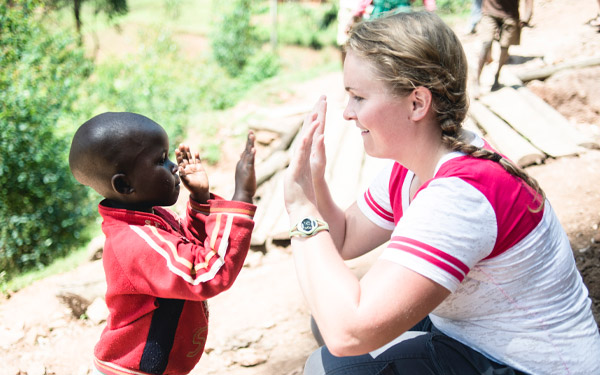 Goals with an Increased Understanding of Social Justice
At the end of each SOFE, students begin the process of self-discovery and internal recognition with regard to acculturated ideologies, beliefs and perceptions about poverty and development. With a goal of increased understanding of social justice concerns in light of culture, poverty and community development, students develop a deep appreciation of their chosen destination's civil society/nonprofit community and gain an understanding of the issues of culture and poverty and their intersection in community development. The SOFE culminates in a quality graduate-level paper that could benefit a local NGO developed in partnership with specific partner organizations.
East Africa
During the East Africa SOFE, students explore the intersection of dynamics such as culture, environment, economics, politics and poverty. Students visit local and international nonprofit/non-governmental organizations (NP/GOs) and contemplate actions to help improve organizations in the East African Third Sector.
Students develop their studies and research in two different cities:
| Kigali, Rwanda: the nation's fastest-growing city and one of the largest metropolitan cities in East Africa with a strong international presence.
| Kampala, Uganda: the largest city and capital in Uganda with a diverse ethnic population and a high rate of poverty.
Be patient and observant instead of worried and frustrated when cultural norms are flipped upside down. Take the beautiful parts of it with you, and ask about the parts you don't understand. If certain laws, ways of life, customs, and actions amaze, disgust or frighten you, bring them up for discussion with your facilitator or fellow students. It is a learning experience, so pack a clear heart, open eyes and maybe a tough stomach. Let yourself be completely emerged in all aspects of the SOFE – even the challenging ones.

Tyler Breuer, MNM Alumni
Frequently Asked Questions
Program costs are calculated every year based on the program.
The cost of the SOFE is made up of three parts:
In-destination experience costs
Tuition per credit hour for an online course
Travel expenses to/from your home location
The in-destination experience includes:
Housing
Transportation
Most meals
Tour entrance fees
Guest speakers, etc
The in-destination experience does not include:
Personal costs: bottled water, snacks, drinks, gifts, personal items you may purchase for yourself and additional transport costs (e.g. taxis) etc. not included in course-related excursions
Certain meals as indicated in the itinerary
A SOFE is the intersection between classroom work and community work. The work done on a SOFE informs your learning in the classroom, and you will take skills and ideas that you learn in the classroom with you as you work in the community. The learning during a SOFE is meaningful and deliberate through reflective thinking. In contrast, volunteering can be meaningful as well but is not usually connected to course material and can be more sporadic.
While the SOFE class is part of the Master of Nonprofit Management (MNM) program, it is open to other graduate students with arrangements.
The registration process is the same as registering for any other course. There is no application process.
SOFE trips occur once a year. However, faculty has the final say on specific dates of travel.
Experiences range from 9-13 days depending on destination.
International SOFE trips require a passport and visa, as well as personal health insurance. For international SOFEs, additional emergency insurance will be purchased on your behalf. Recommended immunizations vary by country; consult the CDC for country-specific information.
There are two pre-meetings before the SOFE trip. One meeting is scheduled two months before the trip and the other a month before. Students are briefed on the logistics of the trip and course details. Distance students can call in and are not required to be physically present at the meetings. Trip facilitators will provide more information regarding travel, accommodations and packing, after students enroll in the course during this time.