Room Description:
Rooms in O'Connell Hall are 11' x 15'. While furniture is originally set with desks, beds, chests of drawers, and moveable wardrobes located on resident's respective sides of the room, many roommates choose to customize how their room looks by shifting the height of their beds and rearranging the furniture.
Building Highlights:
A three-story, non-smoking building populated by students in all years that is substance free
Co-ed by wing with common restrooms and showers located on each wing
Each room accommodates two students with two moveable armoires closets, desks, chairs, shelves, chest of drawers, and twin-XL beds which are adaptable as bunk beds. In addition to double rooms, O'Connell offers triples for students seeking to have two roommates.

The third floor is all Super Singles designed for Sophomores, Juniors, and Seniors seeking to live without a roommate. The room is furnished with a king bed, dressers, closet, desk and lounge chair.

Room dimensions: 11'x15'
Ping Pong table
24-hour study/class spaces
Heating and AC unit in each room
Free laundry facilities located on the ground floor, equipped with LaundryView web application (viewing of washer/dryer availability from your room)
A furnished lounge with cable TV
Staff:
The O'Connell Hall staff includes Resident Assistants, a Peer Minister, and several Desk Assistants. Additionally, there is one Assistant Director, a full-time professional staff member who lives and works in O'Connell. The residence hall staff works together to promote the educational, social and cultural development of Regis students. All staff members are trained in referring residents to the appropriate resources on campus, proving to be a great resource for first-year residents. The staff members also act as role models to promote campus involvement, resident hall community and faith development.
O'Connell Double Room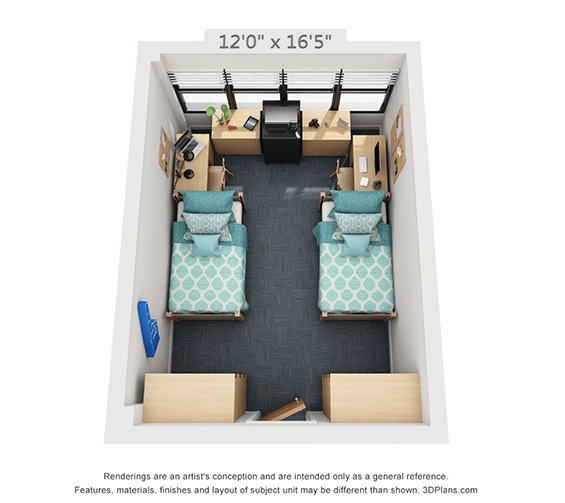 O'Connell Corner Double Room