Residence Village Townhomes
Apartment Description
Residence Village apartments are available in 1- and 2-story layouts, each with three bedrooms. Bedrooms in Residence Village are 15' x 14'. Specific furnishings provided are listed below.
Building Highlights
A townhome-style complex with four buildings, populated by sophomore, junior, and senior students
Co-ed by unit, each accommodating up to 6 students
Units have three bedrooms and 2 (or 2 1/2) baths
Rooms accommodate two students with individual double door closets, desks and chairs, shelves, chest of drawers, and twin-XL beds which are adaptable as bunk beds
Two cable and internet outlets in each bedroom
Bedroom dimensions: flat unit 15'x13', bi-level unit 15'x14'
Living room furnished with one couch, two chairs, large coffee table, side table, lamp and barstools
Common living room has cable, internet and a phone outlet
The kitchen consists of a refrigerator, oven, microwave, dishwasher, double sink, and adjacent dining area with bar-style seating
Washer and dryer are provided in each unit
A 24-hour common area where students can check their mail, watch television in front of a gas fireplace, and play billiards
Community computers and printer for student use are located in the 24-hour common area
Students who are 21 years and older are permitted to have beer and wine
Staff
The Residence Village staff includes three Resident Assistants, a Lead Resident Assistant, and a Peer Minister. The Residence Village staff works together to promote educational, social and cultural development of Regis students. All staff members are trained in referring residents to the appropriate resources on campus, proving to be a great ongoing resource for all residents. The staff also act as role models to promote campus involvement, resident hall community and faith development.
Two-Story Apartment Layout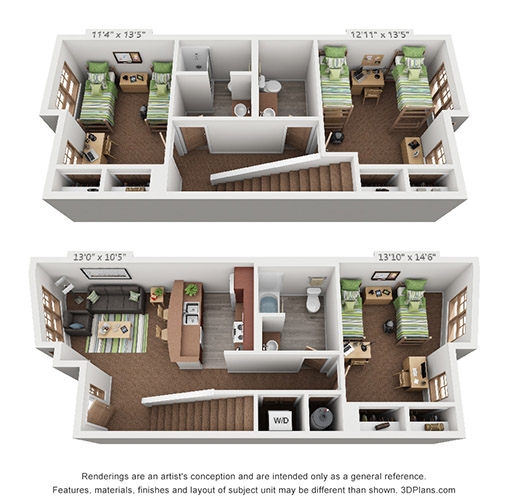 One-Story Apartment Layout