Room Description
Rooms in West Hall are 11'10x 21'7. Two students occupy each room, with two rooms sharing a private bathroom for suite-style dorm living. 
Building Highlights
A three-story building populated by upperclass students
Co-ed by suite
Each suite shares a bathroom with two sinks, two vanities, one toilet and shower
Each room accommodates two students with a shared walk-in closet and with two desks, chairs, shelves, chests of drawers and twin-XL beds, which are adaptable as bunk beds
Computer lab and study room located on 3rd floor with a printer for student use
24-hour lounge/game room located on 2nd floor
Heating and AC unit in each room
Internet and phone outlets in each room
Furnished lounges with Flat Screen TV and cable located on each wing on every floor. Also located in each lounge is a kitchenette.
Free laundry facilities located on the 3rd floor, equipped with 

LaundryView

 web application (viewing of washer/dryer availability from your room)
Fully functional community kitchen on the 1st floor is available to all residents
West Hall Double Room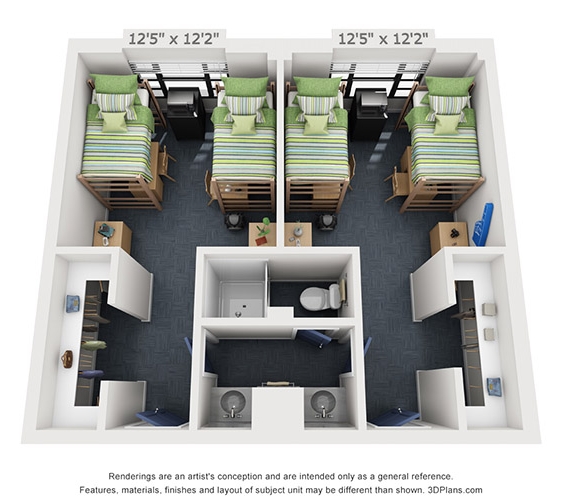 Staff
The West Hall staff includes six Resident Assistants, one Peer Minister, several Desk Assistants, and a Senior Staff member. Additionally, there is one Residence Life Coordinator, a full-time professional staff member who lives and works in West Hall. The residence hall staff works together to promote educational, social, and cultural development of Regis students. All staff members are trained in referring residents to the appropriate resources on campus, proving to be a great ongoing resource for all residents. The staff also acts as role models to promote campus involvement, resident hall community, and faith development.