University Ministry creates a welcoming environment where all Regis University students can feel at home. Inspired by St. Ignatius Loyola and his companions, we journey with others to "find God in all things."  We work to cultivate intellectual curiosity, gratitude and servant leadership while glorifying God.  University Ministry invites you to come as you are to explore issues of faith, spirituality and social justice.
---
Spring Semester Chapel Schedule
Sunday masses are offered at 10 am and 5:30 pm
Daily masses are held in the Madonna Della Strada side chapel M-F at noon*

Please note that on Thursdays, a communion service (not full mass) is offered.
No daily masses during Spring Break, Feb. 27–Mar. 3.
During Holy Week noon mass is only M-W (see below).

Confessions are available by appointment. Please call 303-458-4153
Adoration schedule:

| | |
| --- | --- |
| DATE(S) | TIMES |
| Monday, Jan. 23 | 8-9 p.m. |
| Wednesday, Feb. 1 | 7:30-8:30 a.m. |
| Monday, Feb. 6 | 8-9 p.m. |
| Wednesday, Feb. 15 | 7:30-8:30 a.m. |
| Monday, Feb. 20 | 8-9 p.m. |
| Monday, Feb. 27 – Friday. Mar. 3 (Spring Break) | No Adoration |
| Wednesday, Mar. 8 | 7:30-8:30 a.m. |
| Monday, Mar. 13 | 8-9 p.m. |
| Wednesday, Mar. 22 | 7:30-8:30 a.m. |
| Monday, Mar. 27 | 8-9 p.m. |
| Wednesday, Apr. 5 | 7:30-8:30 a.m. |
| Monday, Apr. 10 (Easter Sunday - University holiday) | No Adoration |
| Wednesday, Apr. 19 | 7:30-8:30 a.m. |
| Monday, Apr. 24 | 8-9 p.m. |
Lent

Ash Wednesday, on Feb. 22, masses (with distribution of ashes) will occur at 12 p.m. and 5:15 p.m. An ecumenical prayer service with ash distribution will be at 4 p.m.
Holy Week:

DAY
DATE
TIMES
Palm Sunday
Apr. 2
10 a.m. and 5:30 p.m.
Holy Thursday
Apr. 6
7:30 p.m.
Good Friday
Apr. 7
3 p.m.
Holy Saturday
(Easter Vigil)
Apr. 8
8 p.m.
Easter Sunday
Apr. 9
10 a.m.
(there is no 5:30 p.m. mass on Easter)
For additional information about our Chapel schedule and University Ministry activities, follow us on Facebook and Instagram, or sign up to be added to the Regis Chapel Worshipping Community Contact List.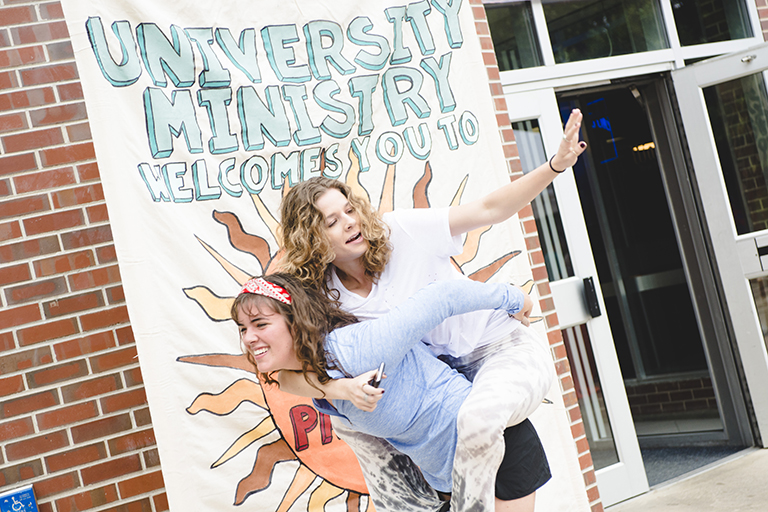 Welcoming All Faiths
Regis University is proud of our Jesuit Catholic heritage and the Office of University Ministry is privileged to accompany our Catholic community in worship, fellowship, and other opportunities for growth and formation in the Catholic faith.
In addition, our Jesuit Catholic foundations call us to "find God in all things," as well as to "cura personalis," practices that invite us to honor and encourage the spiritual growth of all members of our community. Promoting interfaith dialogue, supporting opportunities for individuals to be nourished in their own traditions, and exploring how God calls each of us into relationship with the Divine and the world is an important part of our mission. University Ministry provides a variety of opportunities for students, faculty and staff to come together for prayer, conversation and exploration of various beliefs.
Retreats
A retreat for First-Year students, Connections is an opportunity to meet new people, forge relationships and reflect on their early experiences at Regis University. Focused around themes of transition, participants hear stories from upper-class students, engage with peers in small group discussions, reflect on their current journey as well as hopes and expectations, and have plenty of time for rest and recreation. The retreat is reflective in nature but is not oriented towards any particular faith tradition. This year, Connections is Sept 30 – Oct 1, 2022 at Ponderosa Retreat Center in Larkspur, CO.
The word Kairos means "God's time," and this retreat will help students explore and deepen their relationships with God, self, and others. While the retreat is explicitly Christian in nature, we welcome those who are questioning and seeking faith. While the retreat is similar to the Kairos retreat many students attended in high school, it focuses on the struggles and triumphs of young adulthood. We invite students in their Sophomore-Senior years to attend. This year the fall dates are Nov. 4-5, 2022 and the spring dates are March 24-26, 2023. Registration information can be found here.
This interfaith and intersectional retreat aims to empower women at Regis University by creating a safe and dynamic environment for discussion and sharing about values, tradition, and the forces that shape lived experience and identity. Topics such as faith, gender, sexuality, race, ethnicity, and more will be explored. Women in Faith creates a space where women can bravely share and question their relationships with faith and can learn from faculty and staff mentors from a variety of faith traditions. This retreat is offered every other year. The next offering for Feb. 11, 2023. Registration information will be made available in January 2023.
Each spring, the Justice in Community course (PJ 468O/RT 402K) includes a spring break immersion trip to Dolores Mission Parish and Homeboy Industries in the Boyle Heights neighborhood of east Los Angeles. Students enrolled in the course will engage academic materials to prepare for, process, and synthesize this unique learning experience in order to become agents of social change in community. In Spring of 2023, the course will meet Tu/Th from 12:30 pm-1:45 pm and the immersion trip will be during Regis University's spring break, Feb. 25-Mar. 3. Interested students must register for the course listed above.
The Ignatian Family Teach-In for Justice (IFTJ) is the largest annual Catholic social justice gathering in the United States. It is an opportunity to learn, pray, and advocate for justice and is a place for members of the Ignatian family (Jesuit institutions and larger church) to be empowered, re-energized, inspired, challenged, and supported by a community that sees faith and justice integrally linked. Now in its 25th year, the Teach-In has a rich history rooted in honoring the Jesuits and their companions who were martyred in El Salvador in 1989. Every fall, University Ministry takes 10 Regis University students as delegates to participate at IFTJ in Washington, D.C.
An overnight experience, the Urban Plunge retreat familiarizes students with the realities of urban poverty and homelessness. Students stay in modest accommodations in downtown Denver and engage with organizations operating in solidarity with those experiencing poverty and individuals who are unhoused. Students have personal encounters with neighbors living on the streets and will have time to reflect and process the experience.
Throughout the year, University Ministry offers a variety of one-day or half-day opportunities to "retreat" from the busyness and routine of college life without needing to commit to overnight activities. While offerings vary year-to-year, in the 2022-2023 academic year, UMin will host a Wilderness Day of Reflection (which will be reflective and spiritual but not oriented to a particular faith or religious tradition) in the fall and a Lenten Day of Reflection (which will take place at Mother Cabrini Shrine and be specifically Catholic in orientation) in the spring. Other opportunities may arise as the year progresses.