University Ministry creates a welcoming environment where all Regis University students can feel at home. Inspired by St. Ignatius Loyola and his companions, we journey with others to "find God in all things."  We work to cultivate intellectual curiosity, gratitude and servant leadership while glorifying God.  University Ministry invites you to come as you are to explore issues of faith, spirituality and social justice.
---
Weekly Liturgies
Sunday Masses are currently held at 9:30 and 11:00am 
on Sunday, inside of St. John Francis Regis Chapel.  The total number of people who are able to attend each mass is limited due to COVID precautions.  If you wish to be notified of the weekly registration process for attending mass at Regis on Sundays, please sign up to be on the 
Regis Chapel Worshipping Community Contact List
. We hope to resume having outdoor liturgies (which would not have as much of a capacity restriction) in the spring.
The 4:30pm mass will resume when students return to campus, beginning on Sunday, January 17. 
Daily Mass is celebrated on M-F at 12:30pm in the St. John Francis Regis Chapel when classes are in session.  Daily Mass will resume on January 19. 
Other sacramental and worship opportunities (such as confessions, Eucharistic Adoration, and the Open Table Ecumenical Service) will resume the week of January 17.  Follow us on
Facebook
 and 
Instagram
to see the most up-to-date information regarding liturgies.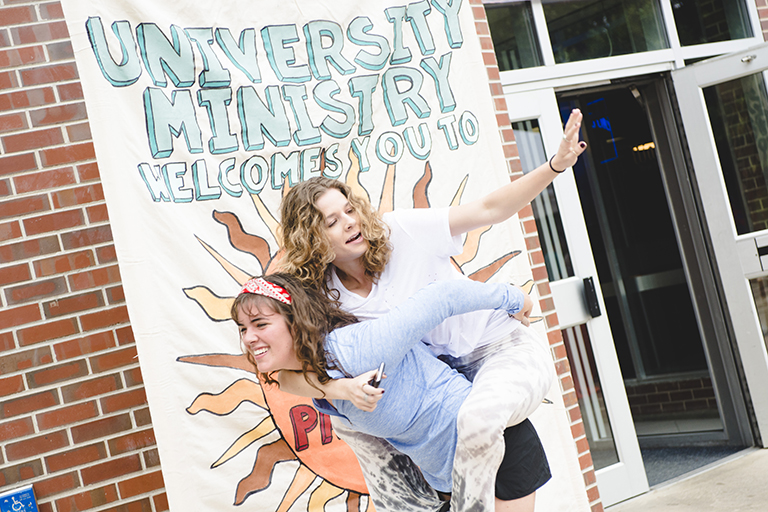 Welcoming All Faiths
Our Jesuit tradition especially encourages that all grow within their own spiritual traditions, and it encourages dialogue amongst people with different religion perspectives.
Regis is proud to be a Jesuit Catholic University, but by no means are all of its students, staff and faculty Roman Catholic. Its Jesuit tradition especially encourages that all grow within their own spiritual traditions, and it encourages dialogue amongst people with various religious perspectives. We have several programs in which those with differing spiritual paths come together for prayer, conversation and exploration of various beliefs.
Retreats
A retreat for first year students, aimed at forging new relationships and being introduced to Ignatian Spirituality. The Connections retreat takes place over a weekend in early October and is focused around Ignatian themed talks, small group discussions, and engaging with the first-year community in an intentional way as they prepare for their Regis experience. We raise questions based around meaning, relationships, and mission.
Once travel is again possible, students can register for the Faiths Doing Justice course which includes a spring break immersion trip to Dolores Mission Parish and Homeboy Industries in the Boyle Heights neighborhood of East L.A. They will engage in hands-on service and visit a variety of faith-based organizations. In the near future, we hope to organize additional immersion trips where students can experience living and serving in solidarity with marginalized peoples.
The Ignatian Family Teach-In for Justice (IFTJ) is an annual weekend gathering in Washington, D.C. for members of the Ignatian family (Jesuit institutions and parishes). We come together to learn, reflect, pray, network, and advocate for justice by visiting Senators and Congressional Representatives on Monday. Participants are empowered and inspired by a community that sees faith and justice as integrally linked.
The word Kairos means "God's time," and this retreat will help students explore and deepen their relationships with God, self, and others. While the retreat is explicitly Christian in nature, we welcome those who are questioning and seeking faith. While the retreat is similar to the Kairos retreat many students attended in high school, it focuses on the struggles and triumphs of young adulthood.
A day of reflection for first and second year students to help them find strength and nourishment during times of challenge and change. Like Connections, this experience involves student talks and small groups. We will draw inspiration from our community and the Ignatian tradition.
This student-led, small group-based retreat invites students to explore together how God shows up in the ordinary and extraordinary events of their own lives. Through careful listening, we honor each individual's unique relationship with God and create community out of diversity.
This retreat familiarizes students with the realities of urban poverty through personal contact. Students stay in modest accommodations in downtown Denver and interact and work with organizations operating in solidarity with those in poverty. We have personal encounters with those living on the streets and take time to reflect on our experiences.
This interfaith and intersectional retreat aims to empower women at Regis University by creating a dynamic environment for discussion on how their values are formed and come to shape their lived experiences and identities including gender, sexuality, race, ethnicity, and more. Women in Faith creates a space where women can bravely share and question their relationships with faith and can learn from faculty and staff mentors from a variety of faith traditions.