Helping students find direction
Sara Knuth
December 10, 2021
Listen to the audio version of this article
During the first week of school, sixth-grader Pablo Bermudez brought a bag full of his favorite things to class: a trophy he won with his football team, a Denver Broncos jersey and a book his teachers in Spain made for him before he moved to the United States.
He was most excited to share his Spain soccer jersey, making sure to point out that the country's national team won the 2010 World Cup. When he showed his class at Compass Academy his favorite Harry Potter book, it sparked a conversation.
"Have you seen the movies?" teacher Raquel Jacinto asked her class at the Denver charter school that's located in a stretch of hallway in Abraham Lincoln High School. "¿Habéis visto las películas?" she repeated.
Some students responded in Spanish, others in English. For the bilingual students, the activity helped set the tone for the rest of the school year.
At the same time, students in neighboring classrooms up and down the hallway were taking part in similar activities. Regardless of grade-level, all Compass Academy students start their day with the same class, similar to a homeroom, that focuses on social, emotional and academic development. In Sarah Craig's class, students talked about strategies they can use to calm themselves. In Daylan Bradshaw's class, they reflected on what self-awareness means. Located on a stretch of Denver's south Federal Boulevard that is home to many immigrants and financially struggling families, Compass Academy's philosophy is to celebrate its sixth-, seventh- and eighth-graders' cultural differences, acknowledge their individual strengths and learning styles while building academic achievement and creating what the school website calls "pathways from poverty to post-secondary success." They're doing it with a lot of help from Regis graduates.
Jacinto, Craig and Bradshaw are Regis graduates, as is Brandon Jones, the school's director of academics and development. The school, which receives financial support from the OAK Foundation through Johns Hopkins University and City Year AmeriCorps, has a close partnership with the University.
Jones teaches a seminar course through City Year, a program that sends young adults into underserved classrooms across the country for a year. The course is part of an alternative teacher licensure program authorized by Regis that gives City Year participants the opportunity to take Regis courses remotely. As part of the program, Jones teaches a course called "Creating Environments of Joy and Belonging."
In addition to the program, traditional Regis education students often complete their required practicum hours at Compass Academy, and some — including Jacinto, Craig and Bradshaw — go on to teach there.
Meeting Students Where They Are
As of the 2020-2021 school year, Compass' free and reduced lunch rate — a measure that serves as an indication of poverty — was among the highest in the state at 92 percent. All but 23 of the school's 287 students qualify for lunch assistance. But lunch assistance isn't all students can receive. Compass also provides breakfast to students who might otherwise not get it, and offers a program that allows families to receive dinners and snacks.
The school teaches students from around the world, from Mexico, Central America and South America to China, Korea and countries in Africa. Of the total population, 253 students, or 88 percent, are Hispanic or Latino, according to the Colorado Department of Education. More than half of the students are learning English as a second language.
In Jacinto's class, each student brought a "Me Box" to school at the start of the year after she sent the students home with 20 questions about themselves. The students, in turn, had to answer the questions by bringing an object from home.
"We serve a lot of newcomers to the country," Brandon Jones said. "Raquel speaks Spanish in her class. So many of them are only-Spanish speakers ... In this class, they're encouraged to speak whatever language they feel comfortable with. This is a really comfortable space for them because they can do that."
The school is bi-literate, which means non-native English speakers learn English and deepen their academic skills in Spanish, according to the school. Students who speak English receive Spanish instruction. Compass also uses an integrated academic and social-emotional model, which helps students master academic content through critical thinking, collaborative work and effective communication.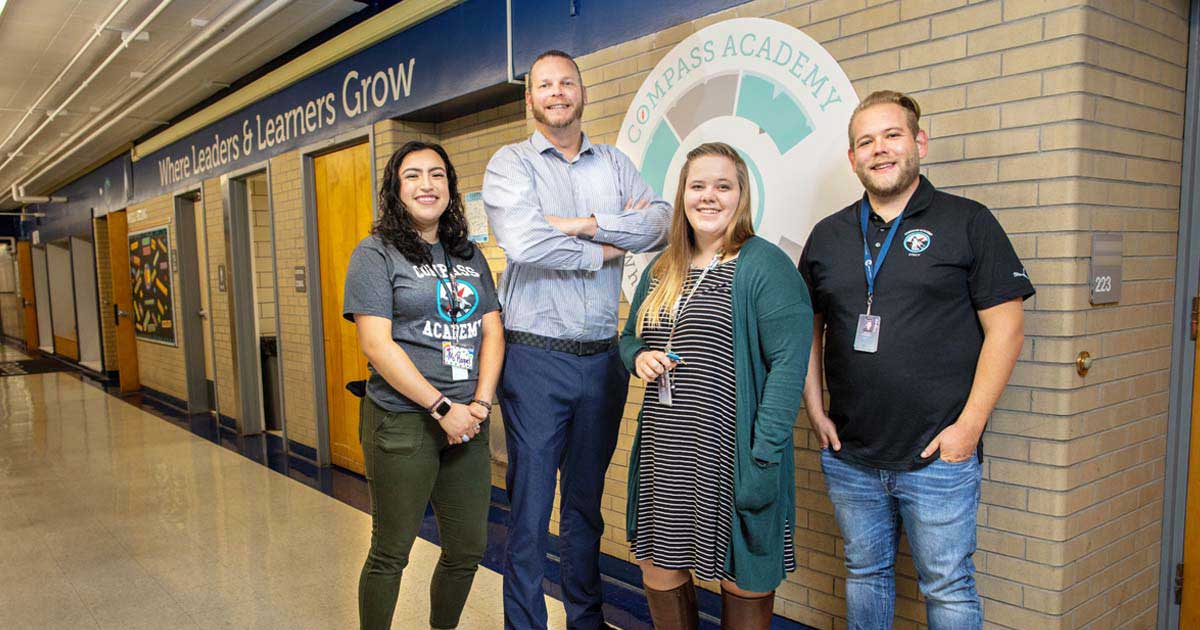 The Regis Educator Pipeline
Jones, who graduated from Regis in 2005, has helped nearly 40 Regis students and alumni gain classroom experience in the five years he has been with the school, he said, and for good reason. For Jones, his experience at Regis helped shape him as a teacher and administrator who works with underserved kids.
"I am a huge proponent of the Regis education," he said. "We're creating a pipeline back and forth because when it comes time to hire, I prefer to hire people that I've met before, who are interested. I know how Regis teaches, and that's what we expect here." Brandon Jones jokes that if he returned to his high school in Loveland, Colo., and told his former teachers that he is a school administrator who runs a successful education consulting business on the side, "they might pass out."
"I was not very studious when I was younger," he said. "I thought I was a basketball player, and there was nothing else [in] life besides basketball."
When he was a junior in high school, Jones needed a course to round out his semester. Reading a list of classes, nothing looked interesting, except "Elementary Tutoring." Every day, he showed up at a local elementary school, where he gravitated toward the kids who needed the most help, and the experience resonated with him.
Jones' education career officially took off in Tennessee, where he played college basketball and secured a job at a disadvantaged school. Shortly after that, he transferred to Regis to play basketball and finish his four-year degree in elementary education.
A couple of years after graduation, he moved to California with his wife, Regis nursing graduate Jane Jones, and took a job teaching eighth-grade English at a charter school in East Palo Alto. While Palo Alto may be the heart of Silicon Valley and home to tech billionaires and Stanford University, East Palo Alto, a mere two miles away, is home to many who live below the poverty line. In that town, Jones found a passion for teaching disadvantaged students.
"If you walk out of University Avenue, straight out of Stanford University, and you just keep walking, eventually the street starts to deteriorate, the stoplights don't work, there's no sidewalk, and you're in East Palo Alto," he said. "It's a very small community. It's only two- or three-square miles, but it's an extremely diverse community with a large Polynesian population, a large Latino population, Black population."
After Jones' students went to high school, he said, "they were extremely segregated. When you walked into any of these schools, all of the white and Asian kids were in AP classes, literally on one side of the school. All of our Latino, Black, Polynesian students were on the other side of the school. They had their own hallways, no matter their proficiencies in English, no matter their test scores."
That motivated Jones and his colleagues: A team of teachers went to the school board with a proposal to start a new high school in East Palo Alto. The proposal failed. But Jones, still competitive after his years of basketball, was determined to find other ways to serve students. He became a founding member of Downtown College Prep in San Jose, Calif., where he taught before becoming principal. There, he started training teachers to work with underserved students, and turned it into a consulting business.
An Educator Comes Home — and Comes Full Circle
The business played a role in securing his job at Compass when Jones moved his growing family, with a son Noah and twins Maya and Logan, back to Colorado. When he arrived, he asked a mentor about schools in the area.
"At the time, Compass was under direct threat of being shut down because of performance, probably rightfully so," he said. "The teachers here were not the right ones to be doing the job. So instead of applying, I actually just called the school and said, 'I don't know if you're hiring or what your positions look like, but I'm new to the area. You're who I want to work with.'" Dressed in casual clothes, he showed up to the school 15 minutes later and ran into Nate Kerr, City Year's senior director of school design and improvement, a nationwide role created in partnership with City Year, Compass and Johns Hopkins University.
"And Nate comes down to the office, turns and looks and at me and goes, 'Did you run a seminar in San Francisco on creating joy and belonging in schools and classrooms?' He was in the crowd ... he said, 'We need you to meet our executive director,'" Jones said. He got the job at Compass. "It was really a full circle moment of teaching, consulting and education in California and Colorado."
Five years later, many of the teachers who were trained by Jones during his first year are still with the school, he said. Additionally, Jones said the school's focus on bi-literate education and relationship-building has played a role in academic improvements.
Regis prepared Jones — and many of the teachers he hires — for the challenge. Jones said Regis' small environment suited him.
"I was at a huge comprehensive [college] in Tennessee and I was lost in the crowd, just another number," he said. "When I got to Regis, they not only gave you attention, but they also held me accountable, which no one had ever done before. I was just a basketball player. They made me a great teacher and held me accountable to that."
The Regis experience meant so much to Jones that when he moved back to Colorado from California, the University was one of his first stops.
"I feel like I owe a little bit back to them for what they were able to teach and give to me," Jones said. "In a way, I feel like the best way I can give back is helping other people at Regis who are interested in education. I should open the door for them the same way Regis opened the door for me."
Jesuit Foundation Sustains Grads
The first year of teaching is always rough. For Raquel Jacinto, being a first-year teacher during a pandemic sometimes felt impossible.
She remembers taking a phone call from Jones last year. She didn't want the conversation to last long.
"I said, 'I don't want to talk right now because I'm going to cry,'" she said. "And he said, 'It's OK, just cry.' And I was just bawling and crying and telling him how I wanted to quit. And he said, 'No don't quit. You've got this.' And so, I believed it. Then, I cried some more."
Jacinto said her colleagues and mentors, fellow Regis alumni Sarah Craig, who received her education degree in 2016 and Master of Development Practice in 2018, and Daylan Bradshaw, who received his education degree in 2016, helped her through the school year.
"I truly cannot imagine being at a better school [than Compass]," she said. "Just having graduated and going through a pandemic and having the support system that I had has been amazing."
COVID-19 Challenges Magnified
During the worst of the COVID-19 pandemic, Compass students faced a challenge experienced by many disadvantaged students: Lack of access to internet and technology. The school ultimately provided computers and hot spots to students who needed them. Jones relied on his connections in California, where they experienced lockdowns before Colorado did, for advice.
"We made it through the year," Jones said. "I wouldn't say that we made it through the year with huge success. I would say that we worked as hard as we could to do the best we could with the situation we were in. But there are some data points that show that the students who showed up, and participated and did the work, grew, which is crazy, especially with the amount of second-language learners at our school [who were] learning through a computer."
Making it through the school year was tough. For Jacinto, support stretched beyond Compass. Almost every other week, she heard from Regis faculty, including interim Regis College Dean and Division of Education Professor Heidi Barker, Ph.D., who called to see how she was progressing.
"No one really prepared us for what happened [during COVID-19]," Jacinto said. "But I still have very strong connections with a lot of my professors back at Regis, who are still checking in on me."
In Daylan Bradshaw's classroom, students worked in dim lighting, with music playing in the background, and reflected on what self-awareness meant to them.
Eighth-grader Jessica Brown, 13, said teachers made returning to school this year easier. "I think COVID [2020] was the hardest year for me, and it definitely gave me anxiety going back to school because I'm not used to all of these people," she said. "In person, I feel way better because I talk to the teachers, and I connect with them a lot more being face to face, rather than computer to computer."
Bradshaw, Sarah Craig and other teachers have given her space, she said. When she goes to high school next year, Brown knows what she'll miss most at Compass.
"I'm definitely going to miss this place, and all of my teachers — I'm definitely going to miss my teachers," she said.
Jones said he's grateful for a similar experience he had at Regis. The faculty were different than those he had experienced elsewhere.
"It wasn't just one. It was all of them that expressed the same type of support for people," Jones said. "Because I experienced that, I tell people when I hire them, 'Everybody thinks back to high school, where that one teacher had an impact on them. We're not hiring for one teacher to have that impact, we're hiring for every one of you to have an impact.' And that's modeled off the impact those professors had on me. It wasn't just one of them — it was all of them."