Regis University announces Regis College interim dean
Jennifer Forker
March 09, 2021
Heidi Barker will serve after Tom Bowie retires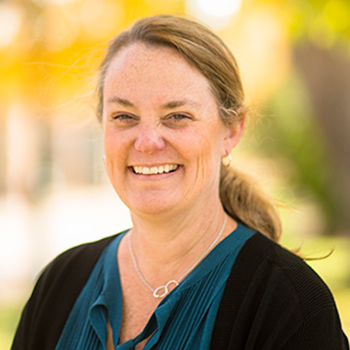 Regis University has named Heidi Barker, Ph.D., as its interim dean of Regis College, effective June 1. In this role, Barker will oversee the college that provides a liberal-arts education to approximately 1,900 students annually and includes the School for Professional Advancement for adult learners. She succeeds Tom Bowie, Ph.D., who is retiring after serving as dean for seven years.
Barker joined the Regis University faculty in 2004 and was promoted to associate dean of Academic Programs and of the Division of Education in 2017.
Regis Provost Janet Houser said Barker brings experience and a commitment to faculty and students to the interim dean role.
"Dr. Barker brings administrative acumen and a strong focus on student success to the interim role," Houser said. "She has been a vibrant member of the faculty and will keep Regis College on track while moving into a very different future." 
Barker earned her B.A. from Trinity University, her M.Ed. in Educational Administration from the University of North Texas and her Ph.D. in Curriculum and Instruction from the University of Illinois at Urbana-Champaign. She taught in a variety of public-school settings — in large urban districts, small rural district, and one suburban district — before entering higher education. She taught in special education and general education classrooms.
At Regis, Barker has taught courses in the special education program and for elementary licensure (focusing on science, social studies and math). She teaches seminar course, Educational Disparity and Justice. Barker's research and writing focuses on teaching strategies and collaboration to prepare quality educators who are entering the field amid school reforms. More broadly, her interests focus on how school reform efforts are impacting public education in a democratic society.
Barker is the author of several articles, book chapters, and two books, Culturally and Linguistically Diverse Exceptional Students: Strategies for Teaching and Assessment (2010) and Teachers and the Reform of Elementary Science: Stories of Conversation and Personal Process (2004).
Following a sabbatical, Bowie will return to teaching at Regis. He has served Regis for more than 16 years and has held several academic leadership roles, including as interim dean of the Anderson College of Business and Computing.
About Regis University
Established in 1877, Regis University is a premier, globally engaged institution of higher learning in the Jesuit tradition that prepares leaders to live productive lives of faith, meaning and service. Regis University, one of 27 Jesuit universities in the nation, has three campus locations in the Denver metro area and extensive online program offerings with more than 8,000 enrolled students. For more information, visit 
www.regis.edu
.