Stephanie Morris named vice president and chief financial officer
Sheryl Tirol
February 08, 2023
R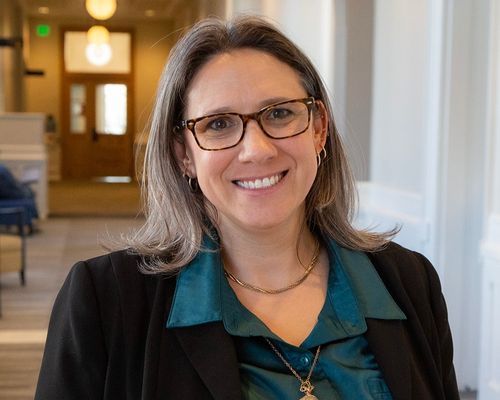 egis University President Salvador D. Aceves has promoted Associate Vice President for Financial Affairs Stephanie Morris, CPA, to succeed him as Vice President and Chief Financial Officer.  She is Regis' first female CFO.
Morris, who worked 14 years in progressive financial roles at various Colorado nonprofits, joined Regis  in 2008 as Manager of Accounting, bringing her experience, and skills to the finance and accounting team. Morris earned a Master of Science in accounting at Regis and was promoted to Associate Vice President in 2011.
Her care and commitment to Jesuit Catholic education grew through her participation in the Ignatian Leadership Program. Morris is a leadership coach and mentor, guiding her team to meet the campus community's growing and evolving needs. Her expertise in higher education can be seen through her work as a Higher Learning Commission (HLC) Peer Reviewer. HLC recognized Morris as the recipient of Peer Corps Hero Rookie of the Year in 2021.  
A proud Regis alumna, Morris became a legacy parent when her daughter enrolled as a freshman last Fall. Commenting on Morris' strengths, senior leaders shared "her willingness to listen and accommodate the different perspectives around the table" and "her commitment to being transparent and inclusive." Morris continues to help and guide nonprofits. She served on the board of Clinica Tepeyac. Aceves added, "Her work reflects her mission-centered commitment to Regis and our faculty, staff, and students. I look forward to working with her as a senior leadership team member."
About Regis University
Established in 1877, Regis University is a premier, globally engaged institution of higher learning in the Jesuit tradition that prepares leaders to live productive lives of faith, meaning and service. Regis University, one of 27 Jesuit universities in the nation, has three campus locations in the Denver metro area and extensive online program offerings with more than 6,000 enrolled students. For more information, visit 
www.regis.edu
.