Porter-Billups Leadership Academy Announces Deion Sanders as Annual Gala Keynote Speaker
Sheryl Tirol
May 03, 2023
The July 29 event will be held at the Gaylord Rockies Resort and Convention Center
The Porter-Billups Leadership Academy (PBLA) is pleased to announce Deion Sanders as the 2023 keynote speaker for its annual gala and fundraising auction.
The gala will take place Saturday, July 29, 2023, at 5:30 p.m. at the Gaylord Rockies Resort and Convention Center. The event will be an outstanding evening including a cocktail hour, live and silent auctions, dinner, and a conversation with coaches Deion Sanders and Chauncey Billups.
Sanders played 14 seasons in the NFL with eight Pro Bowls and nine First-Team AP All-Pro selections. His propensity for being an all-time performer and putting on an impressive show earned him the nickname "Prime Time," referring to the regularly occurring time at which a television audience is expected to be greatest. Sanders was named NFL Defensive Player of the Year and won two Super Bowls. He retired second all-time for interception return yardage and tied for second all-time for interceptions returned for a touchdown. He was inducted in 2011 into the Pro Football Hall of Fame. In addition to his NFL career, Sanders played nine seasons of Major League Baseball. He is the only athlete to play in both a Super Bowl and a World Series.
The Coach Prime era began in 2020 when Sanders was appointed Head Football Coach at Jackson State University. He was essential to the impact and recognition of the program leading the Tigers in 2021 to a school-record, 11-win season. Buff fans are now eagerly awaiting the prime-time debut of Sanders as Head Football Coach at the University of Colorado in Boulder. 
The Porter-Billups Leadership Academy was established in 1996 by Regis University Men's Basketball Head Coach Lonnie Porter and his daughter, Staci Porter-Bentley, to provide academic and leadership training to Denver's at-risk, inner-city youth. The organization gained the support of NBA star Chauncy Billups in 2006 to act as a positive role model and promote individual values, academic excellence, and leadership skills.
Proceeds from the gala and fundraiser will benefit the Porter-Billups Leadership Academy programs held each summer on the Regis University campus. Registration is now open at porterbillups-denver.org/gala.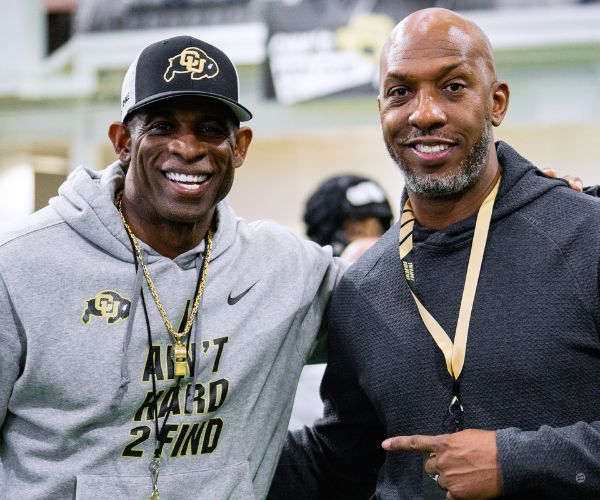 Coaches Deion Sanders and Chauncey Billups
About the Porter-Billups Leadership Academy
Founded in 1996, Porter-Billups Leadership Academy at Regis University is a nonprofit that supports Denver area youth with leadership potential. For more information visit: https://www.porterbillups-denver.org/
About Regis University
Established in 1877, Regis University is a premier, globally engaged institution of higher learning in the Jesuit tradition that prepares leaders to live productive lives of faith, meaning and service. Regis University, one of 27 Jesuit universities in the nation, has two campus locations in the Denver metro area and extensive online program offerings with more than 6,000 enrolled students. For more information, visit www.regis.edu.