Regis University names Madhu Rao as academic dean of Anderson College of Business and Computing
Seattle University expert on global IT management to join Regis in 2024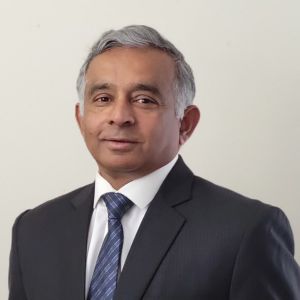 Regis University has named Madhu T. Rao, Ph.D., as the next academic dean of the Anderson College of Business and Computing, effective Jan. 1, 2024. He succeeds founding dean Shari Plantz-Masters, Ph.D., who will remain on faculty.
Dr. Rao has been the associate dean of Albers School of Business and Economics at Seattle University, a fellow Jesuit institution, since 2016. Rao also is professor of information systems and is an expert in global IT management and the control and coordination of dispersed teams. His current research relates to the challenges facing higher education.
His teaching areas primarily focus on the management of information technology. He teaches at the undergraduate, graduate, and Executive-MBA levels and was named the Albers Beta Gamma Sigma Professor of the Year in 2009 and 2015.
Dr. Rao has a doctorate in information systems with a minor in global business from Indiana University and three master's degrees from the Birla Institute of Technology and Science in India in systems and engineering, management studies and chemistry.
"I'm thrilled to welcome Dr. Rao to Regis. He brings a wonderful combination of expertise, insight, integrity, along with a commitment to and demonstrated effectiveness with the values we hold dear here," said Provost Jake Bucher. "Thanks to the work of Dr. Plantz-Masters and the Anderson faculty and staff, Anderson College is well positioned for success and impact – and I look forward to working with Dr. Rao to help us reach and surpass that potential."
Dr. Rao said, "I am humbled and delighted to become part of the Regis family. In bringing business, computer science, data science, and information technology under one roof, the Anderson College of Business and Computing offers an exciting vision of the future while remaining anchored in the values of a Jesuit education. I look forward to building on its outstanding foundation in collaboration with its world-class faculty and staff. As a key strategic partner in President Aceves' vision for Regis University, Anderson College will remain committed to educating leaders for the common good and to be an exemplary institution of higher education for Colorado, the nation, and the world. Go Rangers!"
Anderson College was formed in 2020 with the integration of the university's business college and Regis' College of Computer and Information Sciences. The new college incorporates important elements of both disciplines to provide graduates with fluency and skills in both business and technology in addition to a deep grounding in the Jesuit tradition of service and ethics. Experiential learning opportunities range from starting new businesses in our Innovation Challenge or competing in the Rocky Mountain College Cyber Defense Competition.
The college has been designated as a National Center for Excellence in Information Assurance Education by the National Security Agency and Department of Homeland Security since 2007 and is home to Accreditation Board for Engineering and Technology- and Glocal Accreditation Center-accredited programs.
The search committee was led by Tom Bowie and Jim Gaulke. Committee members were Matt Daly, Tahara-Rafia Kassam, Liz Whitmore, Kevin Pyatt, Hugolin Bergier, Mausumi Mahapatro, Nicki Gonzales, Abigail Schneider, Debi Colias, Stephanie James and Shawn Gour.
About Regis University
Established in 1877, Regis University is a premier, globally engaged institution of higher learning in the Jesuit tradition that prepares leaders to live productive lives of faith, meaning and service. Regis University, one of 27 Jesuit universities in the nation, has two campus locations in the Denver metro area and extensive online program offerings with more than 6,000 enrolled students. It is a federally designated Hispanic Serving Institution. For more information, visit www.regis.edu.