Regis University Presidential Inauguration Set for Sept. 22
Sheryl Tirol
September 18, 2023
The 146-year-old private institution will inaugurate its first lay and Latino president
Regis University will inaugurate its new President, Salvador D. Aceves, Ed.D.  on Friday, Sept. 22 on the Northwest Denver Campus. The ceremony is scheduled to begin at 10 a.m. in the St. John Francis Regis Chapel. Aceves is the first lay and first Latino President to lead the University. The only private Jesuit Catholic university in Colorado, Regis had been led by Jesuit clergy since its founding in 1877.  
Aceves, who was the University's Chief Financial Officer before being chosen as President, has been with Regis for nearly a decade. Aceves' selection follows an eight-month national search conducted by a 16-member search committee comprising trustees, faculty, staff, alumni, and students.   
Chair of the Regis Board of Trustees Derek Scarth noted the importance of what lies ahead for the University and what he believes Aceves will be able to accomplish. 
"We are truly fortunate to have Dr. Aceves leading our University towards its 150th anniversary and beyond. His unwavering commitment to our Jesuit Catholic mission, coupled with his expertise in academic affairs and perceptive management skills, instilled confidence in all Regis colleagues during the selection process. Regis University is brimming with opportunities as we look ahead, from our Hispanic-Serving Institution designation to the development of 26 adjacent acres. Dr. Aceves is the ideal leader to guide us toward this promising future with humility and dedication," said Scarth. 
Trustee Nita Gonzales addressed the significance of Aceves' appointment as the first Latino President for Regis.  
"Salvador Aceves, the visionary leader of Regis University, exemplifies the essence of a new era for Regis University as a Hispanic-serving institution. His presidency heralds a future where diversity, inclusion, and educational excellence unite to empower the next generation of leaders, embracing the richness of Latino culture and fostering a brighter tomorrow for all," said Gonzales. 
Prior to joining Regis, Aceves worked extensively at other Jesuit universities as both an administrator and faculty member.  He served as Associate Vice President for Academic, Financial Planning & Analysis at Fordham University, where he also held an appointment as associate professor of accounting in the Gabelli School of Business. Previously, he served as vice provost and chief planning and budget officer for the University of San Francisco, where he also held a faculty position as associate professor of accounting, teaching in both the School of Business and Management and the School of Law. He also received five teaching awards there.  Dr. Aceves graduated from the University of San Francisco with a Bachelor of Science in accounting and a doctoral degree in education with a focus on global business. He also holds a Master of Science in taxation from Golden Gate University. Earlier in his career, he worked at both Price Waterhouse and Citibank. 
Since Aceves took office in January, Regis has been designated as a Hispanic Serving Institution, a federal designation given to institutions serving a largely Hispanic student body. 
The inauguration festivities will begin on Thursday, September 21 with the Mass of the Holy Spirit, which will take place from 3:30-5 p.m. at the St. John Francis Regis Chapel. On Friday, September 22 at 10 a.m., the inauguration ceremony will take place, followed by an all-campus celebration picnic on Boettcher Commons.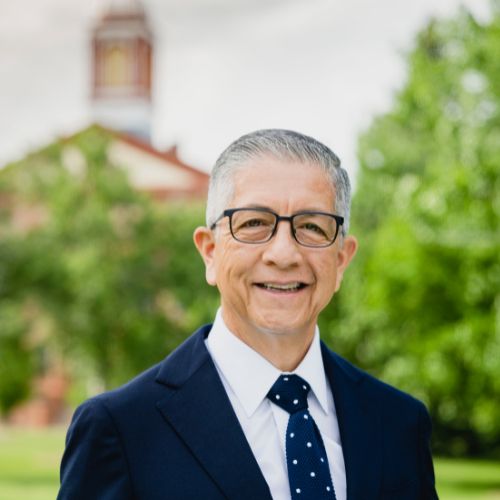 Regis President Salvador Aceves, Ed.D.
About Regis University
Established in 1877, Regis University is a premier, globally engaged institution of higher learning in the Jesuit tradition that prepares leaders to live productive lives of faith, meaning and service. Regis University, one of 27 Jesuit universities in the nation, has two campus locations in the Denver metro area and extensive online program offerings with more than 6,000 enrolled students. It is a federally designated Hispanic Serving Institution. For more information, visit www.regis.edu.