The Office of Mission works to build a culture committed to the Jesuit mission and supports opportunities to deepen understanding and live out the ideals rooted in our Jesuit, Catholic tradition. Committed to respect for all, we enable all members of the Regis community to grow as individuals and contribute to building a more just and humane world.
The Regis Mission
As a Jesuit Catholic university,
Regis seeks to build a more just and humane world
through transformative education
at the frontiers of faith, reason and culture.
Elements of Our Mission
As a university, Regis draws from wellsprings of ancient wisdom and explores new horizons of thought and imagination to pursue truth, strive for justice and cultivate beauty. In everything, Regis shepherds the development of the whole person in relation to the common good, asking, "How ought we to live?"
---
As Catholic, part of a global community of faith called to celebrate and embody God's love in the world, Regis educates diverse students for lives of service and meaning. Regis equips them with knowledge and skills to be discerning persons in solidarity with others, especially all who are poor or whose dignity has been violated, and empowers them to care for the Earth, our common home.
---
As Jesuit, rooted in an Ignatian spirituality of Christian discipleship and open to the sacred in all human cultures, Regis aspires to be a community of learners who labor for a transformed world and renewed ecosystem, and who journey as companions responsible to each other.
---
Office of Mission Initiatives
Exercising the very principles we teach, Regis offers three days of mission leave to faculty and staff members each year. Regis employees are able to use these days to volunteer, serve and give back to their local communities or enjoy spiritual retreats.
We are all companions in a shared mission. Regis provides opportunities such as retreats, learning communities and special events so that all employees can deepen their understanding of the mission and explore their own values and commitments.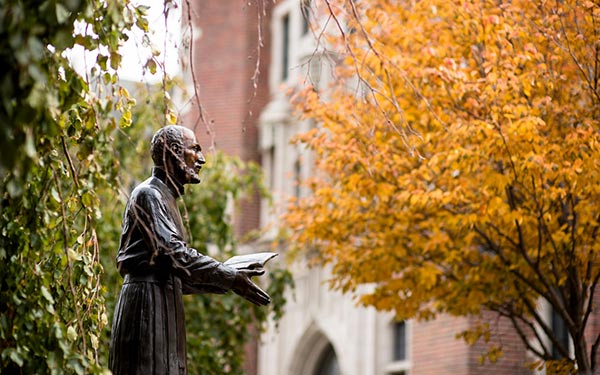 University Ministry
University Ministry invites you to 'come as you are' to explore issues of faith, spirituality and social justice. We think you'll be glad you did!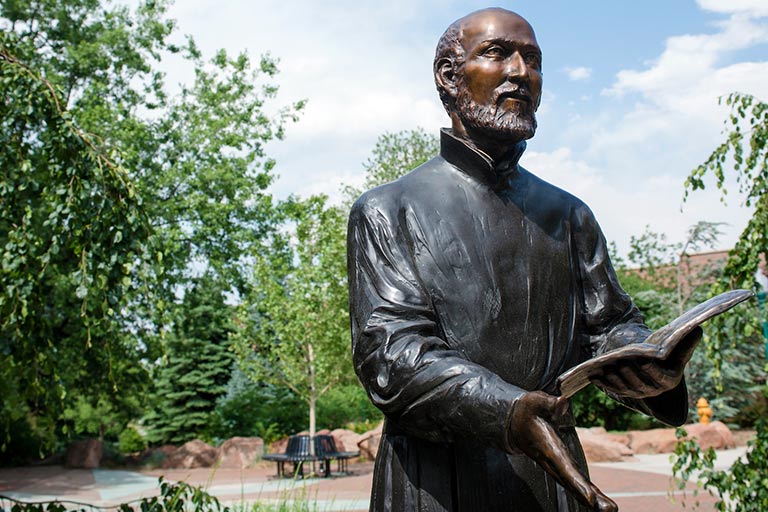 Reflections on the Ignatian Year
July 31 marks the feast day of St. Ignatius of Loyola. When Ignatius was canonized by Pope Gregory XV in 1622, July 31st was chosen as his feast day. His main task was to form a community of apostles who, though scattered over the globe, maintained union of mind and heart with their brothers. He founded what is now known as the Society of Jesus – the Jesuit order in 1556. He also helped to establish schools and universities around the world. As the year of Ignatian wraps up on July 31 we continue to celebrate and, also reflect on the incredible impact he has had on the world and all of us.
The office of Mission created a reflection book to help guide readers through the journey of St. Ignatius and how we can incorporate some of the spiritual teachings he developed in our lives.
Contact the Office of Mission
The Office and Mission leadership includes Fr. Kevin Burke, S.J., Vice President of Mission and Kari Kloos, Assistant Vice President of Mission.