Introducing Regi the Ranger!
Our fox is kicking Regis' spirit up a notch.
To continue to grow as a University rooted in Jesuit beliefs, Regis has adopted a new mascot. Regi the Ranger is a firm believer in lighthearted fun and cura personalis. In incorporating a new mascot, we wanted something that would reflect our University, inspire our community, build fellowship and celebrate Ranger pride. Regi is joyful, inquisitive, compassionate and proud to be a part of the Regis family.
This fox's favorite activity is pulling pranks on the Northwest Denver Campus, including filling an elevator in Clarke with balloons and setting out "free donut" signs that led in a circle. Let's get to know our new mascot better.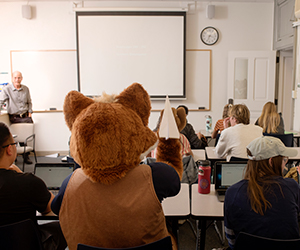 Q. Why donuts?
A. The real question is, "Why not donuts?" Donuts are practically their own food group, let's be real.
Q. Your tail has something black on it.
A. I escaped the forest fire that destroyed my home but not before it charred my tail and ears. I found refuge on this campus, and you kind people let me stay. I won't forget that. That kind of generosity is hard to come by these days.
Q. What's your favorite food?
A. Donuts.
Q. I just wasted a question, it seems. What's your favorite color?
A. Blue. Or gold. No. Blue and gold when they're together.
Q. What would you like everyone to know about you?
A. I love laughter. This is a pretty serious world with a lot of big questions. I'm glad I get to be in a community that's willing to ask them. But we also need to remember to laugh. It's cura personalis — if we don't take care of ourselves by laughing every now and again, how will we be able to care for others with positivity? So watch out! I'm going to sneak-a-laugh if you're not careful.
Q. There are rumors circulating. . .What happened to Roamin'?
A. My friend Roamin' got a job at the Rocky Mountain National Park! Sorry he left without saying anything. But, you know, he can't actually say anything so it should have been expected.
Q. Do you want to tell us about the project you're working on
A. I'd love to! Since I lost my home in a forest fire, I've been pretty down. When you all invited me to live here, though, it meant the world. I had somewhere I could call home again. So, I've been inviting the other neighborhood wildlife that lost their homes to the fire to join me on campus too. It's perfect! You have so many trees that need friends.
Q. What's your favorite flower?
A. Foxglove.
Q. What's your favorite sea creature?
A. Foxfish.
Q. What's your favorite dance?
A. Foxtrot. This is fun, keep going.
Q. Um…what's your favorite movie?
A. "The Fox and the Hound." But actually no. That movie is really sad. Was that the last question? What a tragic way to end this.
Q. All right, one more then. What does the fox say?
A. …