Making the Most of Opportunity
Matt K. Johnson
July 10, 2020
Gratitude, passion propel Tori Rinsem to achievements on the field and in the classroom
It's not common for a teenager to have a college picked out before their junior year of high school.
Then again, Tori Rinsem has never followed a common path.
This spring, Rinsem graduated and finished her Regis women's soccer career as both a First Team honoree and Academic Player of the Year in the Rocky Mountain Athletic Conference. But 23 career goals and a near-perfect GPA only tell part of her story. 
Falling in Love
Rinsem was captivated by Regis from the beginning.
During her first year of high school club soccer in Gilbert, Ariz., Rinsem's coach told her about a friend, J.B. Belzer, who coached at a school in Denver called Regis. Rinsem was intrigued. She had initially considered Division I opportunities, but many of them didn't have the academic standards she was looking for and wouldn't give her a chance to flourish on the soccer field. Regis, on the other hand, offered both.
So Rinsem attended soccer camp at the Northwest Denver Campus during her first high school summer. After interacting with Belzer and the players, she sensed something different about the Rangers and the soccer program. "That camp was my first exposure here, and I just fell in love with it those four days ... The way [Regis] had the love of the game, and the academics and the school as well, it just all came together," she said.
By her sophomore spring, Rinsem had verbally committed to be a Ranger. "I just felt at home here," she said. 
"Everyone has a different way to live their life to the fullest," Rinsem said. "My way has been trying to soak up every opportunity, and giving my all to every opportunity that I had."
Standing Out
Once her Ranger career started, Rinsem set herself apart in every way. By the end of her first year, she had collected RMAC Freshman of the Year honors while leading the team in assists (four) and goals (eight) — including three game winners.
Off the field, the Board of Trustees Scholarship recipient completed a research paper that pointed her toward a budding passion for health and exercise science. "Once I got here and I found what I was passionate about in health and exercise science, it was just like, I want to soak all of this up while I can — because it's another opportunity," Rinsem said. "I've had incredible professors here as well, so I wanted to learn everything I could from them."
She continued to find success on the field, including a regular season RMAC Championship and two more First Team selections. Off the field, she posted a 3.99 GPA. She also served as co-president of the Student-Athlete Advisory Committee, was inducted into the Jesuit Honor Society of Alpha Sigma Nu and conducted research with Health and Exercise Science Associate Professor Brian Baum.
All that hard work resulted in the kind of dilemma many students only dream of: whether to accept a graduate program offer from Columbia University or the Mayo Clinic. She chose Columbia, and plans to start her master's program in nutrition and exercise physiology this fall at the university's Teachers College.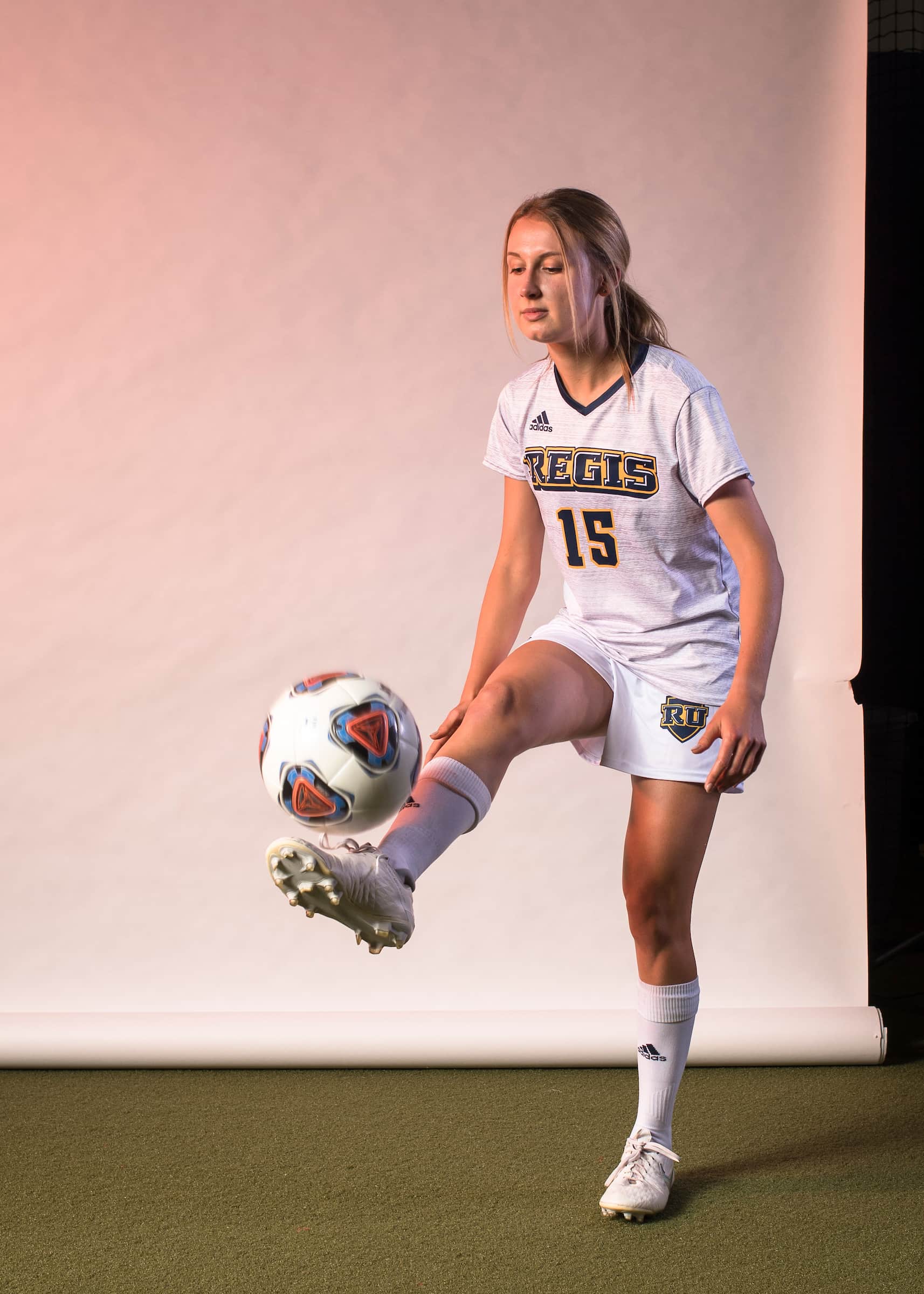 Unity of Mind and Heart
Rinsem attributes her intense work ethic to gratitude for the opportunities given to her by her parents, coaches, teammates, friends and Catholic faith. "Everyone has a different way to live their life to the fullest," she said. "My way has been trying to soak up every opportunity, and giving my all to every opportunity that I had."
Once she finishes her graduate studies, Rinsem hopes to apply her skills and her favorite Regis value — unity of heart and mind — toward becoming a registered dietician. "If you have the unity between your heart and mind ... you can be motivated to make a true difference in any human life or in the world, because you have passion," she said.
She graduated thankful to Regis for introducing her to the experiences and relationships that fueled her. "It's a pretty cool thing when you find a place and people you can be completely yourself around," she said. "I think that's a very rare thing, and I've found that here for sure."