Hall of Fame
Matt K. Johnson
January 13, 2021
Listen to the audio version of this article
Joe B. Hall built a legendary career on a Regis foundation
Before he was a hall of fame basketball coach, before he won a national championship at the University of Kentucky, before he took on the seemingly impossible task of filling the coaching shoes of the legendary Adolph Rupp, Joe B. Hall cleaned the Regis swimming pool.
He also taught physical education classes, coached baseball, served as athletic director and somehow found time to coach the men's basketball team. In that last job, the one he'd been hired to do, Hall laid the foundation for a career that would rank him among the best college basketball coaches of all time.
In five seasons at Regis, from 1959 to 1964, he built a team that could hold its own against some of the biggest names in college basketball, and even scored an upset over Oklahoma State, ranked number four in the nation at the time.
His success was Regis' loss; by 1965 Hall was back at the University of Kentucky, an assistant to Rupp, his own former coach.
Now 91, a legend in his own right and a hall-of-famer, the one-time Regis head coach has shared the story of his success in a new book, Coach Hall: My Life On and Off the Court, written with Marianne Walker.
Hall was born in 1928 in Cynthiana, Ky., a little town in the heart of basketball country — 30 miles north of UK's Lexington home.
In his book, Hall recounts that his parents hadn't chosen a name for him, so the doctor who attended the birth christened him Joe Beasman after a man the physician admired — but who Hall never met.
When he was 9 or 10, Hall recalled, his grandmother pulled him aside and told him the name Joe Hall was "too short and too plain. Let's add your middle initial to make it more interesting. From now on, you say your name is Joe B. Not just Joe. It's Joe B. Hall." Not one to disobey his grandmother, Hall was, from then on, Joe B.
In the Depression years of his childhood, Hall's father worked as a mechanic and a welder; he took any job he could find, Hall wrote. At the same time, Charles "Bill" Hall passed along his values of "God, family, hard work, fair play and discipline of mind and body."
Hard work and discipline surely helped Hall earn a scholarship and a spot on the same University of Kentucky basketball squad he had grown up admiring. UK was, even then, a storied program with a marquee coach, Adolph Rupp. The program's status both thrilled and frustrated Hall. With so many terrific players, his own time on the court was limited. After a couple seasons, and with Rupp's blessing, Hall transferred to The University of the South, in Sewanee, Tenn., where he became a leading scorer despite holding down four jobs to cover his college costs.
From Peddling Pickles in Kentucky to Coaching in Colorado
In the summer of 1951, Hall was part of a college all-star team that toured 14 European and African nations, playing 56 games in 58 days. He came home exhausted, left college and basketball and went to work selling ketchup and pickles for the H.J. Heinz Co.
It wasn't long before he met and married Katharine Dennis, then figured out that selling condiments wasn't his calling – but coaching was. After finishing his degree at UK, Hall took a job coaching basketball and football at a small high school in a small town, Shepherdsvllle, Ky.
By 1959, Hall was ready to move on. He and Katharine, who was by then pregnant with their third child, packed up the family and pulled a U-Haul to Colorado, where Hall had taken a job coaching basketball — along with myriad other duties — at Regis.
Here Hall recruited some of the best players ever to wear a Rangers uniform, including standout stars Louis Stout, James Ray Jones and Cozel Walker. He also provided his players with some of the best competition ever faced by Ranger teams — in any sport.
"It was my theory that if I recruited well and built a good, competitive schedule, that we could grow our program in a positive direction," Hall said. "And that's what we did. We added Division I teams to our schedule, and we played some of the top teams in the nation."
Hall's Rangers defeated the likes of Arizona, Colorado State, Oklahoma State, the University of Denver and the Air Force Academy. Hall even managed to schedule trips for Regis to play in overseas tournaments.
Hall excelled at what was then Regis College while not only fulfilling his many duties but also earning his master's degree at Northern Colorado State College, now the University of Northern Colorado. He also faced adversity common to coaches at small schools at the time.
"Upon his arrival at Regis College, he found a weak and disheartened team, a definite lack of school spirit, and a large amount of opposition from the press media here in Denver," according to an article in the former Regis student newspaper, The Brown and Gold.
"Realizing that he was faced with a monumental task, and that his personal future would depend on the outcome, Joe B. Hall worked hard to bring talent to Regis. He felt that once he had made the team, the reputation would necessarily follow. And he was right."
Hall had a few advantages in recruiting players to Regis. "We built a new gym when I was there. We had the best uniforms and equipment than anybody had," he said in a recent interview. "We had a great recruiting base, the mountains, the skiing, the clear weather — it was a beautiful setting for families to come and see what we had to offer."
Another bonus was being able to entice student-athletes with a Jesuit education, at a school that was small but offered big-time athletic and academic opportunities. "The Jesuits were the perfect atmosphere for those young boys," he said. "They were tough, and they were honorable. The Jesuit group, in my estimation, are the finest educators at any level, in any field, in the whole world."
Hall realized that Denver's high altitude would require a new diet and workout regimen. "In such an environment, with less oxygen, I had the boys eat foods high in potassium and drink lots of water," Hall wrote in his book, Coach Hall. "They became superbly conditioned with running and weightlifting... While many of the teams that came to Denver to play us would fade in the second half, my team remained strong."
Courting Success in the National Spotlight
One of Hall's most impressive victories — knocking off number-four-ranked Oklahoma State — earned him a congratulatory telegram from Rupp. That turned out to be a sign of things to come. It wasn't long before Hall was back at Rupp's side, landing a job as an assistant coach in 1965.
When Rupp retired in 1972, Hall found himself in the unenviable position of taking over head coaching duties for one of the most successful figures in the sport's history — the man whose name is now on the arena where Kentucky plays its home games.
"I've long said that few coaches in our game have ever had as difficult of a task as what Coach Hall faced at Kentucky," current Kentucky Head Coach John Calipari wrote in a review of Hall's book.
"To follow a legend like Coach Rupp is incredibly tough. Coach Hall not only continued the tradition of winning and excellence, he did it with grace and humility," Calipari wrote.
The pressure to succeed and to maintain Kentucky's status among the country's pre-eminent basketball programs was enormous. But succeed Hall did — over his 13 seasons at Kentucky, the Wildcats won nearly two-thirds of their games and claimed eight Southeastern Conference regular-season championships. During his tenure, it was a rare NCAA tournament that didn't include Kentucky, and he led the Wildcats to three Final Four appearances. In 1978, Hall's Wildcats won the national championship with a 94-88 victory over Duke.
Hall accomplished this while also gaining attention for bringing the first Black players to the UK program. He also hired the team's first Black assistant coach, Leonard Hamilton, who went on to coach at multiple Division I programs, and in the NBA. "Some people wanted me to win with all white players, but it didn't matter to me," Hall told Calipari in an episode of Kentucky Wildcats TV's Legend to Legend. "Every team I ever had had African American players, and they were good kids. They were some of my best citizens, my hardest workers, my most dedicated."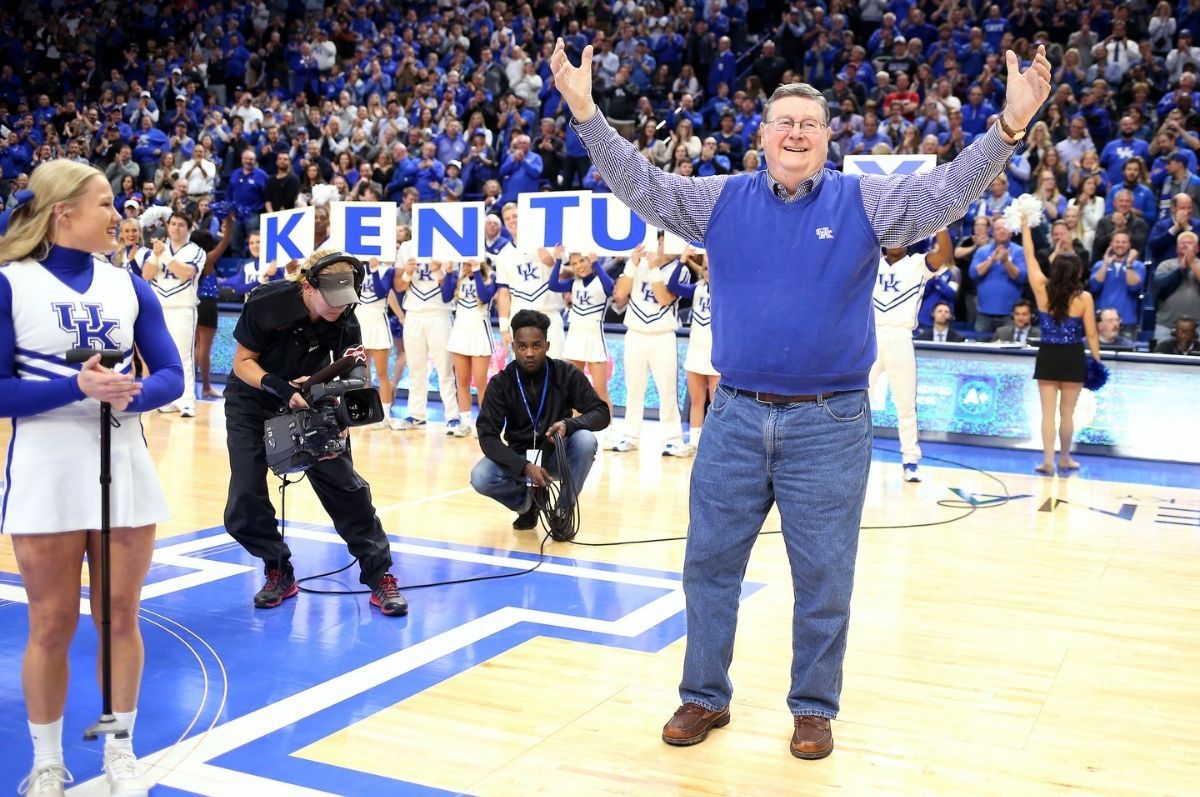 Preserving Memories while Collecting Honors
His Kentucky success may have put Hall in the national spotlight but his connections with Regis remained. In 1985, the NCAA Tournament West Regionals were held in Denver, in the old McNichols arena, and Hall brought his team to his former stomping grounds at Regis.
"I enjoyed returning there," he wrote in Coach Hall. "I took the team to the small gym at Regis to practice. It was so good to see that many of the teachers and the Jesuit priests I knew were still there, and they welcomed me with open arms. That visit was a highlight for me."
After knocking off higher-ranked University of Washington and the University of Nevada Las Vegas, the Wildcats faced top-seeded St. John's in the Sweet Sixteen — and lost. For Kentucky, it was the end of the season. For Hall, it was the end of his Kentucky career. Following the game, Hall announced his retirement. "I start- ed my coaching career in Denver and I finished it there," he told The Denver Post in 2012.
He finished that career with a stellar record at Kentucky: 297 wins, 100 losses.
Around Lexington, and Denver, Coach Hall may be retired but he isn't forgotten.
A bronze likeness of him sits on a bench on the UK campus in Lexington. In 2012, he was inducted into the National Collegiate Hall of Fame. In 2017, Hall went home to Cynthiana as guest of honor when the town unveiled a 35-foot mural of him on Main Street.
Since his retirement, Hall has been a fixture at Kentucky sporting events — from NASCAR races to high school football games, and, of course UK basketball games. But by 2019, in his 91st year, he had to cut back, something that didn't sit well with the former coach.
"It's tough on him," one of Hall's sons-in-law, Rick Derrickson, told the Lexington Herald-Leader. "He likes to get out there. And he's a people guy."
A bad ankle hobbles his ability to get around. "The ankle I dunked off of has gone bad on me," Hall joked. So, he relies on a cane or a walker. But when police met him outside Rupp Arena with a wheelchair and rolled him into a UK game during the 2019 regular season, Hall wasn't happy.
"I prefer to get around with my cane," he told the Herald-Leader. The wheelchair, he said, "is degrading. It's undignified. I just don't like it."
Earlier this year, Calipari made headlines for advocating that Hall be enshrined in the prestigious Naismith Memorial Basketball Hall of Fame. If Calipari's appeal is successful, Hall will join an elite group of 105 men's and women's, college and professional coaches that includes John Wooden, John Thompson, Mike Krzyzewski — and Adolph Rupp and Calipari himself.
Regardless of whether he joins that group, Hall's legacy remains strong nationwide, and at Regis.
"Joe B. Hall, out here, people still remember," said 38-year Regis men's basketball Coach Lonnie Porter, who followed 13 years after Hall.
To Hall, the memories of his time at Regis will always be intertwined with the values he tried to instill in his players. "I tried to carry on a program that was evidence of a Christian education. I think our goal was to teach our young men to be extremely competitive and play tough, hard-nosed defense, and we would be proud of our wins and respectful of our opponents when we lost. We never lost our composure, we never lost our edge, and we always represented Regis College in a positive way."