Changing Course to Capture History
Karen Augé
June 16, 2021
Since graduating from Regis in 2009, Dan Steinle has been a high school English teacher, a butcher, and a customer service rep. But throughout those career changes — and in high school and college — he nurtured one consistent passion: photography.
Then, in 2020, "everything everybody was going through" — the pandemic, the election, the protests for racial justice — hit him. The turmoil prompted him to think about what he wanted to contribute to the world. So, he quit a "soul-sucking" job and made his passion his profession: He became a full-time photojournalist, which is how he ended up getting pepper sprayed on the steps of the U.S. Capitol on Jan. 6, as a violent mob launched a failed insurrection. But by the time chemicals in his eyes incapacitated him, he'd already captured unforgettable images, including the faces and actions of those who carried out the attack. 
Eight years ago, his winding career path led Steinle to Portland, and last summer that city became an epicenter for Black Lives Matter protests and sometimes violent clashes between police, protestors and federal officers. As he embarked on his new career chronicling the events, that front-row seat to history could have been a ticket to riches, or at least a burgeoning reputation. Steinle, though, didn't see it that way. "I purposely didn't try to sell those photos because I had issues with being a white male profiting off that."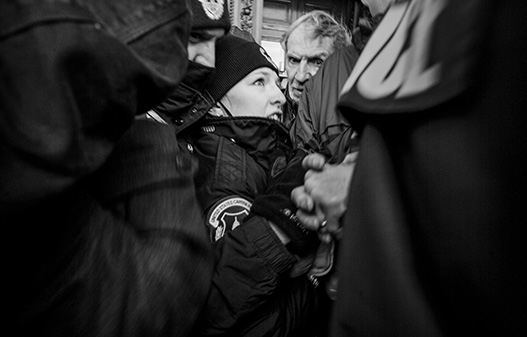 The experience did, however, teach him to prepare physically for the events at the Capitol. Steinle arrived at the scene wearing a helmet and bullet-proof vest and carrying a walkie-talkie and first-aid kit. What he wasn't prepared for was how easily the mob got inside the halls of government. "I've seen better security at concerts," Steinle said.
Steinle came to Regis by way of Marquette University High School in Milwaukee, Wisc. He was drawn by the chance to build on the Jesuit foundation Marquette provided and to play in the great Colorado outdoors. He double-majored in visual arts and English literature (as a student his "Hemingway obsession" took him to Spain where he ran with the bulls in honor of the late author).
 In February, he returned to Regis, briefly and virtually, to share his experiences — and his philosophy on careers and difference-making — with Student Life Director Dave Law's Heroic Leadership course, offered through the RegisCorps Leadership development certificate program.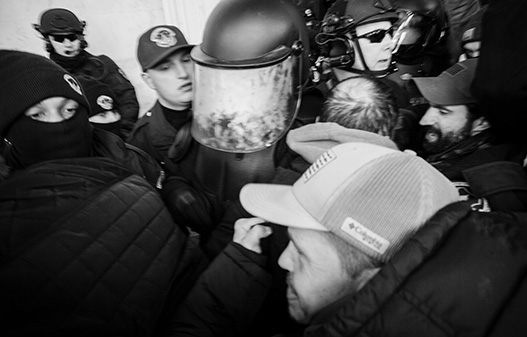 When a student asked why Steinle traveled all the way to Washington, D.C., that day, Steinle had an answer any veteran photojournalist would appreciate: "I had to be there. There wasn't any question."
He hopes that soon he'll no longer need to live off money saved during previous careers. (He encourages fans to support his work with a donation.) In the meantime, he's proud that he's turning a lens toward what's happening in the world we all share.
"I'm documenting things as a service. I show [people] pictures so they can think," he said. "So people can decide for themselves what to think about what's happening."