Just Having a Season Counts as a Win
Karen Augé
June 07, 2021
How Regis Athletics persevered through the COVID-19 pandemic in Spring 2021. 
Postponed practices. Canceled games. Soccer in spring. Constant testing, masking, bubbling, quarantining. The past year hasn't been great for anyone. And certainly not for anyone — player-coach or fan — who enjoys sports. But this spring, Rangers put up with a lot, persevered, and, most of the time, played.
To say the season was challenging doesn't begin to cover it. The pandemic "created lot of issues I've never had to deal with," said Joel List, women's volleyball head coach. Like not being able to coach groups of more than 10 players at a time. Like frustrated parents who don't always understand many of the restrictions he's enforcing weren't his idea, or Regis-made rules, but state mandates. Like the tensions created when players are "bubbled" in close quarters with the same people they practice with all day.
In an academic year when everything seemed upside down, all sports, except cross-country, were played in the spring. That was "strange and foreign," said Jake Brown, a senior soccer player and business major with a minor in Spanish. "We're used to preparing and practicing all summer, and getting to know teammates, which is super important for creating a cohesive unit."
This season, there are unwelcome distractions. Like, " ... are we even going to have a game this week?" Brown said. He didn't know when he asked that rhetorical question that, for the next four matches, the answer would be: No. On April 1, Regis announced that an increase in COVID-19 cases would force a 10-day suspension of all games and practices.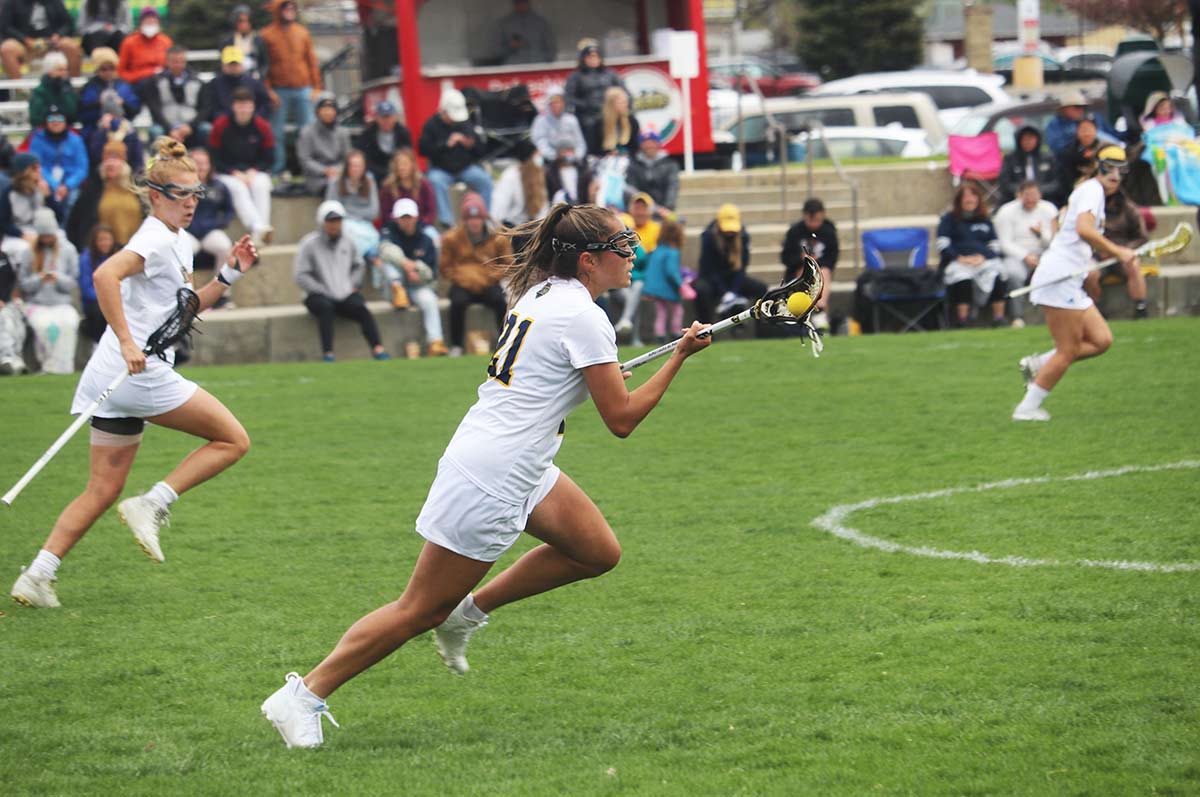 In normal times, 2021 would have been Brown's last year at Regis. But the NCAA, trying to soften the blow of a gut-punch season, offered an additional year of eligibility to all Division 1 athletes. So, like a lot of other Regis athletes, Brown will delay his career plans to spend one more — hopefully normal — season as a Ranger.
The NCAA's generosity may have been a gift to students, but it added to coaches' already numerous headaches. For List, not knowing how many seniors would return next year meant he didn't know how many spots there would be on his team — or how many scholarships he could offer — for incoming freshmen. "The struggles are real, and they are all brand new for all of us," he said. "It's not like I could call a veteran coach and say, 'What can I do?'"
Despite the obstacles, there was good news, and high achievement on and off the court, for Ranger athletes and teams. Brian Dawson, a senior on the men's basketball team, scored his 1,000th point as a Ranger. Three men's basketball players, sophomore Aaron Bokol, junior Michael Bens and sophomore Brady Parris, made Rocky Mountain Athletic Conference's All-Academic Honor Roll. On the women's team, senior guard Tashika Burrell was named to the RMAC All-Academic First Team, while senior forward Whitney Jacob and freshman guard Erin Fry won individual RMAC player-of-the-year honors. And before the season was postponed, the women's lacrosse team was riding a five-game winning streak.
Finally, List's volleyball team posted a 10-5 record, was ranked as high as 21st in the nation, and earned another trip to the RMAC tournament. "All things considered, I'm just happy to win games," List said.
COVID-19 has come with few silver linings. But if there was anything positive in the past season, the past year, Brown said it would be "not taking anything for granted anymore. You appreciate the moments you do get more."