The Teacher Who Climbed Everest
Sara Knuth
December 16, 2022
Regis alumnus makes history as part of the first all-Black team to summit Everest
In the halls of Centaurus High School in Lafayette, Colo., kids call Eddie Taylor "the teacher who climbed Everest."
Ordinarily, Taylor doesn't talk much at school about his beyond-the-classroom passions: climbing rocks and climbing mountains. This fall, however, he didn't have to tell students how he spent the last few months of the spring semester. Because when Taylor summited Mount Everest May 12, with the first all-Black climbing team to do so, he made history — and headlines.
The climb made news throughout the summer, with the 11-person climbing team featured in just about every major news outlet in the United States. When the school year started in August, reporters were still calling, but Taylor turned his attention to students. A 2015 Regis Master of Education alumnus
 who teaches chemistry and is head track coach at Centaurus, Taylor isn't one for grabbing the spotlight. Before last spring, he doubted that any of his students knew that when he's not at school, he's climbing, taking trips in the hours before or after class up Boulder Canyon or to Eldorado Canyon outside Boulder. That is because during the school day, Taylor is all about his students.
But news of his achievement soon filtered into the classroom — and that represents what the climbing team was trying to achieve: encouraging inclusion in the outdoors. Data from the National Park Service show that visitors to U.S. National Parks are disproportionately white.
The 2021 Outdoor Participation Trends Report, commissioned by the Outdoor Foundation, found that participation in outdoor recreation reached record levels in 2020, but nearly 75 percent of those enjoying the outside were white. In a 2018 survey, the Park Service found that barriers to visiting parks included distance, transportation and travel expenses. The Journal of Park and Recreation Administration reported in 2020 that marketing efforts focused on reducing barriers to the outdoors — from increasing programming directed toward people of color to providing financial aid and youth programming — had been implemented, but ultimately those efforts hadn't been sustained to encourage repeat visits. The study suggested that agencies could make greater efforts to encourage and maintain inclusion in outdoor activities after visitors make their first trip.
This disparity extends far past the United States. According to most estimates, about 4,000 people have summited Everest since Sir Edmund Hillary and Tenzing Norgay completed the first recorded ascent in 1953. But most estimates put the number of Black people who have ascended the 29,035-foot mountain at fewer than 10. When Taylor and his Full Circle Everest team made the summit, they nearly doubled that number. Seven of the 11 team members made it to the top, adding their names to an elite group of climbers.
From a Chance Encounter to a Historic Climb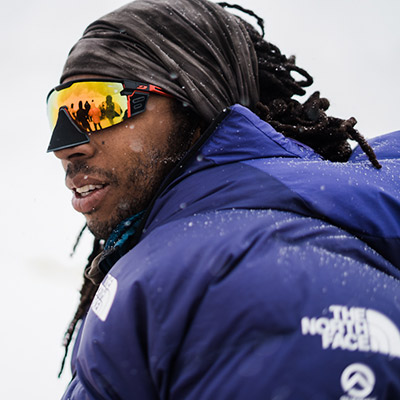 Taylor's climb to the top of the world's highest mountain began after one serendipitous encounter.
Taylor was visiting Ouray, Colo., on an ice climbing trip two years ago with his wife, Anna Taylor, when they ran into Phil Henderson, an experienced climber who has worked in the outdoor industry for nearly 30 years. Henderson has been on expeditions to Everest, Alaska's Denali and 17,000-foot Mount Kenya. In 2018, he led the first all-Black ascent of Mount Kilimanjaro in Tanzania, Africa's highest mountain.
Henderson had trained guides on many expeditions — and rarely were any of them Black. Henderson often was the only Black man on an expedition, and he wanted to change that.
During that encounter in Ouray, Taylor and Henderson chatted, traded phone numbers and went skiing a month later. Soon after that trip Henderson asked Taylor if he would be interested in joining Full Circle, an all-Black team of climbers from across the United States. Their goal was to summit Everest.
Initially, Taylor wasn't so sure, especially as he thought about how difficult it would be to balance the climb with his teaching and coaching schedules. A May summit would mean missing out on the last couple of months of school — and the chance to send off his seniors.
But Taylor said his wife, a first-grade teacher at Meadowlark School in Erie, Colo., encouraged him to think about it. Even though he felt more passionate about rock climbing, he had the skills to climb Everest: He had already climbed some of the world's highest peaks, including Aconcagua, in Argentina, the highest mountain in the Americas.
"She actually saw the importance of this trip before I did and said, 'If you think you want to be part of this even a little bit, you should really consider it.' She's a climber, so she gets it," Taylor said. "She was really positive about it... She's been supportive the whole time."
Anna Taylor said Henderson's leadership and vision for the expedition was inspiring.
"The mission of the Full Circle team was already present once Eddie was on board. It was just something that seemed like an opportunity that we couldn't let go at that point," she said. "It's a little scary to send your spouse to Everest but having been in the mountains with Eddie for years, I knew what his decision-making was. I knew that he was probably the most trustworthy person I've ever been in the mountains with."
Taylor took her advice and signed on. He said he didn't train specifically for Everest — but that's because he spends so much time outdoors on a regular basis.
"I've been climbing and skiing for a long time, so being in the mountains is something that I regularly do," he said. "I just ramped it up a little bit."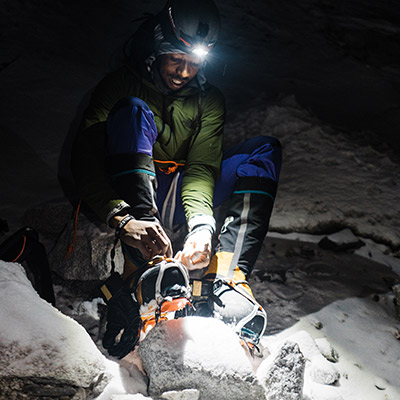 In April, Taylor and the team flew into Kathmandu, Nepal, then traveled to Lukla, Nepal, a town 9,383 feet above sea level. From Lukla they set off on foot to basecamp. The team hiked 25 miles over 10 days, gaining almost 10,000 feet of elevation. It takes more than a week to reach basecamp, Taylor said, because bodies need time to adjust to the altitude. At camp, the team ate food prepared for them by a Nepalese chef.
"Once you get to basecamp, that's when the actual mountain-climbing starts," Taylor said. "A lot of people go to basecamp. And that's the end of their trip. It's really exciting just to see basecamp and get that high up... that's a really cool experience in itself."
The team didn't need to go any further to make history — they were already part of the first all-Black expedition to make it to basecamp. When they did, they shared the historic moment with kids across the United States by giving a presentation via Microsoft Flipgrid. The weekly show, broadcast nationally over the educational technology platform, was shown both at his school and in his wife's school.
May 11 offered a window of peak weather conditions, allowing them, with the assistance of sherpas, to leave basecamp and safely work toward the summit. Taylor said the team brought duffel bags of supplies with them, ranging from snacks to tents to computers, and most of it had to be left behind once they started climbing. Only the essentials, including their heavy-duty hiking boots and suits and some food, made the final journey with them. Once they left for the summit, they ate dehydrated food, melting snow and boiling water to cook it. The oxygen gets thinner as they ascend, forcing climbers to wear oxygen masks as they summit. Some members of the team stayed at basecamp and the rest, led by sherpas, made the precarious final 12,000-foot journey to the top.
Anna Taylor said the team updated her during the final ascent, which eased her anxiety during the final hours of the climb. Base camp has access to WiFi, so the couple could talk — even with the 11-hour-and-45-minute time difference. They often spoke via Facetime when one was going to bed and the other was waking up. When the team moved higher up the mountain, Henderson shared updates with families.
On the morning of May 12, they reached the summit, breaking a symbolic barrier. Throughout the climb, Anna said, she shared the ascent with her students, displaying a poster in different hallways at her school with a climber icon progressively working toward an illustrated summit.
"The day that I put the little icon up to the summit, all the kids came into the hallway and were cheering," she said. "And so, it was really special."
Months after the climb, Taylor reflected on how it felt to be part of the team.
"It's not like we're the first people to climb Everest — we're not even the first Black people to climb it," Taylor said. "It was an idea we had, and we raised the money, and we went and did it."
On a broader scale, he said the media coverage has amplified the impact of the team's summit, opening up opportunities for greater diversity in outdoor activities.
"In general, most people aren't outdoorsy people, but if your parents are outdoorsy, it's a lot easier for you to be outdoorsy," he said. "If I go and I look online, I don't see anyone who looks like me doing those things." Representation in media, he said, makes a difference for kids who might not otherwise see themselves in the outdoors.
The media coverage also opened up opportunities for the team itself. When Taylor joined Full Circle two years ago, it didn't have any sponsorships. But after the team went public with their plans in 2021, they gained major sponsors, including The North Face and The VF Foundation, that helped fund materials for the trip.
After the team returned from Everest, Taylor said, people reached out with stories of their own. Some were motivated to pick hiking up again after years. For others, their climb was motivation to walk around the block more.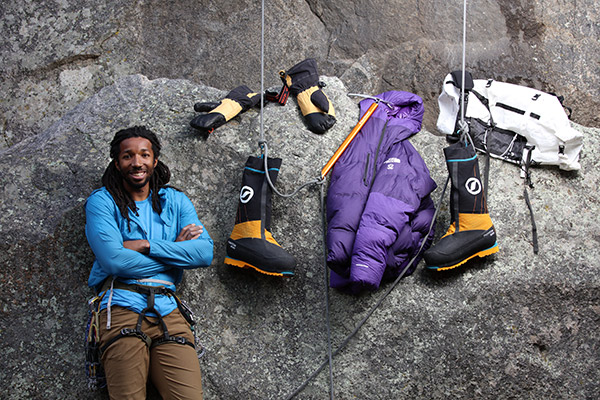 "What's really cool, though, is that it's not just inspiring people of color," Taylor said, adding that growing up, he didn't necessarily think about Everest, other than seeing news coverage about the 1996 disaster in which eight climbers died after they were caught in a blizzard. "Kids are seeing this as a place that people can aspire to go and they can have a really fun and enjoyable time, and experience a culture and place that is nothing like where they are from. It's not just the Black community or the people of color community — it's Colorado."
Before Taylor left for Everest, he went to his wife's school to participate in an assembly.
"He had students trying on his boots and his jacket. So, it just made it so much more real for them," Anna said. "The whole school was really invested, as were students across the country."
For Taylor, inspiring kids is a regular part of his day job.
Becoming a Teacher
After Taylor completed his undergraduate degree at the University of Colorado Boulder, he started working as a water chemist.
"It was a really good job — I really enjoyed it. I got to spend a little bit of time outside, I got to run equipment and whatnot," he said.
But then, he started coaching track at Broomfield High School.
"I really fell in love with coaching and working with the kids," Taylor said. "I was going to my other job all day just to leave and go to coach."
Taylor said he started to feel jealous of the other coaches who were teachers because they got to spend the entire day working with kids. He thought about becoming a teacher, but he waited a couple of years to be sure.
When the feeling stuck, he enrolled at Regis to earn his master's degree.
"Regis was the best fit for me," he said, adding that he took most of his classes in the evenings. "I really wanted to still be on campus and not just virtual."
When he got into his first classroom as a teacher, Taylor said he felt prepared.
At Centaurus, Taylor didn't talk much about the Everest climb as he prepared.
"I kind of make it about them," he said. "Most of our conversations are: 'How's your day going? How was volleyball? How was your last basketball game?
Climbing Came Naturally
Sports always came naturally to Taylor, who was on the track and field team at the University of Colorado as an undergraduate.
Kate Kelleghan, a friend who often rock climbs with Taylor and his wife, summed up her initial reaction to the Everest trip: "Not super surprised," she said. "It was kind of a once in a lifetime opportunity."
But as easily as outdoor sports came to Taylor, he didn't always feel passionate about the outdoors. He moved a lot growing up, and his mom often took him to national parks in the west, learning to camp, fish and hike. When he went to high school in Minnesota, and college in Colorado, playing more traditional sports meant he didn't spend much time doing outdoor recreation.
After college, he got into outdoor sports.
"I really started putting all of that focus that I had in track and field into climbing," Taylor said.
Taylor said that he thinks his time as a collegiate athlete gave him the skills to thrive in the outdoors. "In college, I learned how to train, be dedicated, how to actually improve in something, how to take criticism and feedback and make it better," he said. "And that's a skill I feel like I picked up running track in college. You have to figure those things out."
He soon began traveling for his outdoor pursuits, taking on the highest peaks in the world, including climbing Aconcagua and skiing Denali in Alaska. Taylor also traveled across the west and into Canada to rock climb. Since Taylor and his wife are both teachers, they often spend their summers traveling. On their honeymoon, they visited Africa, climbing in Kenya and Madagascar. Over the summer, they traveled to Wyoming to spend time outdoors.
Taylor said he doesn't plan to climb Everest again, but he hopes to one day return to Nepal with his family. Now, he's looking toward his next Everest-size adventure: becoming a parent. The Taylors welcomed their first child, a daughter, on Sept. 20.