Regis recognizes contributions of employees
Sara Knuth
November 18, 2022
In the past two years, Regis has given temporary shelter to people experiencing homelessness, welcomed a mobile food pantry to campus, helped first-generation students work through University life, and shared the value of the University's Jesuit mission with the community — all thanks to the efforts of dedicated faculty and staff members.
Regis honored those contributions and more on Thursday during the annual Employee Recognition Ceremony, hosted by the Department of Human Resources in the St. John Francis Regis Chapel.
As part of the event, University leaders awarded its three top annual awards — the St. John Francis Regis Award, the Unsung Hero Award and the President's Service Award — respectively to Assistant Vice President for Mission and Professor Kari Kloos, Staff Psychologist Marsha Tafoya and Community Relations Director Jenna Farley.
In addition, the ceremony recognized the service of employees who are celebrating significant employment anniversaries, from five to 40 years. View the full list of honorees.
"Recognition, to me, is the best part of any and every job because so often we end up looking at areas of opportunity. But we have a chance to celebrate, and it's good to do that together," said Regis Interim President Cody Teets.
St. John Francis Regis Service Award: Dr. Kari Kloos
Kloos, who received the St. John Francis Regis Service Award, was recognized for her work in promoting and living the Regis mission.
"I am honored and humbled to receive the award," Kloos said. "Mission is vibrant at Regis because so many employees, past and present, have made it central to their work. It's a joy that I can help that work continue today."
In her role at Mission, Kloos has led the Ignatian Colleague Program, the Ignatian Leadership Program, and most recently, the Laudato Si platform, the Pope's platform for sustainability. In addition, Kloos has guided 60 new Regis staff members through a Manresa Experience, a training that introduces employees to the University's Jesuit values.
"As the assistant vice president of Mission, Kari works from both a place of strength and a care," said Provost Karen Riley, who presented the award. "As a professor of religious studies in Regis College, she's a role model for both our students and her peers. She consistently seeks understanding and asks the needed questions both for her personal understanding and to help others grow from there within their own personal journey of learning and living within our Jesuit Catholic mission."
Unsung Hero Award: Dr. Marsha Tafoya
Tafoya, who specializes in trauma and diversity in her role as a clinician, has been with Regis since 2018, often lending her expertise to students, the Office of Counseling and Personal Development and the Office of Diversity, Equity and Inclusive Excellence.
"She is always willing to lend a hand and contribute her expertise when it is needed," said Flora Rivera, health and counseling business manager for Student Health Services. "She continues to seek out other partnerships throughout the University to further support our students to assist them in their Regis journey. The students know Marsha as a person of trust; she is deserving of recognition for her tireless work on their behalf."
Tafoya said it feels good to have her hard work acknowledged. The most meaningful part of working at Regis, she said, is offering support to students who need it most.
"I'm honored to be able to walk with these students and support them, also as a woman of color and a first-gen college student," she said. "It's really meaningful work for me to be able to also provide that support and space so that the students can be successful."
President's Service Award: Jenna Farley
Farley, the recipient of the President's Service Award, was honored for her work in bringing the community to campus — and the Regis mission to the community. Her most recent accomplishments have included working with the Denver Clerk and Recorder's Office to bring a ballot drop box to campus, welcoming hundreds of neighbors to campus for the RegiRama Summer Movie Series and establishing a partnership with the Food Bank of the Rockies to implement a mobile food pantry on campus. Additionally, Farley led efforts to bring the Safe Outdoor Space to campus and served as a liaison between the SOS and Regis. The SOS offered temporary housing to more than 100 people experiencing homelessness.
"In every way, Jenna is invested in and committed to the role that Regis University plays in the community," said Associate Vice President of Marketing and Communications Todd Cohen. "Regis is not only her employer; it's her neighbor. The work she does to make Regis a good steward also directly impacts her daily life."
Farley said her goal is to put the Regis mission into action.
"I do want Regis to be a good neighbor, and I want people to feel welcome on our campus," Farley said. "And I want folks to know that we do good things. That's baked into our mission."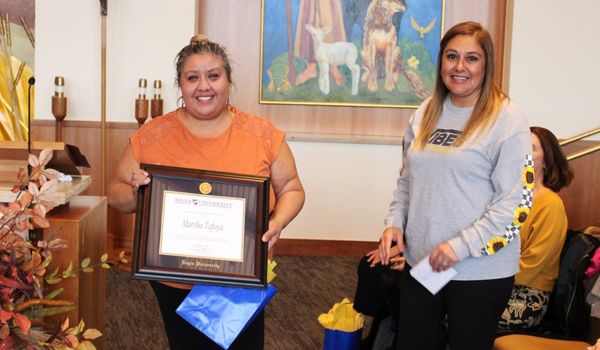 Dr. Marsha Tafoya accepts the Unsung Hero Award.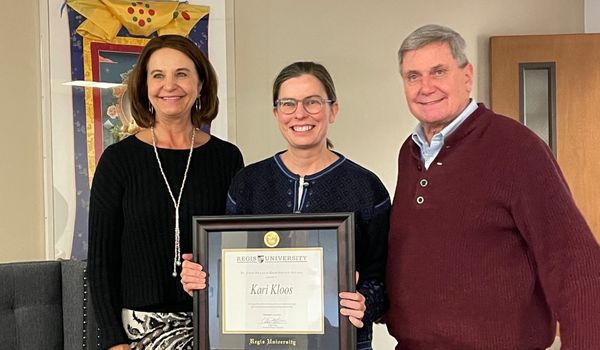 Dr. Kari Kloos, center, accepts the St. John Francis Regis Award from Interim President Cody Teets and Vice President of Mission Rev. Kevin Burke, S.J.