Regis Celebrates National Hispanic-Serving Institutions Week and Hispanic Heritage Month
Sheryl Tirol
September 12, 2023
The month-long activities include honoring the efforts of Hispanic students, faculty and staff
Regis University will join many higher education organizations across the country celebrating National Hispanic-Serving Institutions Week on Sept. 11-23. The observance overlaps with National Hispanic Heritage Month, which takes place from Sept. 15-Oct. 15.
Regis was federally designated as an HSI in March and is now the only private Colorado university and one of 13 community colleges and four universities in the state with HSI designation. Regis has also been recognized for excellence in higher education as one of the nation's 2022-2023 Colleges of Distinction in Equity and Inclusion. The University will develop comprehensive plans to enhance the individual and collective support of its students by embracing the many opportunities available as an HSI.
"I'm thrilled that our efforts now, as an HSI, benefit our entire campus community. As we celebrate this achievement, especially during Hispanic Heritage Month, I am reminded of the important work still ahead," said President Salvador D. Aceves.
HSIs are defined as having 25 percent or more undergraduate Hispanic student full-time equivalent enrollment. In 2021-22, there were 572 institutions that met the definition of an HSI, and they enrolled 65.6% of all Hispanic undergraduates and 30.5% of all undergraduate students in nonprofit postsecondary education. 
"As a Jesuit institution committed to providing a transformative education, celebrating our HSI designation during Hispanic Heritage Month is a significant milestone for the institution," Aceves said.
Nicki Gonzales, vice provost for diversity and inclusion, said the months of September and October offer a chance to honor those from both the past and present and to celebrate what potential we have as a culture in making an even bigger impact.
"We know how profound and meaningful this designation is to our University and to be able to celebrate during Hispanic Heritage Month feels incredibly special. Sharing our unique lived experiences while lifting others up is an important responsibility," she said.
Regis has events planned throughout the month to honor and share the stories of the Hispanic community, including: 
Trending Topics - Art by Local Muralist and Graffiti Artist Josiah Lee Lopez
Sept. 11 – Oct. 1
O'Sullivan Art Gallery 
The History of BIPOC Social Movements in Colorado: San Luis Land Rights 
Thursday, Sept. 14
6-8 p.m.
Peter Claver Hall, Room 315 
The Colorado Trust invites you to join a free education series facilitated by Regis University alumna Celesté Martinez, owner of the racial equity coaching and consulting firm Celestial Alegría. Each session will examine the history of different social movements in Colorado involving and led by Black, Indigenous, Latine and other people of color. Register: https://www.eventbrite.com/e/fall-education-series-the-history-of-bipoc-social-movements-in-colorado-tickets-657104245487 
Imaginemos Cosas Chingonas! Finding our Identities and Elevating Our Voices as an HSI Through Radical Love
Friday, Sept. 15
Noon-1:30 p.m.
Claver Hall, 328
HSI Week Celebration and Hispanic Heritage Month Kick-off Party
Friday, Sept. 15
2-4 p.m.
Student Center lobby  
From Coping to Hoping: Teaching to Thrive through Social Trauma
Thursday, Sept. 28
Noon-1 p.m.
Claver Hall, 328
¡Haciendo Lío!: A University Ministry and ODEIE Debrief of the ¡El Futuro is Here! Conference from Dominican University
Friday, Oct. 27
1-2 p.m.
St. John Francis Regis Chapel
Join the First Year Experience Office and the Office of Diversity, Equity, and Inclusive Excellence as we welcome Javier Zamora. This conversation will circulate around Javier Zomora's book, Solito, and the cultural and historical significance of a broken immigration system in America.
One Book, One Regis: Solito Juntos
Friday, Nov. 17
Noon-1 p.m.
Mountain View Room, Claver Hall and via Livestream
You can learn more here: https://www.regis.edu/life-at-regis/student-resources/diversity-and-inclusion/forum-for-race-and-justice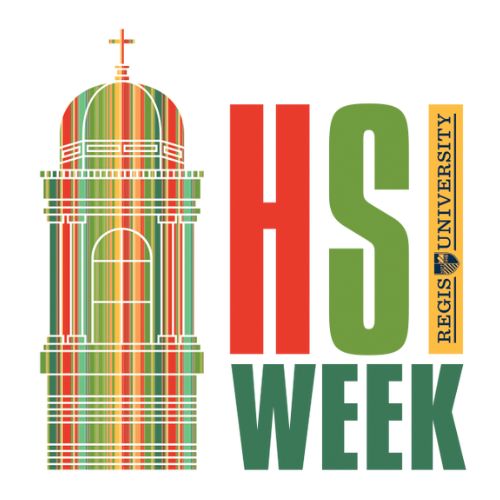 About Regis University
Established in 1877, Regis University is a premier, globally engaged institution of higher learning in the Jesuit tradition that prepares leaders to live productive lives of faith, meaning and service. Regis University, one of 27 Jesuit universities in the nation, has two campus locations in the Denver metro area and extensive online program offerings with more than 6,000 enrolled students. It is a federally designated Hispanic Serving Institution. For more information, visit www.regis.edu.