About Rueckert-Hartman College
The Rueckert-Hartman College for Health Professions (RHCHP) comprises three schools: Nursing, Pharmacy and Physical Therapy; and two divisions: Counseling and Family Therapy and Health Services Education. Our innovative and dynamic degree and certificate programs are designed to prepare you for a variety of careers in the health professions with cutting-edge knowledge essential in today's ever-changing health care environments. Within the Jesuit Catholic tradition of Regis University, the RHCHP is an interprofessional college embracing the following mission and values:
Rueckert-Hartman College Mission Statement

"Our mission is to advance the ideals of social justice and the health of our global community through innovative teaching and learning, as well as exceptional practice and scholarship."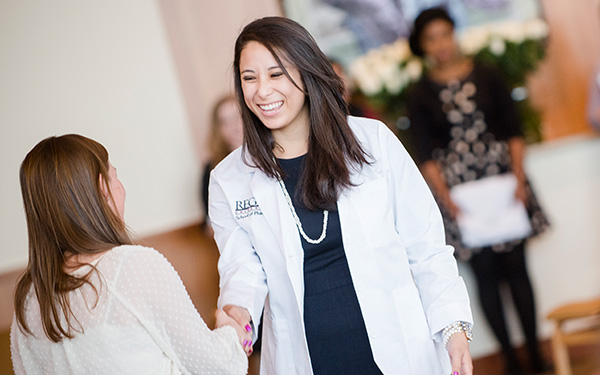 Rueckert-Hartman College Values
We Commit Ourselves to:
Prioritize student-centered learning, emphasizing the care and education of the whole person.
Nurture respect for human diversity and inclusion.
Use evidence as the basis for education and practice.
Demonstrate ethical behavior, environmental sustainability, and values-based practice in health care.
Provide practice and service opportunities that are transformative.
Develop leaders who are mindful of the social determinants of health, promoting health equity and increased access to health care, with the intention of transforming the future of health delivery systems to advance the welfare of our global community.
Advisory Board
The RHCHP Advisory Board is composed of health care industry leaders who support Regis University and serve as ambassadors for the college to help RHCHP carry out its mission.
Awards and Distinctions
Regis University Doctor of Physical Therapy (DPT) program was ranked #25 in the 2020 US News and World Report ranking of physical therapist educational programs.
The Regis DPT program was ranked #20 in the 30 Most Affordable Doctor of Physical Therapy Degrees by BestMedicalDegrees.com, and a Best Value program for 2019-20 from HealthGrad.com.
The Creighton University-Regis University partnership, offering a Doctor of Occupational Therapy degree, is celebrating its fifth year. Creighton University's Occupational Therapy program was ranked #15 by US News and Report in 2020.
Dr. Reinking, Dean of the School of Physical Therapy, was awarded the Turner A. Blackburn Hall of Fame/Lifetime Achievement Award from the American Academy of Sports Physical Therapy and the Catherine Worthingham Fellowship of the APTA, the highest achievement possible in APTA. In May, Dr. Reinking was elected as president of the American Council of Academic Physical Therapy.
The Loretto Heights School of Nursing (LHSON) boasted a 99.2% NCLEX pass rate for its accelerated students, an all-time highest pass rate recorded by DORA in 20 years.
LHSON was named #1 in a list of "Best Colleges in Colorado for Nursing for 2018" by niche.com
Regis University's School of Physical Therapy placed among the top 30 in the nation in U.S. News & World Report's recently released Best Colleges rankings. The University placed 32nd for Best Value Schools.
Health Services Education was the recipient of another $10,000 from the COPIC Medical Foundation for the 7th year in a row for a total of $70,000. Two students were awarded $5,000 each in this academic year for studies in the post-bachelor's certificate in Quality and Patient Safety (QPS).
The School of Pharmacy received $12,000 for a Diversity and Inclusion Excellence Scholarship and program funding from Walgreen's. This is the highest amount received among the three pharmacy schools in the region. The amount for each school is determined by the quality of experiences provided during the previous year.
The Division of Counseling and Family Therapy (DCFT) received a $2 million Pomponio Family Endowed Fund for the Center for Counseling and Family Therapy (CCFT) to provide excellence in education and expand service capabilities.  The donors also created awards for outstanding graduates and for faculty to support scholarly work.
The Division of Counseling and Family Therapy has secured a $100,000 donation to replace and update the technology in the Center for Counseling and Family Therapy.
The National Security Agency has awarded a $254,071 grant to RHCHP's collaborative team, including Jiang K (PI), Likarish D (Co-I), Fultan S (Co-I), Mancuso R (Co-I), Amador T (Co-I). The grant will fund a cybersecurity B.S. program: Design Integrating Human Behavior Tools (Phase I) to meet the need of underserved and under-utilized students. 
The National Security Agency has awarded a significant grant ($275,939.39) to the collaborative team of Mancuso R (PI), Amador T (Co-I), Likarish D (Co-I), Jiang K (Co-I) to fund An Extensible Psychometric Metric Driven Curriculum Framework for Multi-Disciplinary CyberSecurity Educators.
The School of Physical Therapy is very pleased to announce a significant grant award to Baum B (PI), Nelson-Wong E (Co-I), Silverman A. for "Comparing Running-Specific and Traditional Prostheses during Running: Assessing Performance and Risk" ($697,999) awarded by the U.S. Department of Defense, 2015-2018.
Loretto Heights School of Nursing has received grant awards funded to Susan Dalbey by Health Resources and Services Administration (HRSA); Nurse Faculty Loan Program in the following amounts: $39,510 for Academic Year 2017-2018, $220,333 for Academic Year 2016-2017, and $176,586 for Academic Year 2015-2016.
The Master's in Health Services Administration (MS-HSA) program was ranked #8 of the "Top 20 graduate programs in the West for 2016," by Master Programs Guide. 
Best Colleges ranked our online Master's in Health Services Administration (MS-HSA) program #17 in the nation for non-profit and private universities. 
CollegeChoice.net ranked our Bachelor's in Health Care Administration (BS-HCA) Program in the top tier - #8 of the top 50. 
Master Programs Guide listed Regis University as having one of the "Top 50 Best Online Graduate Programs in the country for 2015-2016."
U.S. News & World Report ranked Regis University's online Master of Science, Nursing, in top five "Best Online Graduate Nursing Programs for Veterans." A big salute to Loretto Heights School of Nursing and our U.S. Veterans.
Loretto Heights School of Nursing was recognized by the National Association of Neonatal Nurses (NANN) for "creating an environment that fosters superior leadership skills in neonatal nursing practice."