These conversations are inspired by the late Congressman and civil rights activist John Lewis, who passed away in 2020. Lewis, who was beaten by police during the "Bloody Sunday" civil rights march in Selma, Alabama, called on people to "get in good trouble, necessary trouble and redeem the soul of America." He called on young people to speak out, be persistent, and be non-violent in demanding transformational societal change.
"You must find a way to get in the way and get in good trouble, necessary trouble. … You have a moral obligation, a mission and a mandate, when you leave here, to go out and seek justice for all. You can do it. You must do it."—John Lewis, speech to college graduates, 2016.
Community Forum on Race and Justice
We've been here many times before, but this moment feels different.  The scale of protests; the intensity of pain being shared by the Black community; the expressions of support and allyship from other historically marginalized communities and white citizens; and the tenor of the calls for justice from public figures, faith leaders, and educational institutions—these give me hope.  These forces are pushing us all to reckon with America's original sin of racism and its institutions, policies, and attitudes. 
As an American historian, I look to the past to make sense of the present and to hope for the future.  Our history is filled with moments of opportunity that we squandered.  Moments when we had the chance to prioritize the promises of our founding documents and we didn't.  Moments when justice-minded folks almost found unity, but then didn't.  Moments when we created programs for change, but then forgot to listen to those most affected by them.  My hope is that we seize this moment and come together in the long, hard work of justice and resist the forces that try to divide us.  My hope is that we all use our privilege to amplify voices that are all-too-often silenced or ignored in the flurry of activity and emotions of moments like this. 
Thank you to all who contributed their words of wisdom and strength here.  Making our voices heard collectively is the first step in this movement. Please take a moment to read the messages from our diverse community, then explore our collection of resources to learn about these issues for yourself. I encourage you to reflect on and discern how we can make, seek, and achieve justice together. 
Nicki Gonzales, Ph.D. 
Vice Provost for Diversity and Inclusion 
Associate Professor of History, Regis College
Hear Prof. Gonzales discuss historic monuments on Colorado Public Radio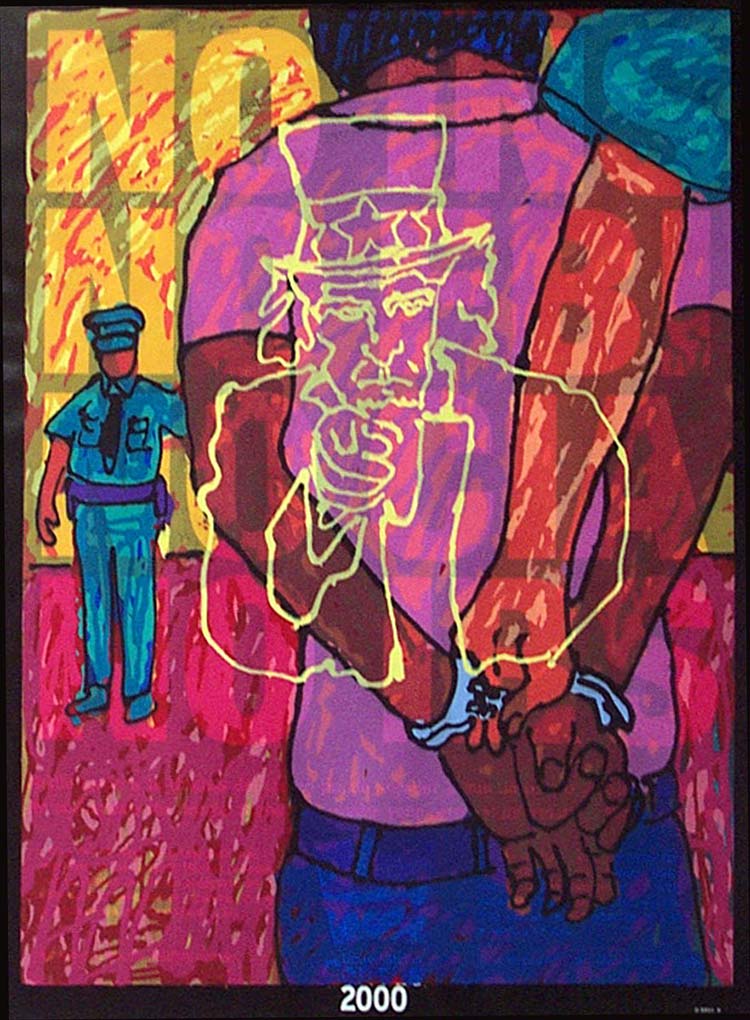 "A New Racial Profile," monotype/silk screen by Professor Tony Ortega.
Voices
Regis University stands with you 
Dear Regis community, 
In some cases, we know their names. George Floyd, killed beneath a police officer's knee in Minnesota. Breonna Taylor, shot while sleeping in her bed during a mistaken forced police home entry in Kentucky. Jogger Ahmaud Arbery, chased down and shot by vigilantes. 
Then there are the thousands of black and brown lives lost to a coronavirus that is taking a disproportionate number from communities of color. 
Both reflect the systemic racism that Minneapolis City Council Vice President Andrea Jenkins called a "public health issue" last week and that has been pervasive and unabated for too many decades. "Until we name this virus, this disease that has infected America for the past 400 years, we will never ever resolve this issue," Jenkins said during a press conference. 
Sixty-five-year-old Gregory L. Moore, the former editor of The Denver Post, wrote this week in the Colorado Sun: "I don't hate cops. I fear them." 
"I'm exhausted watching black men die at the hands of police. I hate seeing the fear in my daughters' eyes from knowing I could die, begging for air, under the knee of a police officer," Moore wrote.   
In my 65 years, I haven't experienced this fear. I know I have lived a life of whiteness and privilege. Yet I have grown increasingly aware of this reality.
But this fear is shared by most people of color in our nation. Many of our colleagues at Regis and many of our friends and neighbors know this fear.  It has to be exhausting. It is wrong, and it must end.  
#BlackLivesMatter. I stand with you. Regis University stands with you. 
In his column, Gregory Moore said police officers who abuse their power need to be held accountable for their actions. He also said they need to be better trained.  
In the weeks to come, we will craft new programs and provide new trainings for ourselves and our community to continue the important discussions around police misconduct, racism, systemic racism, hate crimes, white privilege and so much more.  
In the "now" time, this is what I advise:  
Rise Up:

 Speak out against racism and police aggression. Do not let hateful speech or hateful acts go unchallenged. 

 

Pull Together

: Support one another. Do not let fear and hate tear us apart. Let us keep our community strong. 

 

Be Open and Loving

: Let us speak openly and often about the pain, anger and challenges we face in our lives. Do not miss an opportunity to support victims, confront ignorance and teach acceptance. 

 
For a systemic change to occur, former President Barack Obama advises both protest and politics. Yes, demonstrate peacefully (and safely). We also must VOTE. We must elect local and state officials who will respond to our demands.  "… the elected officials who matter most in reforming police departments and the criminal justice system work at the state and local levels," the former president wrote for the website Medium. 
As the University wrestles with how to tackle a system of both persecution and privilege in our culture, we invite you, our community members, to share your thoughts, your dreams and your actions. Please do so by emailing diverse@regis.edu.
We will do this work together. It is the only way forward. 
Our nation has much to atone for and heal from. We must stand together peaceably against racism, oppression and senseless brutality. We must all take a stand against ignorance, hate and violence.  
I ask you to join me in this important work.  
Prayerfully,  
Rev. John P. Fitzgibbons, S.J.  
President
Here we are again. And again. And again. 
Rodney King. Michael Brown. Eric Garner. Sandra Bland. John Crawford III. Dante Parker. Tamir Rice. Philando Castile. Sean Reed. Ezell Ford. Alton Sterling. Trayvon Martin. Pamela Turner. Botham Jean. Atatiana Jefferson. Eric Harris. Janet Wilson. Lamontez Jones. Paterson Brown. Anthony Ashford. Mya Hall. Tyree Crawford. India Kager. La'vante Biggs. Asshams Pharoh Manley. Slyville Smith. Pamela Turner. Walter Scott. Breonna Taylor. George Floyd.  
Who will be next?
George Floyd should be alive today. Everyone listed above, and the countless others not listed, should be alive today. We should not be writing another statement regarding the murder of yet another Black person, but here we are again. And again. And again. There can be no more exceptions for the murder of our Black brothers and sisters. 
Unfortunately, this is about more than just George Floyd. This revolution we are all called to be a part of is about a racist system that has continually been violent toward the Black community, whether that be through poverty, health and healthcare inequities, police brutality, redlining, gentrification, the prison-industrial complex — the list could go on and on.
Now more than ever we need everyone, particularly large organizations like Regis University, to step up, take a stand, and take action.  Taking action is more than making statements and saying #BlackLivesMatter. Taking action is protesting and disrupting the peace that people internationally have felt for too long while your brothers and sisters in Christ are murdered in the streets by those sworn to protect us. Taking action is signing petitions to have these police officers arrested and convicted. Taking action is donating money to the many organizations that are here to help change this racist system. Taking action is putting pressure on local elected officials to make long lasting policy changes.  And taking action is supporting the humanity of your Black students "by any means necessary."*
How will Regis take action?
We send our condolences to the Floyd family and every family who has had to bury a loved one for simply being Black.
* "By any means necessary" meant examine the obstacles, determine the vision, find the resolve, and explore the alternatives toward dissolving the obstacles." -- The Autobiography of Malcolm X as told to Alex Haley.
Eryn Rideout is President of the Black Student Alliance 
Do You See Me? 
In the past week, the eyes of the world have been riveted on the flames and broken glass, on the faces of African Americans masked with the message, "I can't breathe" in protest of the murder of George Floyd.  
They have watched, too, the riot gear and armed might of the police and military response.  As I read news and social media accounts and discuss the protests with family, friends, and colleagues, I can't help but wonder what people really see.  Do they see "thugs" and "domestic terrorists" or do they see people — Americans — who are angry, afraid, tired and fed up with state-sanctioned violence against black and brown bodies?   
If I asked you to close your eyes and visualize the perpetrators of the violence and looting, would you see a white man in military garb methodically breaking windows in an AutoZone or white girls spray-painting "BLM" on a Starbucks storefront?  Those who denounce the protests as "un-American," when they call for "peaceful" demonstrations, do they see the African American teen with his hands in the air being pepper-sprayed in the face by a police officer?  Do they see the "peaceful" protesters in the plaza between St. John's Episcopal Church and Lafayette Park near the White House being tear-gassed by U.S. Park Police and National Guard troops at the direction of the leader sworn to uphold the constitution that promises equal protection under the law?  Are they demanding peaceful engagement by everyone who stands in confrontation across the historic divide of systemic racism? 
It takes compassion to see the depth of pain expressed by a people who see themselves in the dying eyes of a man crushed under the knee of a police officer — under the weight of age-old oppression and white supremacy.  It takes courage to stare unflinchingly into the faces of our leaders — and into the eyes of our friends and colleagues — and demand change.   
As a Jesuit Catholic community, we are called to see others with the heart and not with eyes clouded by a history of hatred.  We are called to stand in solidarity with "those whose dignity has been violated," to take the hands of the "excluded, abused and vulnerable."  We are called to be co-creators of a more just and humane world.  It is time for us to open our eyes and create lasting change. 
Barbara J. Wilcots, Ph.D., is Vice President of Student Affairs at Regis University 
Colorblindness is dangerous
One of the most powerful things we can do is to acknowledge one another. A common thing I hear people say is that they don't care about race because they see everyone as equal. While we understand that there is good intent behind their message, we must be willing to call out ideas that are hurtful to people of color.
Colorblindness is very dangerous to people of color. Our color determines many of the things we experience in our everyday life. The first step to fighting racism is to acknowledge this. We can't fight something we don't see. We are asking you to see us.
When you see me, I want you to see me as a woman of color. Only when you see me as a woman of color you will understand who I am and why I am that person. Only then will you notice the difference between my experiences as a person of color and your experiences as a white person. So, when a person of color is trying to tell you something, listen. Be open to the opinions of those who are being oppressed. We are not asking you to save us, we are asking you to listen to us and stand by our side through the fight.
Ultimately, working together is what will create real change. The Latinx community stands in solidarity with our black brothers and sisters and the Black Lives Matter movement.
Giselle Garcia is a senior majoring in math with a minor in education.
Feeling unsafe doing ordinary things
George Floyd's death is unfortunately one of many cruel deaths of black men and women. It is disheartening that the systemic racism in our country persists and many lives are lost as a result. It is important to recognize black lives now and tomorrow in order to heal the deep cut wounds. As a biracial woman who is both Mexican and black, I have witnessed many forms of racism personally and with my family members. Now is the time to recognize privilege to those that have it. Educate those that do not understand what it feels like to have prejudiced eyes watching, to feel unsafe doing ordinary things in public, and to feel alienated politically, systematically, and socially.
As newly elected Vice President of Social Justice and Diversity, I am making it a priority to be a resource to all who are wanting to help our current state of injustices. It is important to do what we can now, especially with this enormous momentum for action so that change can happen. Now is the time to learn, remain peaceful with others, and make sure that mental health is a priority which may include taking social media breaks. I am always here as a comfort space to reach out to and I am determined to create a change in our community and on campus.
Links for information on how to educate or help  
George Floyd petition: http://chng.it/fyKgTZB7BV  
Racism in Healthcare. This is an article that educates on how black bodies have involuntarily contributed to the medical advances and research in health care. (might be good for nursing students!): https://rewire.news/article/2019/02/26/racism-in-medicine-as-doctors-we-must-do-better/  
This is a link database that my friend put together. She goes to the University of Southern California. It has resources of all kinds: https://linktr.ee/melaniophobia
Amadia Al-Amin is Social Justice and Diversity Vice President for RUSGA
As an institution, we must live our mission
Dear Rangers and extended Ranger family,
As I've pondered the events of the last several days, all the too similar occurrences flood my memory and I find myself, yet again, angry, frustrated, hurt, and searching for hope. As a member of the Latinx community, I also know that what I am experiencing pales in comparison to members of the Black community as they too, yet again, rise up to speak out in opposition to the senseless murders of Black Americans like George Floyd, Breonna Taylor, Ahmaud Arbery and the weaponization of race that we saw so clearly in the false report about Christian Cooper. These instances are only a few of the experiences that we have seen and Black Americans continue to experience on a daily basis. They are a very clear reflection of a climate of hate and racism that still runs rampant through our society.
Consistent with our Jesuit Identity, our commitment to honor the sacred dignity of all living beings, and in light of our purpose as an institution of higher learning, we aim to be a projection to our community of a society free of the feelings, trauma, death, and destruction of Black bodies that underlie the prejudice and hatred we experience all too often.  At the same time, we have to acknowledge that higher education, in general, is an institution that is built upon a foundation of patriarchy, racism, and white supremacy. As part of that institution, Regis has the duty and responsibility to consistently interrogate how our foundation has informed our current structures. Further, we have the obligation and opportunity to ensure that we are living in to our mission and values as a Jesuit institution in making the necessary changes to realize our goals and create the necessary change to ensure our community members, specifically our Black community members, can thrive and be successful in a system that was not historically designed for them. 
To our Rangers who are Black specifically, and more broadly, our Rangers who identify as members of marginalized communities, I want you to know that you are seen, valued, loved, and honored. While our community is not yet free of the aggressions, both micro and macro, that you experience regularly, please know that we are committed to being and doing better. I recognize this will take hard work and intentional collaboration and want you to know that my office is prepared to journey with you to co-create that change.  During these times, it is essential that we support and care for each other. Please reach out to each other, check in on one another, and make use of the Regis resources available to you. While we may not be physically together at this time, you are not alone.  
If you find yourself in need of support or impacted by current events and wish to connect with a counselor, please contact the Office of Counseling & Personal Development at 303.458.3507.  
In solidarity, we are #1Regis. 
With Ranger Pride! 
Patrick I. Romero-Aldaz is Associate Vice President of Student Affairs and Dean of Students
We are asking for breath
Last Sunday as we celebrated Pentecost, the gifting of the Spirit-Ruah-Breath of God to the Church, the common denominator here is breath, respiro, and the deep longing for healing of our brokenness.
One thing I know, and I am constantly reminded not to fear it: The Spirit blows in multi-varied ways, and makes a Holy Mess as She recreates the face of the Earth. 
As we contemplate emerging out of quarantine and dealing with life in a new way, an old problem keeps coming back to the surface because we have not dealt with it: racism in the United States. And I pray for the gift of courage to deal with it once and for all.
A recent piece by one of my fellow Jesuit brothers, Patrick Saint-Jean, S.J., reads:
We are crying for breath: A Litany for Oxygen From a Black Jesuit
We are asking for breath.
"I can't breathe!" cried Eric Garner before dying on July 10, 2014 at the hands of the police in Staten Island, New York. "I can't breathe!" cried Freddie Gray before dying at the hands of the police in April 2015 in Baltimore, Maryland. "I can't breathe," cried George Floyd before dying this Monday, May 25 in Minneapolis, Minnesota at the hands of the police.
We are crying for breath…
I hold on to a portion the Pentecost Sequence prayed right before the Gospel:
…Heal our wounds, our strength renew; 
On our dryness pour your dew; 
Wash the stains of guilt away: bend the stubborn heart and will; melt the frozen, warm the chill; guide the steps that go astray…
There are no quick fixes to ancient problems. At this critical hour, when our country is being torn by a pandemic that disproportionately affects the poor and by violence against George Floyd, Ahmaud Arbery and Breonna Taylor, and so many other people of color, I pray for the grace of the Prophet Isaiah. As he was able to listen discerningly to God, so let us prove able to listen deeply to each other. In the first book of Kings, we read that Elijah was able to cast aside the noise of hurricane and earthquake to hear the whispering of God.  That we be able to hear each other amid the tumult is our own greatest need currently. As we figure out together lines of action, deep listening needs to happen first, and listen to the pain of others, and ours, not assuming we understand.  The Peace of the Lord be with you, us, always!
Fr. Fernando Álvarez-Lara, S.J. is a professor of theology and religious studies.
Through dialogue we affect positive change
Like many of you, we are outraged by the murder of George Floyd by the Minneapolis Police Department. His death is, unfortunately, another reminder of the persistent issues of racism, police brutality, and white privilege. The violence perpetrated on the Black community is a never-ending daily experience imposed by our system of prejudice and injustice. Meanwhile, many of us remain complicit in our inaction. As representatives of the student body, we must acknowledge world events that have shaken our community. We firmly believe that these actions of injustice, violence, and racism are unacceptable, and we vow to do our part to change this cultural normality both on and off-campus.
As a student body, we must recognize that change can only happen when we join together, in unity, to overcome difficult times like these. As students at Regis University, it is important to recognize the Jesuit values that we abide by. We ought to live in a society that allows us to be better individuals in order to create a better community. It is important to not only educate ourselves on factual knowledge but to teach others in the most peaceful and communicative way possible that doesn't degenerate into division.
Please know that we, as student leaders, are here for you today and every day. As allies, we will make ourselves accessible to listen and support in any way that is helpful to ultimately continue this conversation. It is our aim that through this dialogue we can affect positive change. Learn, seek out information, and listen to your fellow students and community members' experiences. Continue the passion for seeking justice and represent Regis University by showcasing the value of thoughtful action. We will do our part this school year to address these issues together.
2020 RUSGA executive cabinet

President: Liam Zahner
VP Academic Life: Nelisse Niyongabo
VP Representation: Katey Funderburgh
VP Involvement: Rachel Lang
VP Social Justice: Amadia Al-Amin
We can be the light
After the events of the past few weeks, words fail me, because to respond with words to unspeakable acts feels small.  I know from many conversations with faculty, staff, and students that racism continues to exist, and it is present – often in its unintentional form – on our campus as well.  I know from these conversations that even implicit bias in the classroom hinders learning and academic progress. Students have shared stories with me of being singled out because of their skin color, or being the objects of derision, or hearing the "n" word in a reading and "shutting down." When we let these incidents slide, we are implicit collaborators in the culture of racism.   
Students tell me that the most powerful advocacy comes when an individual in authority refuses to let racism in any form into their classrooms, and calls it out. Even more impactful is when faculty use the power of diverse viewpoints and experiences to help students learn, respect, and revel in the richness that comes from celebrating our differences.    
Racism affects us emotionally and viscerally – but in any case, it affects our learning, and that is my biggest concern as Provost. It has to change. 
While I cannot set aside the many privileges I have been given, I hope that I can find empathy and the right kind of allyship.  We can step off the sidelines. We can listen actively to the voices and experiences of the oppressed, and be open to feedback and critique of our own behaviors. It can be a humbling but worthwhile experience to reflect on your own privilege and unintentional support of oppressive systems. Use your privilege to amplify the voices of the oppressed. We can recognize that we are not the experts on the needs of marginalized communities; our job is to listen and understand. Racism is that bottom feeder that grows stronger in the dark and moldy recesses. It shrinks and becomes unacceptable in the light of day.  We can be that light. I am listening.
Janet Houser, PhD., is Provost of Regis University. 
The model minority myth
Asian Americans have faced extreme discrimination throughout American history. We have to recognize that Asian privilege exists, but we will never face the same amount of oppression that Black Americans will face. Unfortunately, oppression against the Black community is perpetuated by more than just a group of people. There are deep historical wounds that exist between Asians and the Black community, and fresh wounds come up as we perpetuate anti-Blackness inside the Asian community. Said best by writer Michelle Kim, "In our quest to survive, some of us may have been striving to become White-adjacent — as successful as White people, as fitting in and assimilated as White people, as deserving as White people of dignity and respect — and along the journey, consciously or subconsciously, have adopted the language and beliefs of White Supremacy and anti-Blackness."
The model minority myth was created and used to further divide racial groups in America. It was essentially the government's way of saying, "minorities are doing fine, which means that racism doesn't exist and there are no systematic issues against people of color." This was and continues to be false. In 1965, there were new immigration laws that gave preferential treatment to East Asian immigrants who were rich and already educated, creating the false idea that Asian immigrants were more successful than other minorities. The model minority myth is nothing more than a political tool that white supremacists use to divide people of color. This model minority myth has directly affected Southeast Asian communities and has made life hard for immigrants from the 60's to the 90's. Since a lot of South East Asians fled to the U.S. as refugees, they often moved into low-income neighborhoods where there was a lot of crime and lack of resources. Due to the model minority myth, teachers and counselors believe that South East Asian American students don't need financial or academic support systems. When Asian American students fail to succeed in classes, teachers may think that it is just them being lazy or some other deficiency instead of a lack of resources. In the end, the model minority covers up these ethnic disparities which is very harmful.
As the COVID-19 pandemic showed Asian Americans how our country can turn on us, it shouldn't take the murder of George Floyd to understand what Black Americans have been experiencing for centuries. It should also be noted that Black Communities have been vocal about supporting Asians in these hard times. Now is the time to speak up and show our support for the Black Lives Matter movement to prevent White Supremacy and systematic racism from winning.
I wanted to make this post to say that Asian Student Alliance is standing in full support of the Black Lives Matter movement and we hope to further educate those who don't know about current social issues that pertain to all minority groups. The Affinity Groups at Regis have worked hard over the past few years to bring these issues to light and now is the time to educate yourself and others so that Regis University can be a safe place for people of all races and genders. There is an amazing article written by Michelle Kim which talks about allyship actions Asians can take to show allyship with Black communities. I will be adding more links to articles and ways that you can support the Black Lives Matter movement in our bio. If you are neutral in situations of injustice, you have chosen the side of the oppressor. #BLACKLIVESMATTER
Carly Compesi and Mathew Lew are co-presidents of the Asian Student Alliance at Regis University.
Useful Information: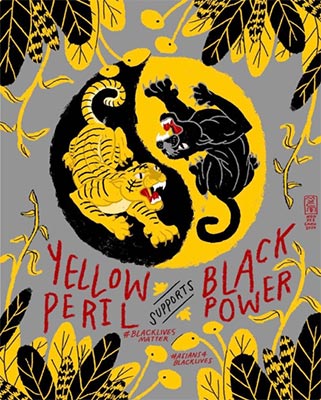 We can't afford to fail this time 
On the evening of July 12, 1967, in Newark, New Jersey, two white police officers badly beat a black cab driver named John William Smith in the course of arresting him for a traffic violation. News of this spread like wildfire through the African American community, and angry crowds gathered outside the police station. Though Smith was injured, but not dead, riots erupted across the city that night. By the time order was restored on July 17, whole blocks lay smoldering and twenty-six people, mostly African Americans, lay dead.
The riot in Newark was one of the most violent flashpoints in what became known as the "long, hot summer of 1967," in which simmering racial tensions boiled over into the streets all across America. In all, 164 race riots consumed many of the nation's largest cities and smaller towns. The violence in Newark, and a riot in Detroit later that month, stand out as the two most destructive and deadly urban uprisings, with 82 percent of the deaths reported in those two cities alone. According to a government study, the "overwhelming majority of the persons killed or injured in all of the disorders were Negro civilians." Though the Civil Rights Act of 1964 and the Voting Rights Act of 1965 brought hope to many, the plight of African Americans in the northern and western cities remained defined by poverty, unemployment, lack of educational opportunities, and toxic policing. In short, systemic racism shaped all facets of black lives. Voting rights meant little when daily survival was a constant struggle.
President Lyndon B. Johnson—whose War on Poverty and Great Society programs aimed to eradicate poverty and level the playing field for marginalized Americans—could not accept that his programs were failing to solve the problems of America's inner cities. By 1967, cities exploded for the third consecutive summer as communities raged against generations of oppressive systems and discrimination. "Race riots," as they came to be known, had become an oft-debated topic, and by 1966 white Americans' support of civil rights causes began to wane, as many felt that LBJ's civil rights agenda was moving just a little too fast and as they perceived a more radical turn in the civil rights movement.
That same year, Dr. Martin Luther King, Jr. sat down with journalist Mike Wallace to discuss the race riots. "I think that we've got to see that a riot is the language of the unheard. And, what is it that America has failed to hear? It has failed to hear that the economic plight of the Negro poor has worsened over the last few years…. I would hope that we can avoid riots because riots are self-defeating and socially destructive." While he never compromised his commitment to nonviolent resistance, Dr. King expressed an understanding of why African American communities were rising up. Communities that had been ignored for too long were essentially doing whatever they could to get the attention of their leaders, and in 1967 they had the ear of a sympathetic president who was willing to listen and respond.
In a nationally televised address, LBJ announced that he would be answering Michigan Governor Romney's call for federal troops, and three days later, on July 27, in another national address, LBJ announced that he would be creating the National Advisory Commission on Civil Disorders. The commission consisted of eleven members, including a governor, a mayor, congressional members, the NAACP's executive director, and a chief of police. Known as the Kerner Commission, the group was tasked with studying the urban crisis and answering three questions: "What happened? Why did it happen? What can be done to prevent it from happening again?" Johnson spoke passionately to the nation that night, making clear his genuine desire to address the problems of the inner city. After all, he still had dreams of being the president who fed the hungry and clothed the poor.
After seven months of extensive inquiries, interviews, and visits to America's charred cities, the commission published its findings on February 28, 1968, concluding that "[o]ur nation is moving toward two societies, one black, one white — separate and unequal." Further, it stated that "[s]egregation and poverty have created in the racial ghetto a destructive environment totally unknown to most white Americans. What white Americans have never fully understood — but what the Negro can never forget — is that white society is deeply implicated in the ghetto. White institutions created it, white institutions maintain, and white society condones it."
In language now prophetic, the commission warned that "[t]o pursue our present course will involve the continuing polarization of the American community and, ultimately, the destruction of basic democratic values. The alternative is not blind repression or capitulation to lawlessness. It is the realization of common opportunities for all within a single society. This alternative will require a commitment to national action — compassionate, massive and sustained, backed by the resources of the most powerful and the richest nation on this earth. From every American it will require new attitudes, new understanding, and, above all, new will…. Violence and destruction must be ended — in the streets of the ghetto and in the lives of people." (emphasis added)
Despite his earlier desire to heed the recommendations of the Kerner Commission and take necessary actions to address inner-city problems, President Johnson was a changed man by February of 1968. The Tet Offensive in Vietnam had demoralized a nation already weary of war and had claimed the president and many of his Great Society dreams as its casualties. After the commission issued its report, Johnson did his best to downplay it, while many white Americans refused to accept its conclusion that racism had created the problems of the inner cities. The assassinations of Dr. King and Bobby Kennedy followed, and that summer, Americans stood by as the Democratic Party crumbled and as Richard Nixon's "law and order" campaign carried him into the White House. The Kerner Commission's findings would fade into the background, as the nation shifted its attention to mourning the loss of two beloved leaders, ending the war in Vietnam, and, in time, Watergate.
Thus, fifty-two years ago, the Kerner Commission concluded that systemic racism lay at the root of racial inequality and that the only way to address it was to confront it through compassionate action, open minds, and sufficient resources. Yet, we failed. We failed, as a nation, to acknowledge the commission's findings and heed its warnings. We failed, in 1968, to confront the issue of race in America. And, we have failed many times since then.
Today, as we mourn the tragic murder of George Floyd at the hands of police, we find ourselves in a position eerily similar to America in 1968. And 1992. And 2014. We know that systemic racism continues to threaten the lives of black men and women. We once again find ourselves taking to the streets to protest 400 years of institutional racism, which has taken the form of toxic police culture, persistent poverty, unequal educational opportunities, mass incarceration, and disparities in access to health care. Now is our opportunity to change the narrative and to learn from the failures of the past. We must have the moral courage to confront America's original sin and commit to the long, hard work of individual and societal change, while demanding that our leaders dedicate the necessary resources to address systemic racism on all levels. In the words of rapper and activist Killer Mike, who has been a powerful leading voice in the black community over the past few days, "we must plot, we must plan, we must strategize, organize, and mobilize."
We simply cannot afford to fail again.
Nicki Gonzales is Vice Provost for Diversity and Inclusion and an associate professor of history at Regis University and a member of History Colorado's State Historian's Council.
This essay first appeared on the History Colorado blog site, June 2, 2020.
Sources: 
Alice George, "The 1968 Kerner Commission Got It Right, But Nobody Listened," Smithsonian Magazine, March 1, 2018, smithsonianmag.com/smithsonian-institution.
"Our Nation Is Moving Toward Two Societies, One Black, One White—Separate and Unequal": Excerpts from the Kerner Report," History Matters, historymatters.gmu.edu.
Lyndon Baines Johnson, Address to the Nation Regarding Civil Disorder, July 27, 1967, MP594, LBJ Library, Austin, TX.
Martin Luther King, Jr., interview with Mike Wallace, CBS Reports, September 27, 1966.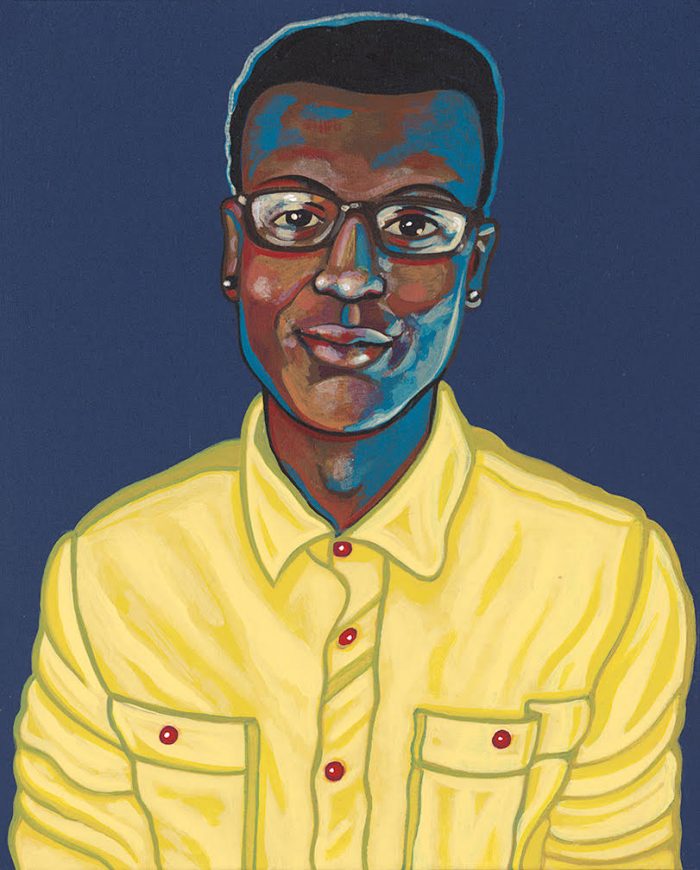 Elijah McClain, 25 February 1996 – 30 August 2019 – posted by my friend, the artist and iconographer, William Hart McNichols. My own meditation on his painting follows.
"But the righteous man, though he die early, will be at rest. For old age is not honored for length of time, nor measured by number of years … There was one who pleased God and was loved by him, and while living with sinners he was taken up lest evil change his understanding or guile deceive his soul…Being perfected in a short time, he fulfilled long years; for his soul was pleasing to the Lord, therefore he took him quickly from the midst of wickedness. Yet the people saw and did not understand, nor take such a thing to heart, that God's grace and mercy are with his elect, and he watches over his holy ones." ~ Wisdom 4
I recently painted this image of the very gifted, talented and beautiful soul, Elijah McClain. I used his photograph but added light around his head and golden colored shirt to echo scripture's prophetic words about the chosen ones of God. The red buttons signify his terrible death – red being the color of the Martyrs. I asked my dear friend and theologian, Christopher Pramuk, author of many truly unique and brilliant books, including Sophia: The Hidden Christ of Thomas Merton, Hope Sings So Beautiful: Graced Encounters Across the Color Line, and The Artist Alive: Explorations in Music, Art and Theology, to write a reflection on Elijah McClain.
~ William Hart (Fr. Bill) McNichols
If a sacrament can be described as something that attaches itself to one's heart, and in doing so, becomes an instrument of communion and grace, then Fr. Bill's new painting of Elijah McClain has become for me a most powerful sacrament.
At first, I resisted, I didn't want it to be so. Like grace itself, attachments of the heart can be both beautiful and dangerous. They demand vulnerability, commitment, risk. When Fr. Bill shared Elijah's image with me, I didn't want to let it in. I didn't want to allow him, those penetrating eyes, to gaze into my eyes, afraid of what he might uncover there. I resisted because Elijah's story, and Fr. Bill's image, struck too close to my father's tender heart.
My wife Lauri and I have two children from Haiti, adopted in 2010, just after the earthquake. Sophia, 17, is now on the verge of young adulthood; Henry, though just 11, could pass as 17, when seen from a distance. While Sophia is small in stature, Henry, with his broad face, huge hands, and legs twice as thick as mine, is a gentle giant. Except when he isn't.
Henry suffers from crippling mental illness, rooted in trauma and neglect during his first year of life. One afternoon a few years ago, I was called urgently to come to his school. For the third time in as many weeks, Henry had gotten upset and had bolted out the building's front door before staff could restrain him. I arrived to find my son sitting in a vacant lot near the school, surrounded by five police cars, lights flashing.
Flight – or what the therapists call "elopement" – is Henry's first and last means of escape when big feelings overwhelm him. Lauri and I know that flight for Henry is self-protection, literal survival. Our neighbors, strangers at the grocery, police officers, don't know this. To the police, flight is often, and sometimes fatally, mistaken as fight, defiance, disrespect. Especially when the prey, now backed into a corner, is a young black man.
When I first saw Fr. Bill's painting, the heartrending outlines of Elijah McClain's story were familiar to me, as they have become intimately familiar to so many here in Colorado, and now, around the world. He was 23, a massage therapist much loved by his clients, killed by an encounter with police that involved a carotid choke hold and a disabling dose of ketamine that left him in a coma for six days.
"It doesn't make sense," said one of his clients, calling the police response "brutal." "He was the sweetest, purest person I have ever met. He was definitely a light in a whole lot of darkness." Pictures of Elijah playing the violin to the animals in a local shelter during his lunch break have circulated all over the internet.
When police officers bore down on Elijah – he was wearing a face mask and waving his arms around, probably singing, his friends say, as he walked home from a convenience store – the young man repeatedly begged the officers to forgive him.
"I can't breathe. I have my ID right here. My name is Elijah McClain. That's my house. I was just going home. I'm an introvert. I'm just different. That's all. I'm so sorry. I have no gun. I don't do that stuff. I don't do any fighting. Why are you attacking me?" He also told the officers, "You are all phenomenal. You are beautiful. And I love you."
"He had a child-like spirit," another long-time client says. "Elijah McClain was not conditioned to the norms of America… He lived in his own little world. He was never into, like, fitting in. He just was who he was."
Years ago, I was reading an article by the eminent Black Catholic theologian M. Shawn Copeland, when I came to a line that stopped me cold. In a deeply racist US society, people of color, she wrote, are "overdetermined in the flesh." I did not, perhaps could not, understand such a statement until I became the father of two black children.
Whether I am with them at the mall, walking through our neighborhood, or behind the wheel of a car, I am chronically aware that the warm glow of white privilege that now surrounds and protects my kids will not be there forever. I cannot look at a photograph of Sandra Bland without also seeing my daughter Sophia, herself full of fierce, feminine strength, lying face-down in the grass with a police officer's knee on her neck.
Elijah McClain, thanks be to God, "was not conditioned to the norms of America." Neither was Sandra Bland.
In Fr. Bill's painting, the glimmer in Elijah's eyes returns my gaze with love. The hints of blue in Elijah's face — a color that represents divinity in the icon tradition — remind me that we never walk alone in the valley of the shadow of death. Like a mother's cloak, the Spirit of the Living God gently surrounds each of us, and flashes like the sun from within. She is the divine Child who plays "hide and seek" within all the people, daring us not to conform to the dictates of a rapacious and violent society. Like a lamb led to the slaughter, She says, "I love you," and "I'm just different," and "Why are you attacking me?" in the face of the world's power.
Elijah McClain, pray for us. Pray for our children, especially all young men and women of color. Give strength to every anxious parent's heart. Help us reclaim the light of God within, which endures even in the face of physical death. Teach us to remember and cherish the animals, as you did with your gift of music. Dear Elijah, may you dwell now in deep peace, and feel the infinitely accepting love that we so often fail to give.
And Fr. Bill, thank you for once again enkindling the flame of faith, hope, and love in a sea of gathering darkness. Your art, your attunement to the divine mystery written in human flesh, is a tremendous gift to the world.
Christopher Pramuk, Ph.D. , is the University Chair of Ignatian Thought and Imagination and an associate professor of theology
Resources
Online 
In the News
Books
I'm Still Here by Austin Channing Brown 
So You Want to Talk About Race by Ijeoma Oluo 
Stamped From the Beginning and How to Be an Antiracist by Ibram X. Kendi 
The New Jim Crow by Michelle Alexander 
White Rage by Carol Anderson 
How to be an Antiracist by Ibram X. Kendi
Race Talk and the Conspiracy of Silence: Understanding and Facilitating Difficult Dialogues on Race by Derald Wing Sue
Blindspot: Hidden Biases of Good People by Mahzarin R. Banaji and Anthony G. Greenwald
Everyday Antiracism: Getting Real About Race in School by numerous authors
Why I'm No Longer Talking to White People About Race by Reni Eddo-Lodge
White Fragility by Robin DiAngelo
Queenie by Candice Carty-Williams
Small Great Things by Jodi Picoult
It's Not About the Burqa by Mariam Khan
Me and White Supremacy by Layla F. Saad
Between the World and Me by Ta-Nehisi Coates
Heavy: An American Memoir by Kiese Laymon
I Know Why the Caged Bird Sings by Maya Angelou
The Color Purple by Alice Walker
The Eyes Were Watching God by Zora Neale Hurston
On Netflix 
13th – Documentary  
American Son  
Selma  
When They See Us  
LA 92 
I am Not Your Negro  
Fruitvale Station  
The Kalief Browder Story  
12 Years a Slave 
Strong Island 
Brian Banks 
Dear White People  
On Amazon  
Just Mercy 
Blindspotting  
On Video  
Queen and Slim  
And Still I Rise (Maya Angelou) 
More Than a Month 
Slavery by Another Name  
Black Britain on Film
Podcasts: 
About Race  
Diversity Gap 
1619 
Code Switch 
POD Save the People  
How to be An Antiracist (Audiobook) 
What Matters  
#BlackLivesMatter 
Uncomfortable conversations  
You're Pretty For A… 
The Intelligence
Research and learn/unlearn 
Be aware of your own privilege 
Stand up to racism when you hear it 
Protest when possible / Know your rights as a protester (https://www.aclu.org/know-your-rights/protesters-rights/) 
Sign as many petitions as possible  
Speak! Have conversations 
Support persons of color organizations and businesses 
Hold yourself accountable 
Question yourself: Are your actions/words harmful? 
Donate 
Vote
Names 
Freddie Gray 
Sam Dubose 
Philando Castile 
Terence Crutcher 
Alton Sterling 
Jamar Clark 
Jeremy McDole 
William Chapman II 
Walter Scott 
Eric Harris 
Tamir Rice 
Akai Gurley 
Michael Brown 
Eric Garner 
George Floyd 
Sean Bell  
Alton Sterling  
Akiel Denkins 
Breonna Taylor 
Gregory Gunn 
Natasha McKenna 
Christian Taylor 
Ezell Ford 
Laquan McDonald 
Yvette Smith 
Shereese Francis 
Ramarley Graham 
Manuel Loggins 
Source: https://www.latimes.com/nation/la-na-police-deaths-20160707-snap-htmlstory.html 
Actions
Regis University supports the Office of Diversity, Equity and Inclusive Excellence (ODEIE), which reports directly to the chief academic officer.
Its many activities include (many in collaboration with campus partners):
Anti-bias 

training  (

Introduction to Inclusivity)

 

Brave Space training

 

Diverse hiring training

 

Bias reporting system and a Bias Incident Response Team

 

Diversity committees in every college and the library

 

Scholarships for underrepresented groups

 

Student affinity groups (SOMOS, Asian Student Alliance, Black Student Alliance, Queer Student Alliance. Social Justice and Diversity Committee)

 

Annual Hate Crimes Forum

 

Summer reading groups 

on issues of race and diversity 

for staff

 

 

M

onthly

 educational

 email

s

 

 

Common Read: One Book, One Regis

 program

, dedicated to issues of racism and inclusivity

 

 

ODEIE office space and student lounge

 in the Student Center (second floor)
ODEIE is preparing a proposal for an Ethnic Studies certificate pending approval by Regis Academic Council.  In the meantime, the following courses will be offered for both traditional and adult learners:
Fall 8W1—African American History  
Fall 8W2—Asian American History  
Spring 8W1—Mexican American History  
Spring 8W2—American Indian History  
In addition, during Black History Month in February 2021, Regis will offer a free online 5-week class in African American History.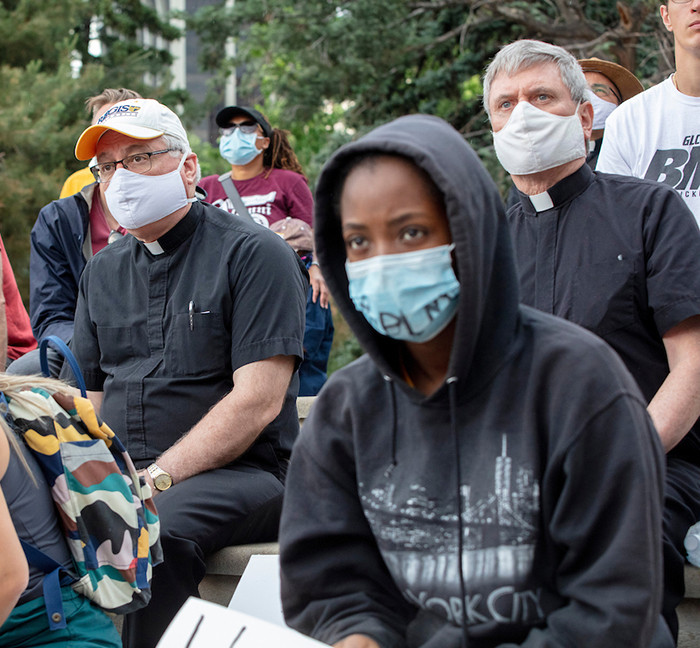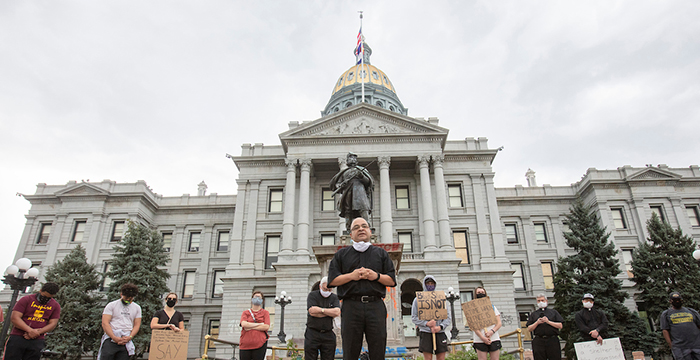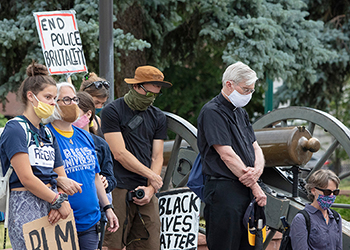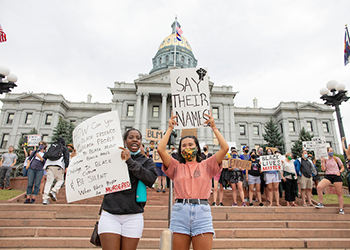 The Regis community, led by RUSGA officers, demonstrated for the Black Lives Matter movement at the Colorado statehouse in June. Regis President Rev. John P. Fitzgibbons, S.J., and other Jesuit priests  joined the protest and led prayers. (Photos by Bear Gutierrez)