Diversity, Equity and Inclusive Excellence
The Office of Diversity, Equity and Inclusive Excellence (ODEIE) is committed to cultivating an inclusive and just campus environment where diversity of expression and person are valued and celebrated within the Jesuit tradition.
We recognize that the work of diversity, equity, and inclusive excellence is the work of all at Regis University. Such work is at the heart of our Jesuit values. These values guide us in seeking innovative opportunities to collaborate and support Regis students, faculty, and staff in our shared goals of creating and maintaining an atmosphere of inclusive excellence that celebrates our diverse backgrounds, beliefs, and perspectives. We will accomplish our mission through educational programming, campus and community partnerships and extensive dialogue.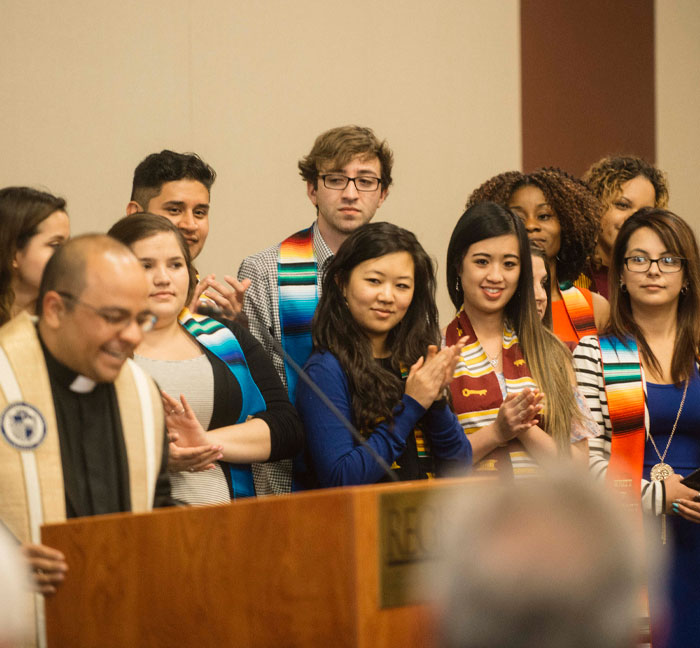 Finding Strength in our Differences
Our differences should thrive in a learning environment characterized by the Jesuit traditions of mutual respect and the pursuit of justice. Respecting our human differences, whether they are physical or philosophical, is what diversity is all about. It is not necessary that we all believe the same thing, but we all must respect others' beliefs and opinions.
Within Jesuit tradition, respect for self and others is critical. A learning and inclusive community that embraces a diversity of thoughts and ideas benefits all its members. The discovery and discussion of different viewpoints is what makes a university unique.
Regis University educates men and women to take leadership roles and to make a positive impact in a changing society. Our students will be better prepared to do these things having learned and lived in a multicultural community.

President John J. Fitzgibbons, S.J.
Organizations and Programs

Seeks to promote community awareness of issues important to the Hispanic, Chicano/a/x, and Latino/a/x community as well as create a welcoming environment for all students to network and create new life experiences. We hope to bring knowledge/awareness to Regis community about our culture to create tolerance in our everchanging demographic. We also support the Jesuit mission of the search for truth, values, and a just experience.

The mission of the ASA is to: build relationships among Asian students, increase diversity on campus by sharing a variety of Asian cultures, values and experiences, and to promote Asian awareness to the Regis community.

The Black Student Alliance strives to bring diversity to the campus through African, Black-American, and Afro-Caribbean culture. The group seeks to provide a safe and family oriented group for all of those open to diversity. BSA aims to spread a feeling of inclusion throughout the student body, and in the process breakdown stereotypes and prejudices.

The Queer Student Alliance, is in accordance with Regis University's Jesuit Mission and the principles of social justice by supporting those who are marginalized because of their sexual orientation and/or gender identity, as well as their allies; promoting a safe and inclusive campus environment for all members of the Regis University community; and engaging the Regis University community in dialogue about the complexity of gender and sexuality.

The Social Justice and Diversity Committee
The Social Justice and Diversity Committee provides leadership for RUSGA in the areas of diversity, inclusion and social justice. The Vice President of Social Justice and Diversity works in conjunction with the Office of Diversity, Equity and Inclusive Excellence and Student Identity groups to program and host events that strengthen Regis University's commitment to developing and supporting a diverse student community. 

Denver Scholarship Foundation
The Denver Scholarship foundation provides scholarship that serve as an incentive for Denver Public School students to work hard in school and make plans to continue their education past high school graduation. Students work closely with the Associate Director of Diversity & Student Engagement to ensure their success at Regis. For more information, contact DSF's campus liaison or visit the DSF website.
Brave Space Training
The Queer Resource Alliance aims to create an inclusive, equitable, and supportive environment for community members of all orientations and gender identities by providing leadership, education, and advocacy related to challenges and issues faced by Regis LGBTQIA+ faculty, staff, and students. Download our PDF on Brave Space Training basics.
It is our belief that people thrive in a learning and working environment characterized by the Jesuit traditions of mutual respect and the pursuit of justice. Consistent with the Jesuit faith-inspired commitment to build an inclusive community that values the dignity and contributions of all of our members.