The Therapist Will Sniff You Now
Regis University
March 18, 2020
Regis' therapy dog program is transforming the way students learn and athletes heal
Make no bones about it: Regis University is going to the dogs.
Tails are wagging from the baseball field to the School of Pharmacy — but the dogs of Regis aren't merely bringing cuteness to campus. They are providing students and faculty with opportunities to learn, serve the community, and, in the case of one trailblazing program, help athletes heal faster.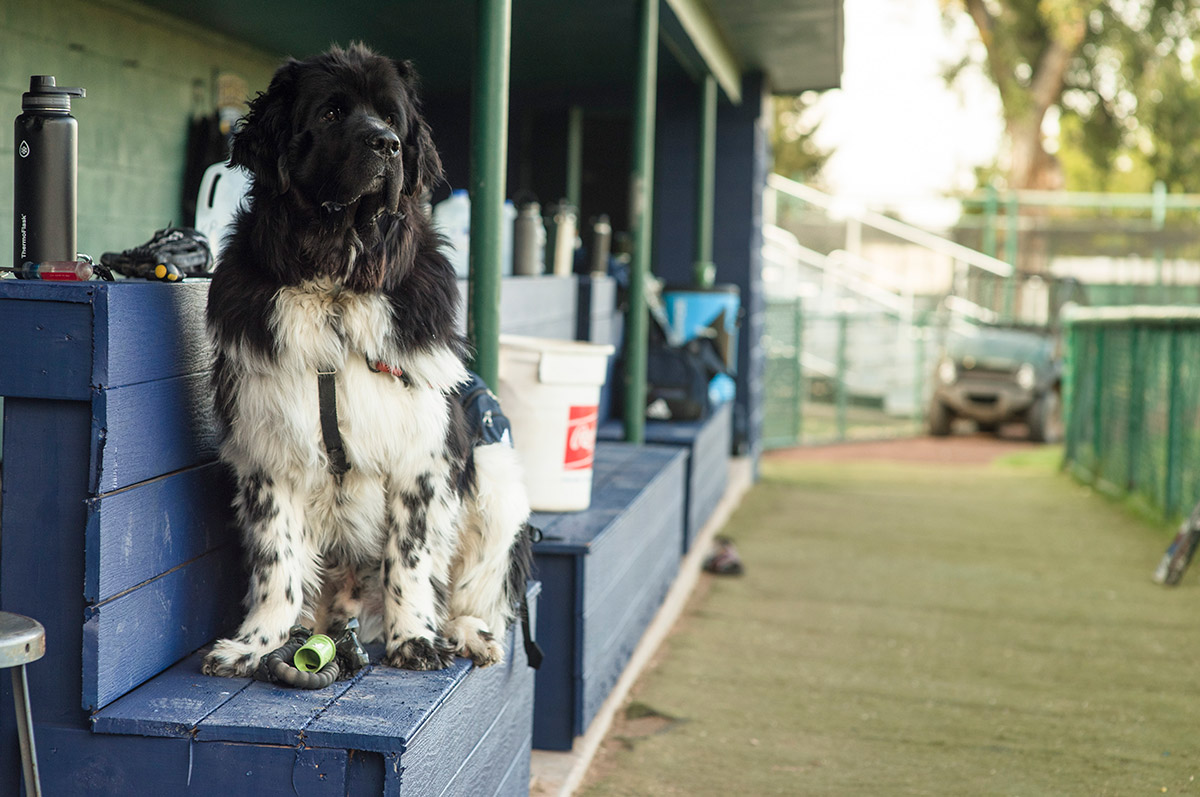 Norman rides the bench during baseball practice. (Photo: Brett Stakelin)
Stormin' Norman
One of the most popular and effective members of Regis' athletic training staff doesn't have a college degree. He doesn't truly understand what a sacrifice fly or a layup is. And he slobbers a bit.
But somehow, Norman the Newfoundland senses how best to comfort ailing athletes, said Alex Curry, Regis' head athletic trainer. And when they feel better emotionally, injured athletes are more likely to stick with rehabilitation programs and recover faster, Curry said.
Curry got the idea to bring Norman to Regis about two years ago, when she read about how a golden retriever named Remington was making a difference for the University of North Carolina baseball team.
"

He's made an incredible impact," Regis' head athletic trainer, Alex Curry, says of Norman the Newfoundland. "More than any of us would have thought."
So, she started researching the benefits of a therapy dog working with athletes. She found that dogs helped decrease injured athletes' use of pain medication and reduced their stress and anxiety. "It was then that I decided to write a proposal for Regis to get one," Curry said.
Soon afterward, Curry bought the ball of black fur now known as Norman from a Kansas breeder and brought him to the Regis campus in fall 2018.
When it comes to helping humans, Norman comes with an impressive pedigree, Curry said. His family tree includes therapy dogs working in hospitals, schools, libraries and other settings.
For injured athletes, Norman has transformed their recovery process and given them a safe and comfortable place to heal. "The athletes love having Norman around," said Curry. "Some come in just to visit or take him out for walks. He has really become a key component of our sports medicine staff."
Norman isn't the first athletic-program therapy dog on a college campus, but he's close. He is the only one in the Rocky Mountain Athletic Conference, and one of the few in the National Collegiate Athletic Association Division II.
"I have gotten emails from multiple certified athletic trainers [asking] about the process of getting Norman 'on staff' and what benefits we have seen," Curry said.
Regis' student-athletes aren't the only ones who have enjoyed having this "Big Man on Campus" around.
"We didn't expect that Norman would become such a campus-wide sensation," said Curry. "A lot of different people outside of athletics know about him and visit him." And he's made a habit of stopping by the library during Dead Week to comfort students as they study for finals.
Overall, Curry said, "He's made an incredible impact. More than any of us would have thought."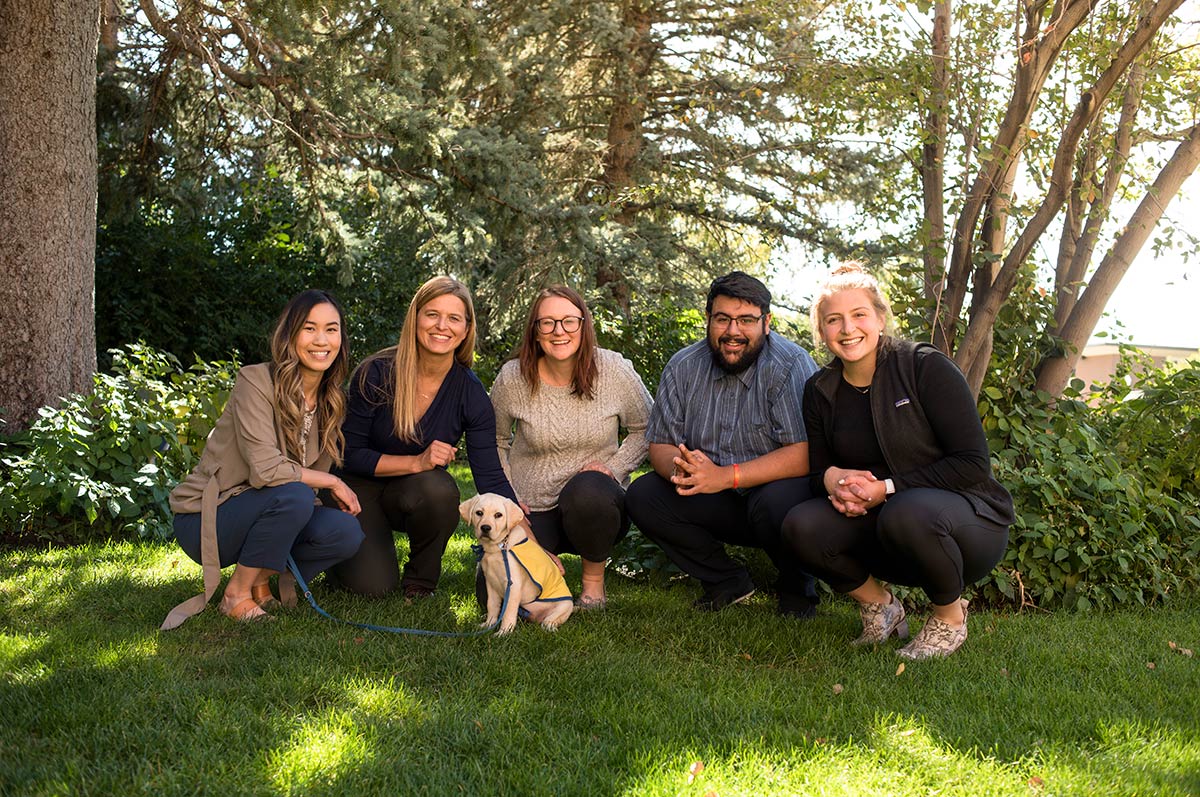 Golden retriever Juliet, the eighth pup trained through Regis' partnership with Canine Companions for Independence, with, from left to right: Megan Chiu; Assistant Professor Shelene Thomas; Elizabeth Moslander; Alexander (Zander) Varde-Gallegos; and Bridget Anthony.
Cura Canum
At Regis, humans aren't the only ones receiving a rigorous education steeped in community service. Thanks to a partnership initiated by School of Physical Therapy Professor Wendy Anemaet, dogs have been getting schooled here, too, since 2012.
As a physical therapist, Anemaet had seen firsthand how patients benefited when therapy dogs were part of the treatment prescription. The dogs who assisted her patients' recoveries had been trained by Canine Companions for Independence, a California-based nonprofit that provides assistance dogs to people with disabilities at no cost.
"After having such a wonderful experience working with this organization, I knew I had to bring that to Regis," Anemaet said.
She saw several potential benefits to adding therapy dog training to the physical therapy program.
First, she said, training the dogs is good, practical experience for students. "For physical therapists, one of the treatment options is to recommend these types of dogs for patients. So it is good for them to understand what goes into training and raising therapy dogs."
And, she said, "Students have gained a chance to take on leadership roles, to work more in the community."
And, finally, "It's just great to have dogs in the classroom. This can be a pretty stressful program, so it's nice to have them around as stress relief."
Given those benefits, it is not surprising that participation in the program has become popular, and competitive, among physical therapy students.
"Physical therapy doctoral students can apply to be in the puppy-raising program after their first year," said Anemaet. "The students who are chosen care for and train the puppy for a year and a half as part of a service project, teaching them basic commands, socializing and exposing them to as many things as possible."
So far, about 70 physical therapy students have helped train dogs, Anemaet said. Her students currently are working with the eighth therapy dog in training: Garrin. In addition, Shelene Thomas, assistant professor in the School of Physical Therapy, is helping an interdepartmental group of students raising puppies.
Of the six pups who've completed the training, three are successfully working in their chosen field. One, Éclair, is a companion to a boy who has Duchenne muscular dystrophy.
Anemaet said the national average for dogs to successfully become Canine Companions is around 40 percent — proof of how demanding the program is, and how high the expectations are for therapy dogs.
Dogs that graduate from the Canine Companions for Independence program are prepared to serve in one of four capacities: full-service dogs, which work with adults with disabilities; companion dogs, which work with children with disabilities; facility dogs, which comfort humans in courtrooms, schools or other public settings; or dogs that assist the hearing-impaired.
As any parent knows, raising little ones, then watching them grow up, succeed and take their place in the world is immensely rewarding. At the same time, Anemaet said, "It's tough to let them go."