Honoring Sacrifice with Scholarship
Suzi Lockard was the hero, arriving in the nick of time, saving the day and saving a life.
And that's how the story was supposed to end.
But in December 2019, three years after the Neonatal Nurse Practitioner (NNP) donated a kidney to save the life of Regis affiliate faculty professor Pam Heaberlin, Lockard's own life ended too abruptly for even the most powerful hero to save her. "It's a great loss," Heaberlin said. "She was a person who helped everybody."
Now, Heaberlin, her co-workers at Regis and her family are establishing a scholarship that will keep Lockard's name and memory alive.
The Suzi Lockard Memorial Neonatal Nurse Practitioner Scholarship will assist students in pursuing a Master of Science degree in nursing to become a neonatal nurse practitioner "who exhibit(s) exceptional compassion and commitment to the service of others." Heaberlin's father, Ralph Dillon – who also is the recipient of a donated kidney—will match all gifts up to a total of $20,000. His goal is to make sure the scholarship reaches the $50,000 endowed level.
The women met in Heaberlin's Regis classroom, where Lockard was studying to become a Neonatal Nurse Practitioner. After Lockard graduated, the two stayed in touch, and Heaberlin became a sort of unofficial mentor, a sounding board, and a friend. "She would text me with questions," about caring for those fragile infants, "and she reached out to me asking me to be a reference for jobs," Heaberlin said.
Then, in 2014, Heaberlin learned she had the genetic kidney disease that ran in her family. Without a transplant, the disease likely would result in being hooked up to a machine four days a week for dialysis as the only means of staying alive.
After learning they could not be donors themselves, Heaberlin's family got busy hunting for someone who could. Her husband, Jeff, took to Facebook and even drove around town in a bright red pickup truck displaying the words "My Wife Needs a Kidney" in bright white type, above the transplant center's phone number.
It wasn't long before Lockard heard about Heaberlin's situation. "She texted me and said, 'Do you really need a kidney? Would you take mine?'" Heaberlin recalled.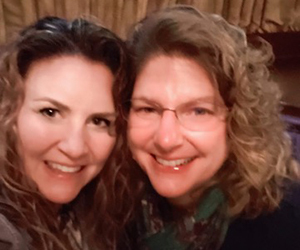 Lockard turned out to be a match, and despite protocol dictating that Heaberlin should be kept in the dark — "they don't want us to get our hopes up and then be disappointed," she said — her former student couldn't resist sharing the good news.
After months of tests, images and even a psychological evaluation, all designed to make sure Lockard truly was a donor candidate, the two women went into surgery. When the operation was over, Lockard was one kidney short of a set, and Pam was on her way to becoming healthy again.
In 2016, Lockard told Regis magazine that becoming Heaberlin's donor was an easy decision. "Why would I not do it?" she asked. "If I could save someone's life, why wouldn't I do it?"
After the transplant, the women became closer and usually marked the transplant anniversary with dinner or a spa day for two. They got together one last time on March 17, 2019, days before the third anniversary of the transplant. Heaberlin brought her husband while Lockard brought her fiancée and her new Toyota SUV. "It was the car of her dreams. She'd never been able to have a brand new one before." On that car was a donor license plate bearing the words, "I Did It."
Days later, Heaberlin learned her friend had died of a brain aneurysm. She left behind three children, Tyler, Summer and, Kiya. Thanks to her selflessness, a part of her still lives on through Heaberlin. And, if Heaberlin has her way; Suzi Lockard will be remembered for generations to come.
Knowing her friend Lockard might have tried to argue that she didn't deserve a scholarship, Heaberlin said. "But I think she'd be thrilled at the idea of helping someone get into this profession she really cared about."
To learn more about the Suzi Lockard Memorial Neonatal Nurse Practitioner Scholarship and opportunities to donate, contract Laurel Petralia, University Advancement, at:
lpetralia@regis.edu
 or 303.964.6044.