Humanity in Color
Matt K. Johnson
July 10, 2020
Faculty member R. Alan Brooks uses the pen to combat bigotry and challenge views on race
R. Alan Brooks wasn't surprised by the death threats themselves — just the timing of them.
Last December 24, the online news outlet "The Colorado Sun" published an article previewing "Anguish Garden," Brooks' soon-to-be-released graphic novel and his first since becoming a faculty mentor to students in Regis University's Mile-High Master of Fine Arts in Creative Writing program.
Because "Anguish Garden" offers an allegorical take on a hot-button issue — white supremacy — Brooks was prepared for some strong reactions to the article. The next day, Christmas Day, he awoke to multiple direct messages from an Instagram user stating that comic book writers and artists should be "drug out in the streets and shot."
"Frankly, I expected [threats] earlier," said Brooks, who has remained safe in the wake of the threats and responded by making them public. "But this one was jarring because it was Christmas Day. ... It's not a great feeling, but it does feel like it's a part of doing something that matters."
What matters to Brooks — and perhaps to those who might like to silence him — is inviting his readers to question how they view the humanity of others. A former rapper and insurance agent who has now turned his full attention to writing, Brooks mixes genres, characters and themes to investigate tough topics such as race, identity and xenophobia. He admits these topics may stir up strong emotions for those on the extremes, but those aren't the people he's trying to reach.
"When it comes to these attitudes of hate and murderous intent, there are definitely people who have that, but those people are on the extremes," he said. "And there are people way on the other side ... who can [also] go to an extreme. But I think most people fall somewhere in between."
It's for those in-betweeners that Brooks writes, hoping to inspire honest reflection of how his readers view and treat others.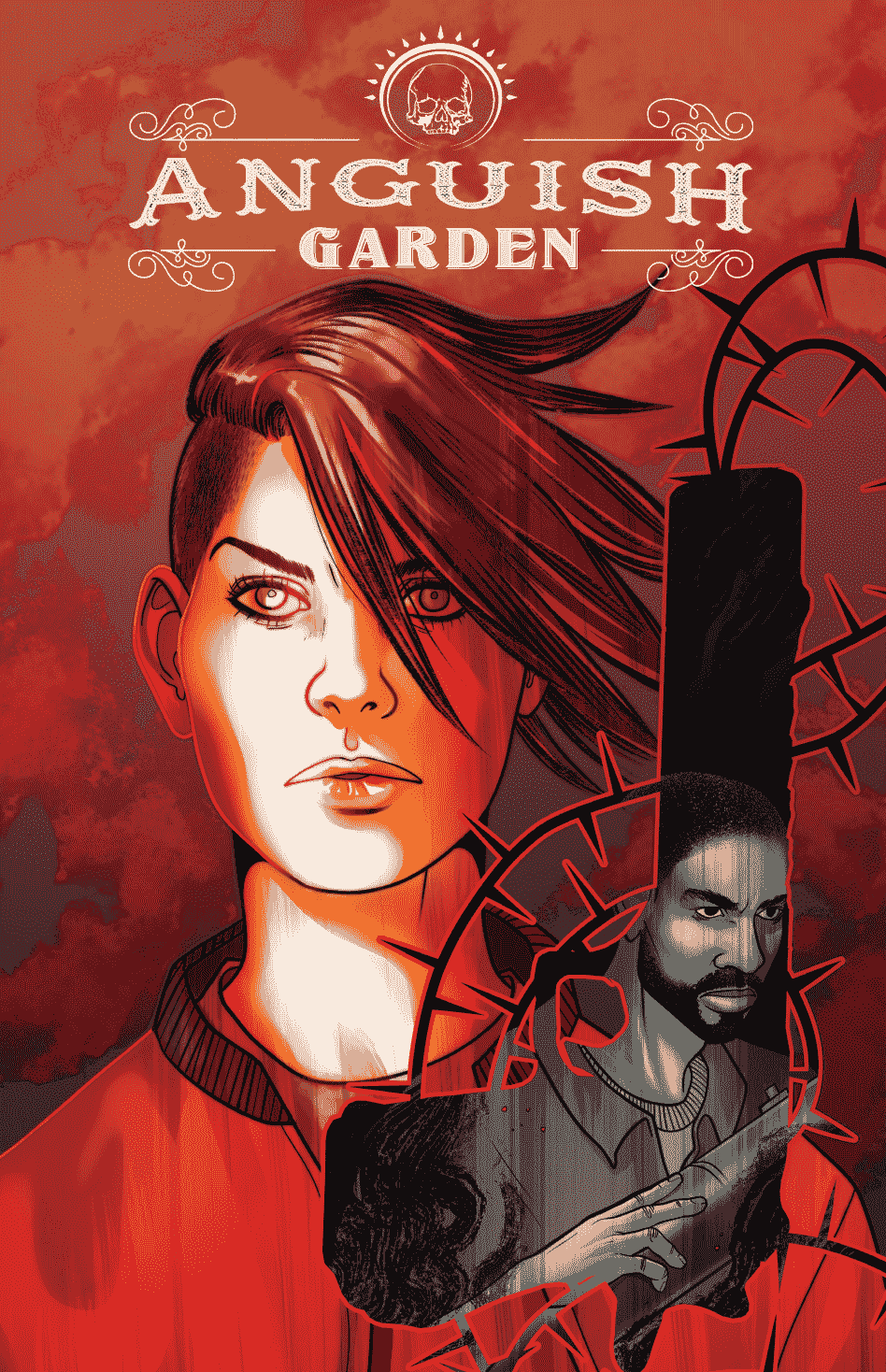 In "Anguish Garden," set for release this fall, Brooks comments on racism, an issue he encountered personally while living most of his life in Atlanta. "Racism certainly exists [in Denver], but it's not like it is in the South," said Brooks, who moved to Denver in 2003. "All that energy that I was using to protect myself in the South mentally, I can now use to create things here."
Even when prejudice reared its head in more subtle forms, Brooks remembers it creating a backdrop for his formative years. "The thing about racism is that when it's ubiquitous, like it is in the South, people are not actually telling you that they're treating you bad because you're black, because they'll get in trouble," he said. "You just go to the grocery store or something and a person has an attitude with you and you're like, 'Why is this happening?'"
To shed some creative light on the issue, Brooks decided to write "Anguish Garden" alongside artistic collaborators Kevin Caron, Dailen Ogden and Sarah Menzel Trapl. In the story, Brooks uses allegory to highlight a young woman who is hired to capture people she believes are infected with an alien virus. The protagonist believes she is doing the world a favor by saving humanity from these threats, but she eventually comes to doubt whether the infected minority group is dangerous at all. "'Anguish Garden' [is] about the extreme you can be in if you don't recognize the humanity of another group," Brooks said.
Brooks isn't only engaging his community through his graphic novels. As a graphic narrative mentor in Regis' creative writing program, he is pouring his insights and experiences into the next generation of graphic novelists as they grapple with a storytelling method long seen as more juvenile than prose or film. "There's always been this battle fought in the industry to give comics the legitimacy that they deserve," Brooks said. "Educators are embracing graphic novels and comics a lot now. They're in libraries, which wasn't true before. It's been a process, but we're getting there."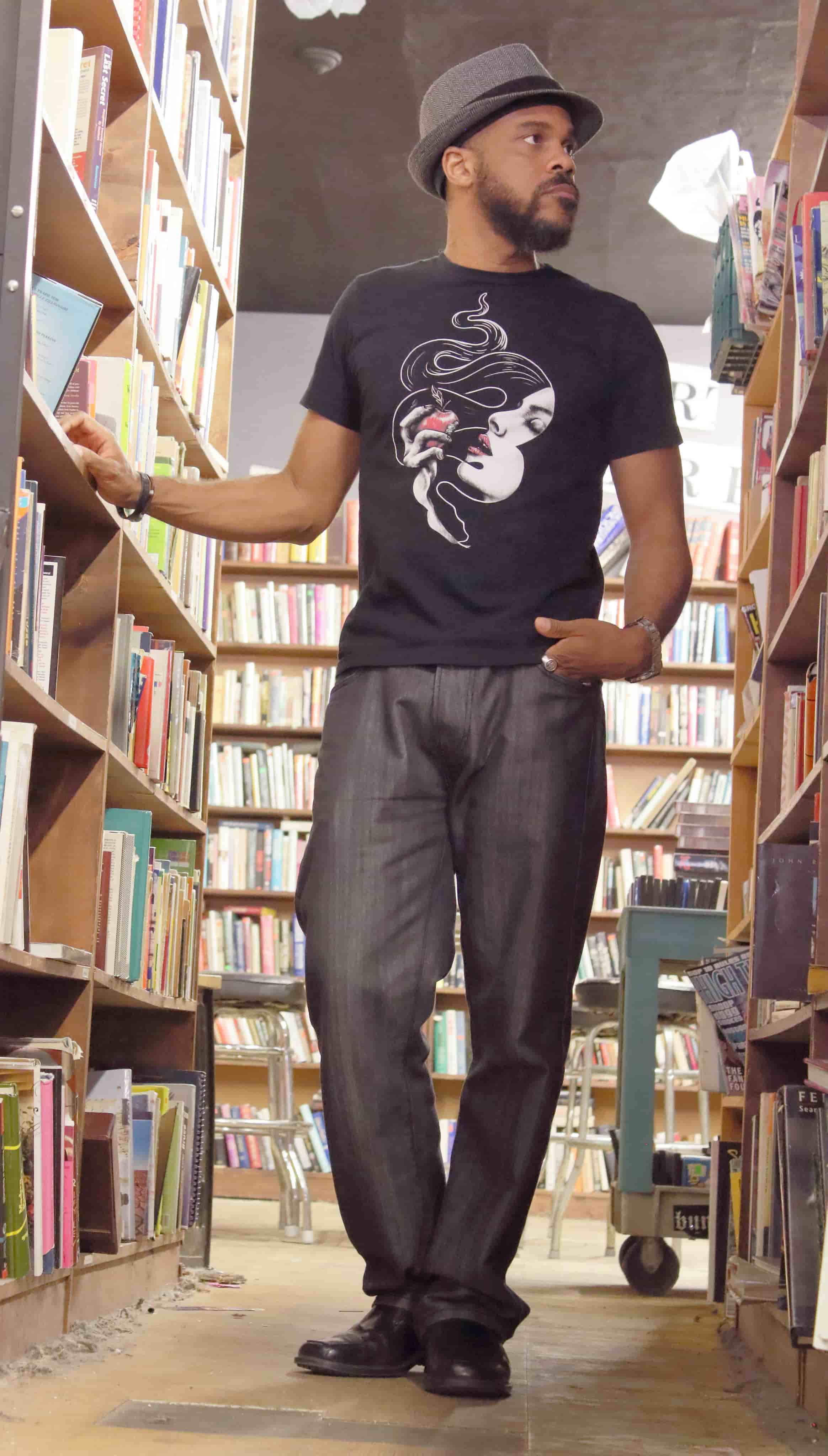 Writing a New Story
Immediately before writing graphic novels, Brooks was selling property, casualty and later, health, insurance. By his fourth year on the job, he struggled to deal with angry people — not because of their anger, but because of his own apathy. "If you're mad at me about something I've written, OK," he said. "If you're mad at me about insurance, I don't care about insurance. It just accumulated." He traveled to Europe for a month before realizing where his heart was leading: "I came back and was like, 'I'm writing comics.'"
Back stateside, he reached out to friends and contacts, started a Kickstarter project for funding, and in 2017 published his first graphic novel, "The Burning Metronome." The book, a supernatural murder mystery, hits on some themes similar to those covered in "Anguish Garden," including how characters affirm or deny the humanity of others.
"One of the things that I feel like is an accomplishment is that nobody ever asked me about the lead character being an old black man..." Brooks said. "That tells me that I have constructed his humanity in such a way that people read it and just feel, 'This is a person and I want to see where he's going,' and then don't even think about it."
The comic book — or graphic novel; Brooks cares little about name distinction — helped him secure a literary agent and established him within Denver's creative community. It also helped him gain a foothold with artists who could complete the sketches and colors for future works. As is common in the industry, Brooks specializes in one area — in his case, writing the stories — while partnering with fellow artists for illustration, colors, lettering and more.
"The Burning Metronome" also paved the way for another important benefit: a job at Regis. One prominent figure who learned about the book was Mile-High MFA Director David Hicks, who was searching for someone to mentor MFA students interested in graphic novel writing. Seeing Brooks' potential, Hicks offered him a chance to speak at one of the program's biannual nine-day residencies.
"He's a very easygoing, relatable, intelligent, respectful speaker," Hicks said. "He doesn't condescend to the students and he doesn't inflate his importance. ... He just tells them the straight scoop in everyday language and the students adore him immediately. Two of them came up to me afterward and were like, 'Can we hire him?'"
"I typically avoid arenas that are pretentious, but it feels very natural for me to be [at Regis] right now," Brooks said. "It feels good and comfortable, and appropriate. The students that I've dealt with have a sincere interest in creating at their highest level, and that's great to me. I love to be a part of that."
The Next Chapter 
Not long after that presentation, Hicks did offer Brooks a job. Last fall Brooks joined the MFA program as a faculty mentor in graphic narrative. "He's just a great professor," Hicks said. "He just didn't know it because he hadn't had the chance to do it."
Brooks meets one-on-one with students at the MFA residencies held each January and July, helping them form a plan for their writing goals. Throughout the semester, he provides guidance and feedback as those students complete readings, work on graphic novel drafts and create pitches to publishers and agents.
While the transition to becoming a mentor has been a natural one — Brooks credits his experience providing guidance to young rappers — he sometimes marvels at where he has arrived: "If you would have told 10-year-old me that I could write a comic book and it would make me a professor, I never would have believed you."
These days, Brooks' weeks are busy. Along with writing a weekly comic for "The Colorado Sun" and co-hosting a podcast that explores geek culture, he still raps, speaks at conferences, writes educational comics and has even tried his hand at a movie script. Staying busy helps him keep his ears open — to memorable stories like the one he recently heard at a convention: A woman who had suffered multiple strokes bought "The Burning Metronome" and liked it so much that she decided to use it for speech therapy. "These characters that I thought of on my living room couch, that they could occupy that important a space in somebody's life, [it's] so incredible," Brooks said.
Brooks admits becoming a faculty member at a Jesuit, Catholic university was a new kind of challenge. Having experienced holier-than-thou attitudes in both the religious and academic spheres separately, he worried what might happen at the intersection of the two. But at Regis, he says, something feels different. "I typically avoid arenas that are pretentious, [but] it feels very natural for me to be here right now," he said. "It feels good and comfortable, and appropriate. The students that I've dealt with have a sincere interest in creating at their highest level, and that's great to me. I love to be a part of that."
---
Header photo by Kate Russell/courtesy Meow Wolf, provided by R. Alan Brooks