Welcome to the Show
Matt K. Johnson
July 10, 2020
Regis big leaguer Steven Brault is turning heads — and not just at his day job
Ever heard the one about the teenager, the baseball coach and the music teacher?
Pittsburgh Pirates pitcher Steven Brault's first moments at Regis University read like the start of a bad joke. Since then, his story has unfolded more like a fairy tale.
It was a snowy spring day in 2010 when Brault, a highly touted high school baseball player from the San Diego area, came to Regis and met with then-baseball coach Dan McDermott and music program director Mark Davenport. The realms of baseball and music rarely mix, so McDermott and Davenport weren't accustomed to collaborating. But the two had struck a deal.
McDermott had recruited Brault after watching him play at a tournament in Arizona. But multiple high-profile NCAA Division I schools with storied baseball programs also were keen on the talented southpaw. "[Regis] wasn't my first choice coming out of high school, I mean, mostly because I'd never heard of it," Brault said. "I didn't go to a Jesuit high school or anything." Ultimately, there was one main reason he considered playing ball at a Division II school in Denver: He wanted to sing, too.
Brault's passion for singing developed after a fifth-grade production of "Rip Van Winkle" piqued his interest in musicals and led him to community theater in middle school.
"I made a lot of friends doing that, and I just fell in love with it — I really did," Brault said. "That's why I continued doing theater when I got into high school, and I would say it was the catalyst for me eventually wanting to do music in college."
The D-I schools were hung up on Brault's desire to take on both time-intensive commitments. "Every school was kind of an either-or thing," Brault said. But Brault was insistent — it had to be both — so Davenport and McDermott developed a vision for how he could accomplish at Regis what the other schools wouldn't allow. Brault was intrigued. "This actually [seemed] like a school that I should start really considering."
It would take early mornings and late nights — often, 13 to 14 hours a day of a regimented schedule. But at Regis, it was possible. "That's what we're all about, the philosophy at Regis of educating the whole person. ... That means we will find a way to make it work," Davenport said. "For him, that really meant a lot because he was able to keep both of his passions going."
Fast forward 10 years, and the wisdom of Brault's decision to come to Regis — and to follow both paths — is clear. At 28, he now is both a Major League Baseball player and a performing vocalist. In 2019 alone, he pitched over 100 major-league innings, struck out 100 batters, released his first studio album and sang in front of thousands with the Pittsburgh Symphony Orchestra.
Brault can trace his success in both baseball and music to the only school willing to let him pursue both passions wholeheartedly: "It means pretty much everything to me, because another school wouldn't have even let me do both — and Regis did."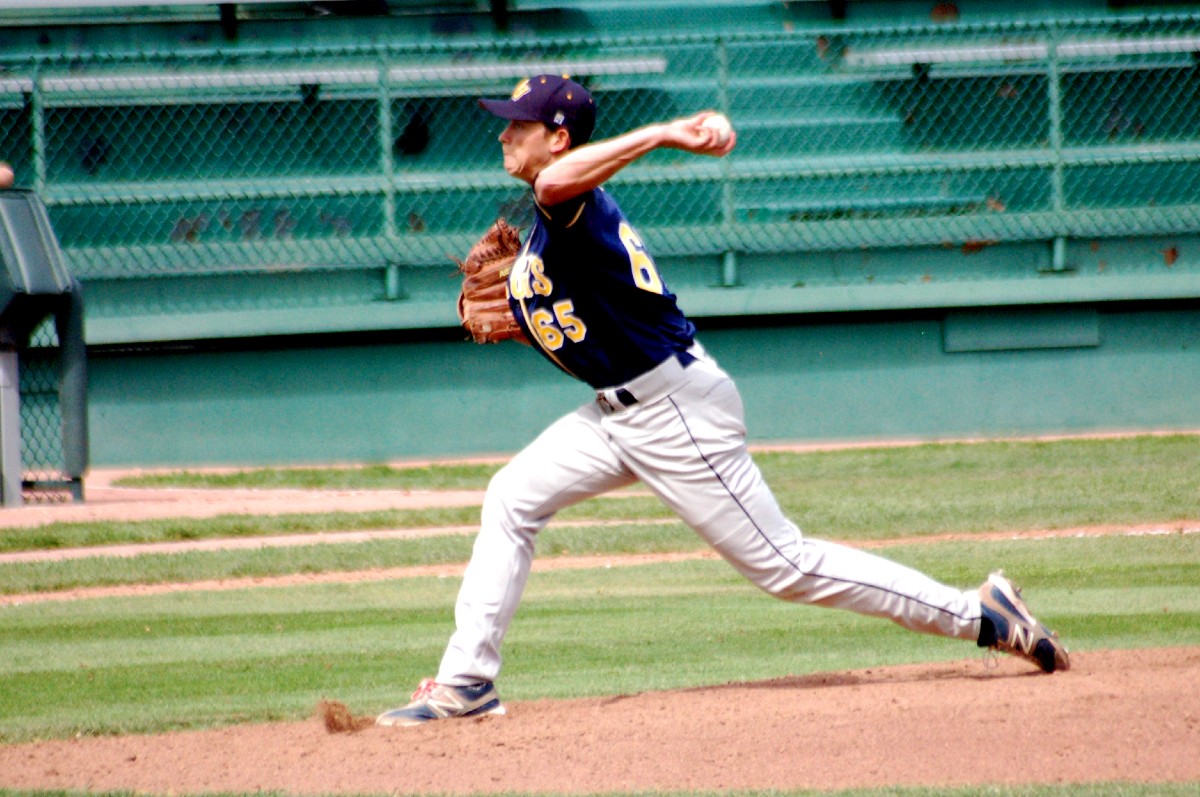 Showing His Range
Brault's Regis career started with a bang.
As quickly as he made an impact on the baseball field — notching his team's second-highest strikeout total (54) on the mound as a freshman — he also earned notoriety in the music department. Among the impressed was Barbara Wollan, who was a vocal professor at Regis for 24 years. "I've taught hundreds of students," Wollan said. "I would say only three of them had a special quality that I would just say they could make magic when they sang. ... And he has it."
Davenport, who became Brault's academic advisor, was equally impressed. But, as he warned, balancing music with baseball would take all Brault's energy. Most days, Brault says, started with a baseball workout from 5:30 to 7 a.m., followed immediately by classes until noon. Baseball practice would go from 1 to 4 p.m., and choir and vocal practice would start in the early evening and continue as late as 9 p.m.
"That's what we're all about, the philosophy at Regis of educating the whole person. ... That means we will find a way to make it work," Davenport said. "For Steven, that really meant a lot because he was able to keep both of his passions going."
"There were times that I felt like this is just ridiculous and I don't know if I can do this," Brault said. "And then I'd have some moment where I'd be in music class and just realize, man, this absolutely is what I want to do. I can't stop doing this now."
Even when he sang opera in foreign languages, McDermott and the baseball team showed up at performances to cheer on their teammate. "He was just a great performer," McDermott said. "I think that each of those two skills, athletics and singing, actually made him better at the other, because he's used to performing."
The team's support meant a lot. "Stuff like that I'll never forget," Brault said. "It's given me this kind of humility, I think. I try to remember where I came from and try to remember all the guys that helped me get here."
On the field, Brault struggled to recover from a cartilage tear in his shoulder during his sophomore year, as the Rangers won the Rocky Mountain Athletic Conference regular season championship but bowed out quickly in regionals. While his injury healed, Brault played more as an outfielder than a pitcher — and showed his versatility by knocking in the second-most runs on the team. "He was not just a pitcher then," McDermott said. "He could swing it and play the outfield. I think if he had not gotten drafted as a pitcher, he would have gotten drafted as a centerfielder."
Healthy again for his junior year, Brault struck out more than 100 hitters in 78 innings while still swinging the bat to the tune of a .397 average. Still, it wasn't until the final stretch of his junior year when scouts began to take notice — if only because they came to watch someone else.
Brault remembers a weekend when scouts came to a Regis game to watch an opposing player in action. Brault pitched well, and scouts came back soon afterward to see Brault strike out 12 batters in seven innings, leading Regis to a dominating victory.
From there, scouts started attending Brault's games, and the possibility of being drafted began to morph from a longshot to a likelihood. "It was a surprise," Brault said, "but it was a welcome surprise."
Soon he was having the difficult but necessary conversations with the music department about forgoing his senior year to play professional baseball. "We were losing one of our star singers, but I realized what an opportunity that was for him," Davenport said. "He had my full support and blessing."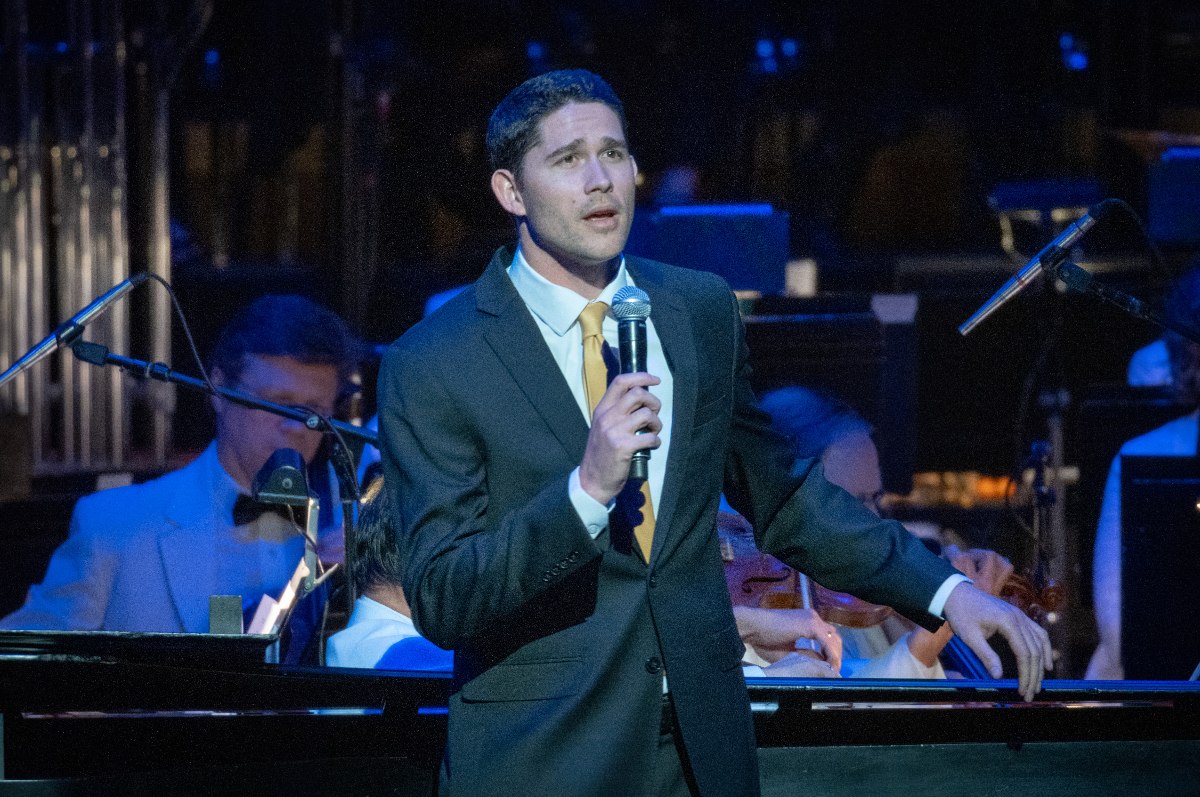 In the Spotlight
Brault was drafted by the Baltimore Orioles in 2013, and worked his way through the minor leagues before being traded to the Pittsburgh Pirates in February 2015. He made his major league debut in July 2016, relishing the charter flights and five-star hotels after three years roughing it in the minors. "It's a grind, that [minor league] experience, because you're staying in crappy hotels, [taking] long bus rides and everything," he said. "But then you get to the majors and, I mean, everything is the reverse."
By the end of 2018, Brault had solidified himself in the majors, and in 2019, found his rhythm. Starting 19 games on the mound during the season, he held opponents to four or fewer runs in all but one game through August. "Then I gave up 10 runs to the Cubs," Brault remembers. "It was like, 'Oof, man, it's not that easy, Steven.' ... Baseball is such a fickle mistress, because it is so loving and all of a sudden so mean, like five minutes later."
Being in the major leagues opened doors for Brault's other talent, including the chance to sing the national anthem before two games in Pittsburgh. In 2019, he was approached by a music producer, Loren Harriet, who has found a niche in the music industry working with professional athletes such as MLB stars Bernie Williams and Nick Swisher. Harriet had heard about Brault and wondered whether he would be interested in recording an album.
Brault was skeptical, but he kept the conversations going. Thanks in part to his theater background, Brault had a soft spot for show tunes and spent part of the 2019 offseason working with Harriet to whittle down a list of Broadway selections. The final 12 included songs from shows ranging from "Hamilton" and "The Phantom of the Opera" to "Rent" and "Dear Evan Hansen."
After the season ended, Harriet asked Brault to record in southern California. In November, Brault met a team of industry-leading musicians at Tritone Studios in Glendale, Calif., to record his first solo album, "A Pitch at Broadway."
The album, released in April, mixes the soaring melodies of "Defying Gravity" from "Wicked" with the cheeky rhymes of "I Believe" from "The Book of Mormon" — along with a version of "You'll Never Walk Alone" from "Carousel," featuring more than 15 cancer survivors. "The session musicians are all the best in the business, and the guests we had are all just amazing singers," Brault said. "The whole experience was unbelievable." 
That wasn't the only chance Brault had to show off his talents in the offseason. He also sang Broadway songs live with the Pittsburgh Symphony Orchestra in February. The budding star is open to more singing gigs, as long as they don't interfere with his number-one priority for now. "I'm going to jump on any opportunity I can right now," Brault says, "as long as it doesn't take away from my ability to play baseball. ... Baseball only lasts so long no matter how good you are. Music you can do pretty much forever."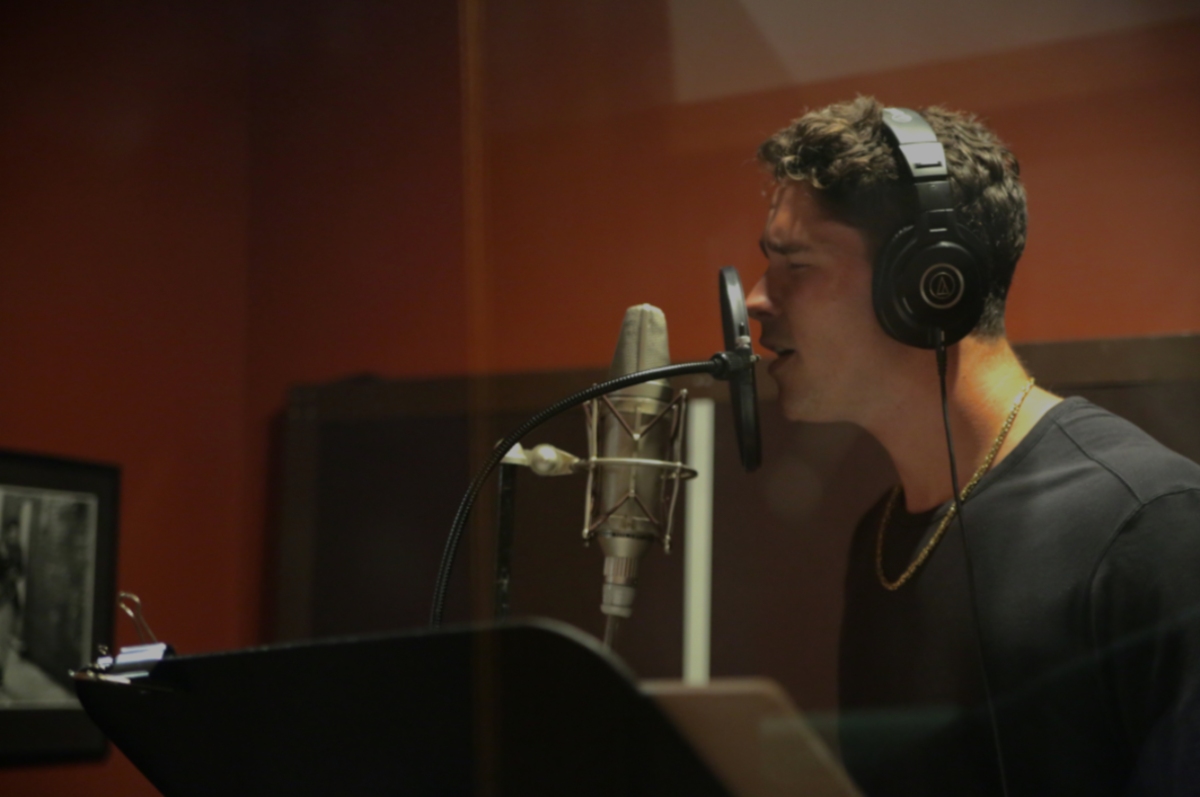 A Ranger's Return
Brault maintains his ties to Regis through his Ranger friends and teammates — and stealthy campus visits.
When the Pirates came to Denver in September 2019 for a series against the Colorado Rockies, Brault stopped by the Northwest Denver Campus. He didn't find Davenport, but left a note inviting him to call if he wanted free tickets to a game that weekend.
Davenport gladly accepted. At Coors Field he and his son sat with Brault's parents and watched his former student hit his first major-league home run and earn a win as the Pirates' starting pitcher. "That was really fun — watching him warm up, he tossed us a ball," Davenport said. "That's just the kind of guy he is. He doesn't forget, he remembers and he's very humble."
When the shadow of the COVID-19 pandemic lifts from over the sports world, Brault will continue what he hopes is a long, successful baseball career. When his playing days do end, he plans to finish the vocal performance degree that was interrupted when he was drafted by the Orioles. He even considers coming back to Regis — and if that happens, Davenport hopes to be there to help his student-turned-star become a Regis graduate.
"With his voice, [performance] is something he could do for another 20 or 30 years after he's done playing," Davenport said. "... If he ever wants to come back and finish his degree, I will delay my retirement."
---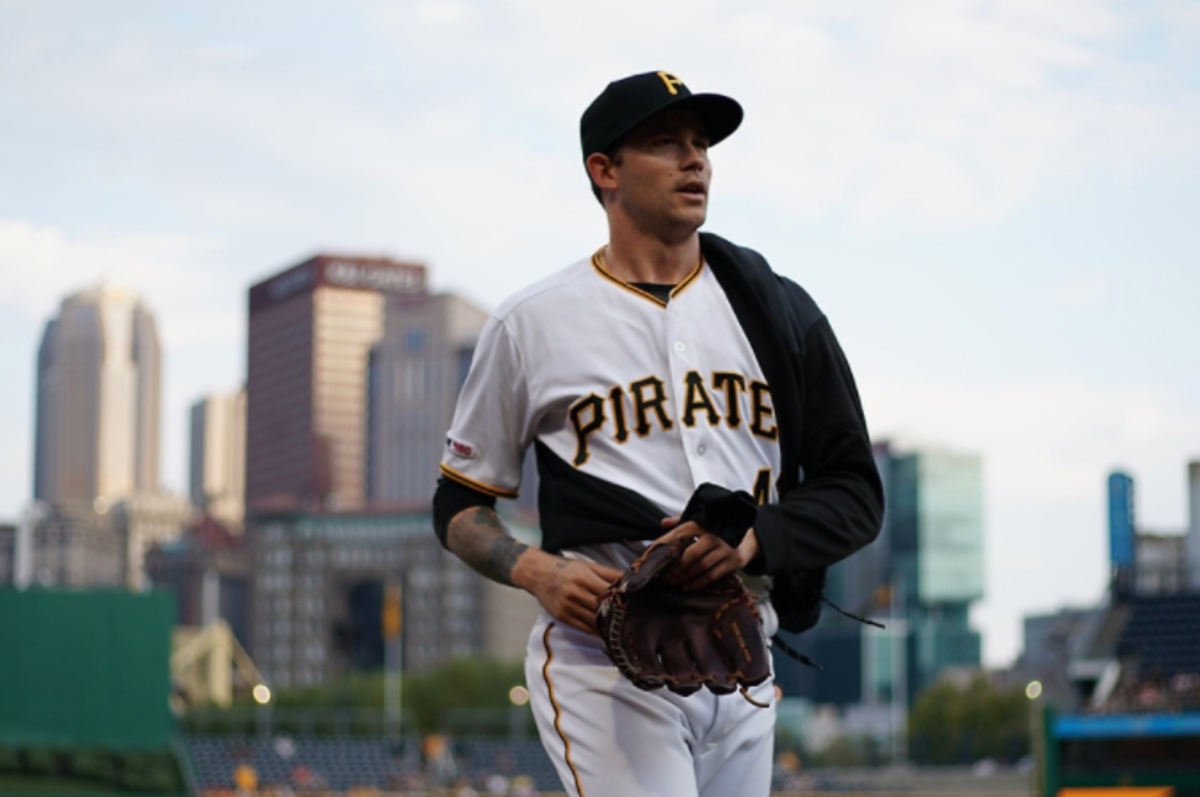 Fastballs with Steven Brault
Favorite Musical Artist: Chris Cornell
Favorite Broadway Musical: "The Phanton of the Opera"
Venue Where You'd Most Like to Sing: Wembley Stadium in London. I watch a lot of concerts on YouTube, and that seems to be the place where all the best bands get to play. It just seems freaking awesome.
Favorite Spot at Regis: First, the rooms in Main Hall where I did my music lessons. Second, the area by the statue of Jesus near Regis Chapel. I would hang out back there and do some homework, or just relax and listen to music.
Strangest Comment from a Fan: When people say I should quit my day job and go into singing full time, like it's going to be an insult to me. It's a huge compliment. I'm in the major leagues, and you're telling me I'm better at singing than I am at baseball.
Most Important Value: The Golden Rule. I think it's important to never feel entitled, no matter where you get in life.
Relationship with Former Regis Teammates: I'm still pretty close to a lot of those guys. I actually went to one of their fantasy football drafts last year and just hung out with them.
Favorite Thing about Denver: The breweries.
Favorite Thing about Pittsburgh: PNC Park, home of the Pirates. Totally unbiased, I think it has the best view in all of baseball.
Favorite Opposing Ballpark: Petco Park, home of the San Diego Padres. I'm a little biased on that one, because I'm from San Diego.
---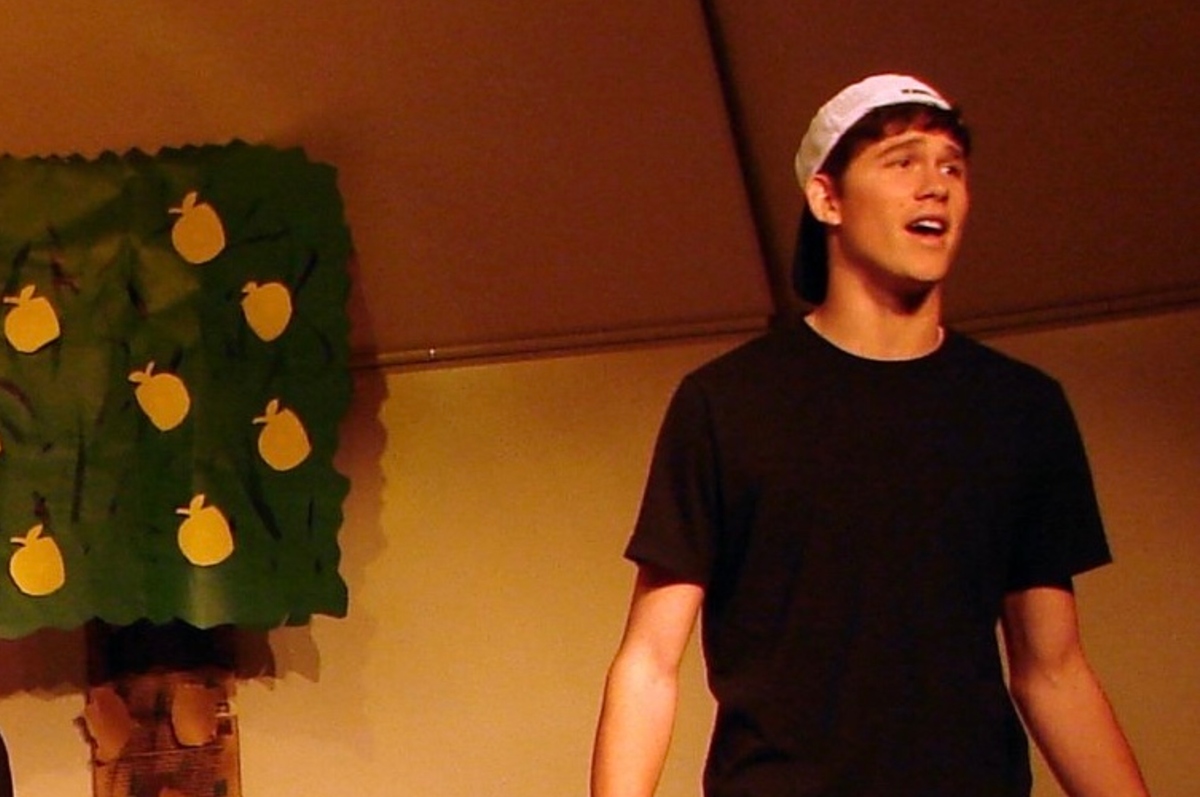 Watch for Squids
Those who know Steven Brault tend to describe the 28-year-old in similar terms: fun, big-hearted, humble. One word never used is "ordinary."
"He was incredibly goofy," Dan McDermott, then head baseball coach, remembers of Brault's playing career at Regis. "It's what made him good. So many kids, they get so tight. 'People are watching me, I just struck out, it's life and death.' He was always loose."
McDermott wasn't the only coach to notice Brault's quirky side. In the minor leagues, a pitching coach began calling him "Squid," a term Brault hadn't heard before. "He explained it," Brault said, "[by saying] that's what they called the annoying kids when he was growing up."
"He was incredibly goofy," McDermott remembers of Brault's playing career at Regis. "It's what made him good."
Rather than ght it, Brault embraced the term so fully it became the basis for his Twitter handle, @SquidBrault: "I've just adopted that as my own, because I'm a little strange, a little different, but I like it."
In high school, out-of-the-ordinary meant starting a garage band called the Street Gypsies with his buddies. The band's folk-rock tunes once lled the San Diego House of Blues and are still available on SoundCloud.
Brault is also a big fan of tattoos, including the black-and-white, hexagon patterns on his right arm and colored scales on his left (pitching) arm. The deep meaning behind the patterns? "Nothing," Brault says. "I just really liked the design."
His vocal professor, Barbara Wollan, will always remember Brault's wacky antics during her voice classes, when her students would dress up in costumes to rehearse opera and musical theater scenes. "Steven was just as goofy as everybody else," Wollan said. "He was willing to do whatever."
---
Header photo courtesy Joseph Guzy/Pittsburgh Pirates