Regis student Keiry Sosa participates in meeting with Pope Francis
Sara Knuth
February 24, 2022
Regis freshman Keiry Sosa took part in an event today normally reserved for global leaders and dignitaries: a meeting with the pope.
Sosa, who is studying politics at Regis, was one of 16 college students from North, Central and South America and the Caribbean selected for a historic virtual meeting with Pope Francis. Organized as part of Loyola University Chicago's Building Bridges synodal encounter, the conversation was a chance for students to share their views on migration, the climate crisis and other current social concerns. The encounter addresses a larger process organized by Church leaders, which intends to create a long-term path toward synodality, or the mission of the Church as expressed in ordinary living and working.
The visit marked the first time Pope Francis participated in a virtual conversation with students from the Americas and the Caribbean, Loyola University Chicago reported in a news release. Loyola began organizing the event as a way to address the pope's synodal process and connect young people to discuss vital issues. Their efforts eventually prompted them to extend a meeting invitation to the pope, according to the university.
Sosa, a graduate of DSST: Green Valley Ranch High School in Denver, is a native of Durango, Mexico. After participating in three Zoom meetings, students from regions within the Americas voted to select representatives, including Sosa, to speak with Pope Francis on their behalf. Ahead of the talk, Sosa said she planned to share her perspectives on immigration and the plight of refugees.
During the discussion, Sosa and a group of her peers discussed with Pope Francis the need for cultures, especially in the U.S., to accept and build bridges with migrants. Sosa said the group's intention was to "let those who identify with us know that we can hear them, speak for them, not to minimize them but to build them up, to broaden the narrative."
She said the group of students proposed creating a podcast together to share the voices of migrants "facing the decision to migrate, displacement and assimilation," she said. "This will explore work done by everyone, including the latest research, making sure to highlight stories of all. This brings us toward unity of mind and heart. We aren't separate groups of people. We're all human and deserve to be heard with no judgment."
She asked Pope Francis: "Will you walk with us as we express the power of the spirit and help those who lost their strength trying to hold onto a lost dream?"
Pope Francis acknowledged the importance of removing stigma from perceptions of migrants. He said the Church asks that university students commit themselves to this cause.
For Regis, the meeting is a significant milestone and reminder of another historic papal meeting. In 1993, Regis welcomed former Pope St. John Paul II and President Bill Clinton to campus for a gathering on World Youth Day.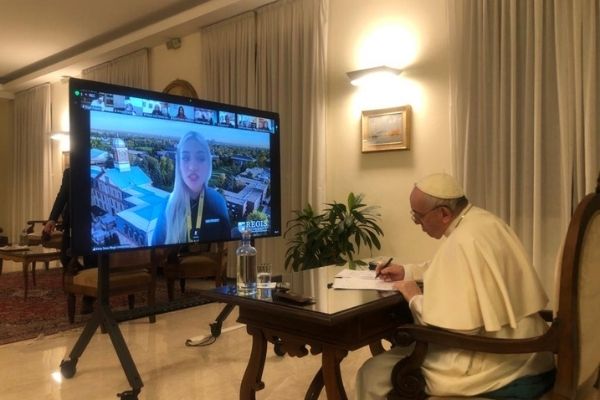 Pope Francis takes notes as Regis freshman Keiry Sosa speaks.