Ignatian retreat offers a time of respite for faculty and staff
Sheryl Tirol
July 12, 2022
Ignatian spirituality emphasizes finding God in daily life. But once in a while it is important to get away to spend quiet time with God — an evening, a day, a weekend, a week. – Office of Ignatian Spirituality
Rooted in the belief that God can be found in all things, "Ignatian spirituality" is a way of discerning the movement of God's spirit in the human heart, in history, and in the world. It is rooted in the belief that God can be found in all things.
Indeed, one can dig deeper when given the space and time. Regis offers faculty and staff a rare opportunity to be able to take the time off and hit a reset button to be able to do just that through a camping retreat in Rocky Mountain National Park open to all faculty and staff.
The most recent trip in mid-June, titled "In All Things, An Ignatian Adventure Retreat" for faculty and staff was led by Dan Justin, Ph.D., assistant director of the Institute on the Common Good in the Mission Office. The two-and-a-half-day camping retreat which began at the end of the day on a Wednesday and wrapped up midday on a Friday allowed staff and faculty to have moments of reflection but also fellowship with one another.
"We're grateful to be able to provide this opportunity for faculty and staff to take time to not only build community with another but to have a respite from the day-to-day. Being able to follow Ignatius in quiet reflection in the mountains can be incredibly peaceful and, for many, much needed," Justin said.
"We're so used to running around from place to place and trying to get a number of projects done, we forget that often times being able to slow down and have some quiet time can help with your overall well-being."
The retreat also incorporated some of Ignatius of Loyola's pillars of Ignatian spirituality, including contemplation and the Examen, where one reflects on the current day, focusing on memories from the events of the day as a way of recognizing God's presence. While many participants are not religious, Ignatius offers many people a spirituality that helps to find connection and meaning in all of our lives.
The camping adventure was held in Rocky Mountain National Park which allowed participants a peaceful and beautiful backdrop for a few days. The first night of the retreat included opportunities to reflect and find some quiet spaces to think. The next two days included a variety of hikes and outdoor activities. Participants also had a chance to get to know other Regis faculty and staff and to learn more about different people and the roles they have at the University. 
"The Regis Adventure Retreat allowed me to connect my love for nature and establish new relationships with my colleagues at Regis University. I was able to gain appreciation for many perspectives on Ignatian principles and incorporating them into the great outdoors. I would highly recommend this retreat to new and old Regis University faculty and staff!" said Leah Behrmann, Assistant Professor, School of Pharmacy.
For those concerned with having little to no experience camping, the Mission Office partners with Outdoor Adventure Program to provide equipment as well as transportation to the camp site and all meals are provided. Onsite, many people with more experience were on hand to help set up tents and provide additional support. All one has to do is show up and be willing to enjoy the experience.
"As affiliate faculty, I don't have much connection with the Regis community," said Steven Wille, affiliate faculty in the Anderson College of Business and Computing.  "The retreat gave me opportunity to meet faculty and staff from outside of my discipline.  It also helped me learn more about the values and traditions of Regis. In addition to that, I had a chance enjoy time with interesting people in a beautiful setting in Rocky Mountain National Park."
While some people could easily take the opportunity to carve out time for this, others had to re-arrange schedules with families and colleagues to make it work. Ultimately those who were not sure they could make it came to the retreat and realized very quickly how much they needed this time to rest from all of the responsibilities they carried.
"As a Regis staff member, I am very grateful that we are gifted three days of mission leave as part of our employee benefits. Whether it is attending a retreat in the workday, volunteering at Arrupe Jesuit's summer work study training, or participating in the Ignatian Adventure Retreat, I have enjoyed getting to know other staff members while living out our Jesuit mission.  I am motivated to work harder at my job because I know Regis is allowing me to focus on my faith, care for my mental health, and serve the community that I love," said Justin Zuiker, senior director of major gifts in University Advancement.
Suzanne Holm, an associate professor in the School of Physical Therapy, went on the retreat previously and is a first-year Ignatian Faculty Fellow and soon will begin the Ignatian Colleagues Program. She knows there are many benefits to attending and grateful Regis provides this to faculty and staff.
She said, "There are many ways to build community and foster a sense of togetherness and commitment to our mission at Regis. For me, participating in the Adventure Retreat is one way to connect with and learn about other members of the Regis community. It is a space where we are invited to be fully present and reflect, so that perhaps we can each find a new way forward. It helps to be surrounded by the beauty and peace of the mountains and get out of our comfort zones through camping, meditative hiking, and exploring. I really appreciate this gift of time and experience that Regis offers to us."
Faculty and staff are encouraged to use their mission leave for the trip. A maximum of three days of mission leave time is given to faculty and staff each year. Once a new year rolls around you lose any time not used previously. For those looking to find ways to use their mission leave, this is the perfect opportunity.
As the person in charge of organizing the retreat, Justin knows this is a rare opportunity and he hopes many more will consider attending in the future. "We're incredibly fortunate to be able to offer these retreats and want to encourage more faculty and staff to take advantage of it. You don't need to plan or do anything – just show up and be present and willing to take the time for yourself."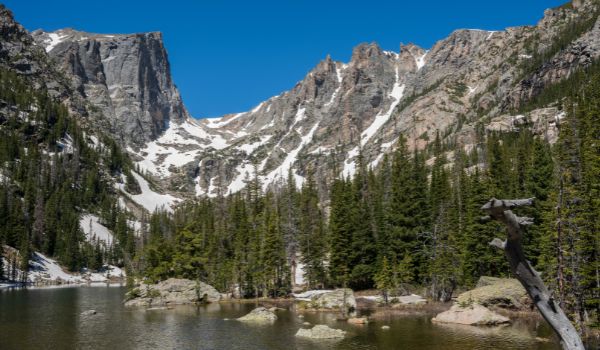 Participants enjoyed views of Rocky Mountain National Park. (Photos by Steven Wille)