Cop Turned Professor Makes Crime a Classroom Favorite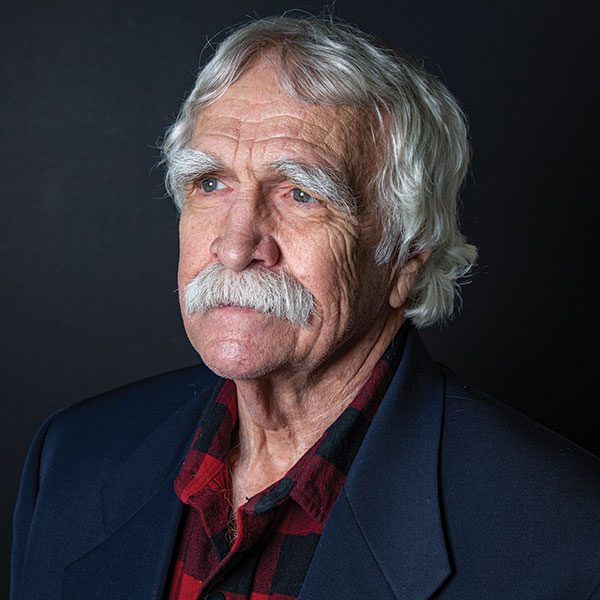 After 20 years in a Regis classroom, Associate Prof. Don Lindley still packs them in. His criminology guest speaker series draws standing-room-only crowds. His class on sexual homicide is so popular he holds it in an amphitheater.
And no wonder. He regales students — as many as 120 per class — with true-crime stories of his undercover years on the Denver Police Department's vice squad. And, because he knows practically everyone in Denver law enforcement, he brings in notable guest speakers.
"I bring in the police chiefs, I bring in [former Denver District Attorney Mitch] Morrissey. I bring in victims, because they are the least to be addressed. I bring in people who care for victims after the fact. But they don't stay around long. They're not funded like they should be," he said.
There is one element of the sexual violence equation he excludes. "I don't bring in perpetrators. I don't like the idea of that, and I don't know what they're capable of."
Lindley can't explain the surging popularity of true-crime podcasts, TV shows and college courses. But he has a theory. "I think if they didn't show…bad people being arrested, they wouldn't be so popular," he said. "I think people like seeing the winning."
Much has changed in the two decades since Lindley joined Regis and began creating criminal justice courses.
Among students, he's seeing a shift toward more interest in federal law enforcement careers rather than local departments. That's just one more challenge those departments face, he said.
"It's a tough time now for local law enforcement, but it'll pass. When I started in '72, it was the end of the '60s – the Vietnam War, drug culture, riots and protests." Police were widely unpopular, but that, too, passed.
Lindley grew up in Steamboat Springs at a time when it was more a town than a ski resort. His parents divorced when he was 12, "and I pretty much had to fend for myself after that, and school wasn't a priority." That is the explanation offered by a man who's spent four decades teaching for why he flunked out of high school.
He joined the Navy, and somehow, while trolling the Saigon River at the height of the Vietnam War, earned his high school equivalency.
After the Navy, he came home, got a degree at what is now Western Colorado University in Gunnison, Colo., and taught special education at Steamboat Springs High School, alongside some of the teachers who flunked him. "There were some dumbfounded faces," among his fellow faculty.
Soon, he embarked on his second career: police work. In Denver, he eventually found himself working nights, under cover, buying drugs and arresting pimps and prostitutes on east Colfax Avenue and around the Capitol.
Even as police killings of unarmed suspects prompts outrage and calls for reform, Lindley is unapologetic in his defense of police training, and unabashed in his criticism of those he calls "idiot" politicians.
"'Defund the police' — that's a stupid thing to say. Now we're on this roller coaster where we're condemning law enforcement and now they are backtracking and not doing the job because they get slammed. When citizens lose respect for officers that is a danger," he said.
But asked if departments are getting better at weeding out potential rogue, violent cops, his answer is a quick "No." In fact, he believes standards have been lowered, in effort to attract more recruits.
In his experience, policing was tough, it was ugly, it was often violent and sometimes brutal. But it was also, in a way, thrilling.
Putting his own spin on Winston Churchill's line, Lindley said, "there's nothing as exciting as being shot at without result."
Now, though, he's had enough of that. Organizing the 21st annual CSI: Regis Conference, Lindley said, he grew weary. Audiences, though, aren't. The April event drew hundreds to the Northwest Denver Campus, to hear from the man who prosecuted suspected New Mexico serial killer and convicted serial rapist David Parker Ray. Despite the series' popularity Lindley insists he's ready for retirement.
His future excitement will come from restoring cars from a time when they were as distinctive and colorful as Lindley himself: a `55 red and white Chevy Bel Air hard top, a yellow '64 Mustang convertible and a 1950 Ford.
Prowling the streets in a classic Mustang may be a thrill, but it doesn't get the heart racing quite as much as skulking around Denver's seedy underbelly, making undercover drug buys, or recounting those adventures to enthralled undergraduates. But Lindley said he's OK with letting all that go.
"I'm close to 80 years old. I've been teaching college for 40 years. I've enjoyed it. But you get tired."