Regis Prepared Colorado's First Latina Congresswoman for Success
Yadira Caraveo has amassed an impressive record of firsts in her 42 years: One of the first in her family to go to college. The first Latina chosen by Colorado voters to serve in Congress. And the first person to represent the state's new 8th Congressional District.
All those milestones took hard work and persistence.
Caraveo's parents, immigrants from Mexico, raised four children on a construction worker's pay, and made sure all their offspring went to college. An underdog throughout her Congressional race in the fall of 2022, Caraveo narrowly won, with just 48 percent of the vote. Once in Washington, D.C., a protracted battle over who would be Speaker of the House kept her from being sworn in on schedule.
Now that she has settled into her new job, Caraveo plans to put her experience as a first-generation U.S. resident — and as a pediatrician — to work for her district. Colorado's new 8th Congressional District stretches from Greeley in the north to suburbs just north of Denver on the southern edge.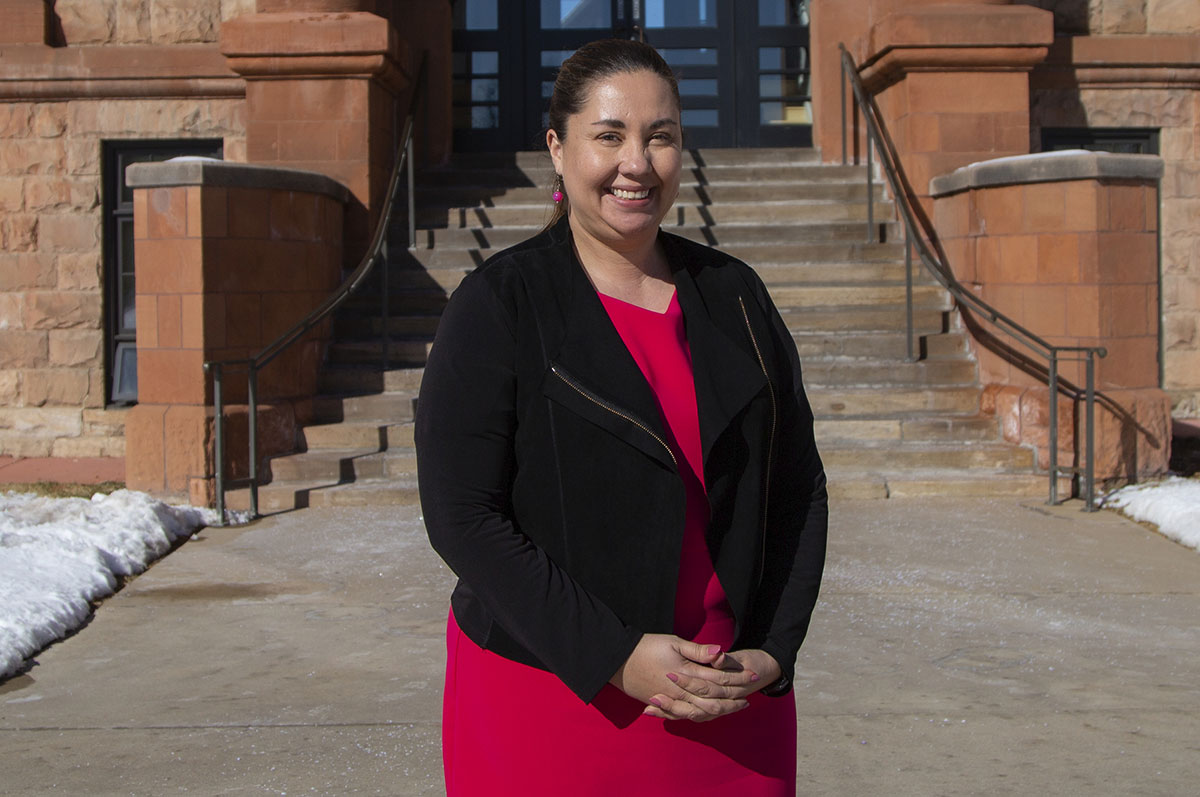 As an undergraduate at Regis 20 years ago, politics weren't exactly at the top of her mind. Then, Caraveo's goal was to get into medical school; she thought she would spend her entire career treating patients.
"When I came to school here, the motivation was to get the best education possible to prepare me for medical school and help me get into medical school," Caraveo said during a February visit to Regis. "I have known since I was a little kid that I wanted to go to college and that I wanted to go into medical school."
Even as a student, though, Caraveo had a habit of getting involved in political and social causes.
She helped organize fellow medical residents to advocate for better working conditions. And President Barack Obama named her a Champion of Change for her work with the Union of Concerned Scientists enlisting doctors across the country in the fight against climate change. After graduating from Regis in 2003, she was admitted to the University of Colorado School of Medicine and earned her medical degree there in 2009.
Little did she know that becoming a pediatrician would further her interest in politics.
As her career evolved, Caraveo began to see problems with the health care system that she couldn't solve on her own. As a pediatrician, she navigated the complicated role of treating children whose parents worked multiple jobs, and of serving patients who struggled with homelessness.
"I was finding every single day that it was difficult to provide services to my patients," Caraveo said. "It was a very quick realization that I couldn't fix a lot of things as a doctor."
A desire to fix those larger issues propelled her toward her second career: politics. In 2018 she was elected to represent the 31st district — which lies north of Denver and encompasses much of Thornton in Adams County — in the Colorado House of Representatives. She easily won re-election in 2020.
As a state lawmaker, Caraveo co-sponsored legislation to remove financial and other barriers that often prevent physicians from treating patients with complex conditions, including people experiencing homelessness, who normally have little access to care.
She also co-sponsored a bill to regulate procedures for emergency medical personnel who administer ketamine outside a hospital. The safeguards were created following the death of Elijah McClain, a 23-year-old Black man who went into cardiac arrest after an encounter with Aurora, Colo. police led to paramedics injecting him with the sedative.
Both bills are now law in Colorado.
Caraveo's medical training has helped guide her political career, including in her recent committee assignments in Congress. There, she serves on the House Science, Space and Technology Committee and the Agriculture Committee.
"I'm on the Agriculture Committee, and I'm on three subcommittees on that, including the nutrition subcommittee. As a pediatrician, that's very important to me because I saw, every day, food insecurity," she said. As a pediatrician in Adams County, Colorado, two-thirds of her patients were on Medicaid. A similar percentage relied on the Women, Infants and Children program and the Supplemental Nutrition Assistance Program. Both of those federal programs provide assistance to needy children and families.
"The Farm Bill is up for authorization this year, and a lot of that is going to have to do with how we continue services to make sure that children have access to healthy food," she said.
Caraveo, one of 53 Jesuit-educated members of Congress, appreciates the diverse backgrounds of her new colleagues, from lawyers and doctors to immigrants and a mechanic.
"The class that I'm coming up with is very different from some of the previous classes. We're younger," she said. The median age of new House members is six years younger than the previous Congress. "I think … really improving the states that we're from and, collectively, the United States through Congress, is what they're all focused on, and it's my focus, as well. So, it's really neat to see the enthusiasm that these people from all different walks of life have for serving in office."
Caraveo credits her Regis experience with getting her started.
"I've always been very, very proud to be a Regis graduate," she said. "I think it really made it possible for me to go on to medical school — and then everything that came from it because it was so close-knit and small."
The close-knit Regis community provided support for the next stage of her career, she said.
"I had lunch with my professors once a week and really knew them so that when they wrote a letter of recommendation, it wasn't just a standard letter, they really understood me and knew why I would be a merit to the medical profession," Caraveo said. "So, I owe a lot to the school and I'm very happy to be back and to hopefully be able to help the continuation of this mission now that I'm in Congress."