Regis offers refuge to asylum seekers after harrowing travels to U.S.
Sara Knuth
January 17, 2023
The mother, father and their 10-year-old son left South America in September on foot. They knew the path before them would be treacherous — but they felt they had no choice. Either face famine and political oppression at home in Venezuela or take a dangerous trip to the United States for the chance at a better life.
Over the course of four months, Alexander David Caridad Nuñez, Meilyn Pulgar Rivero, and their son Angelo Cambin crossed through jungles, rode freight trains in freezing temperatures and stayed alert for potential kidnappings before arriving at the U.S. border.
Soon, they purchased bus tickets to Denver, and for a week during the first week of January, the family stayed at a quickly established temporary shelter at Regis University that offered families a place to stay as they figured out their next steps. All the families have since left Regis for new destinations in Denver, the United States, and Canada, seeking out family members and friends.
Their stay at the shelter, dubbed the Regis Welcome Center, was a result of the campus community coming together over a holiday weekend to set up cots and begin accepting donations to assist each family. Within hours, a room at Regis was filled with donations of clothing and food — and dozens of volunteers.
Ludy Yevara, director of Project Management and Administration in Regis' Marketing and Communications department, was instrumental in assisting families on campus. On the first day, Yevara, who is from Venezuela, welcomed families to campus by saying, in Spanish, they were welcome and safe.
"I wanted them to feel the same way I feel here at Regis, my home," Yevara said. "It is open to everybody. So, I just wanted the first impression that they got when they got here was someone who can speak in Spanish."
Yevara also saw them off as they loaded onto buses to new destinations, giving each family a hug. But Yevara's involvement isn't over yet. She has stayed in touch with families via WhatsApp, learning about their successes and setbacks.
"It's been kind of a natural thing that everybody wants to help (as) contemplatives in action," Yevara said. "We've come together to help, not only in this moment, but we're also looking at what's next."
For Regis freshman Metzy Morales Jurado, volunteering at the shelter meant jumping into action to help a sick child. On her first day, Morales Jurado, a neuroscience major, took a family and their one-year-old child to Children's Hospital Colorado. The little boy had been battling pneumonia since he and his family arrived in Mexico. Doctors prescribed him antibiotics and the family returned to the Regis shelter.
As she looks toward her future, Morales Jurado, who plans to become a pediatric neurologist, said her experience at the center was motivating.
"Seeing the care he was given just reinforced my idea more of wanting to go into pediatrics and helping future children," she said.
As Morales Jurado reflected on her experience, she was struck by the families' resilience. Morales Jurado, whose parents came to the United States from Mexico, saw an opportunity to help them begin new lives.
"I myself am the daughter of immigrant parents, so I am well aware of my parents' struggles in getting here," she said. "To me, it was kind of like, if I can help these people just have a little easier transition, that honestly would be amazing."
Regis junior Eric Novelo, a neuroscience and philosophy double major, interviewed families who stayed at the welcome center. His goal is to share the stories of families who stayed at Regis.
"People are currently migrating through multiple countries because of economic instability, and that that is not something that we should be, one, ignorant about, but also it's something that we could so easily be experiencing as well," he said.
For many of the families, the Regis center offered the first opportunity to rest in months.
Through a translator, the Nuñez-Pulgar family said they had been traveling for four months. Originally from Venezuela, the family had been living in Chile, but decided that they needed to leave as they faced few opportunities there. The family didn't feel they could return home, so they sat their son down to tell him about their plan, and made the decision to leave South America for the United States.
Along the way, the family encountered harrowing conditions. At one point, they spent 10 days crossing through jungles, a period that often felt much longer. Along their journey, people offered assistance, from church groups in Mexico to generous people in Costa Rica who provided money to help with their travels. They also experienced grave danger, including their ride on a freight train in Mexico that nearly killed them because of the freezing temperatures.
Rivero said traveling with their son was difficult, but described him as mature, resilient and brave. Before they left, the parents told Angelo that they were embarking on a long camping trip. Rivero said she couldn't have made it without the support of her husband. They thought long and hard about putting their son through the journey — but everything they did was for his future, they said.
Once the family arrived in the United States, they stayed four days in El Paso, Texas, earning money to pay for the bus ride to Denver. The Nuñez-Pulgar family is now working on making a new life in Denver, seeking jobs, a warm home and good education for their son. Their original objective was simply to get to the U.S. After they made it to Denver, they found that the kindness of the community was enough to make them want to stay.
Regis University thanks the volunteers and local businesses who lent their time, skills and donations to the temporary shelter.
You can still lend support. Learn more about how you can help asylum seekers in Denver.
(Photo by Skip Stewart)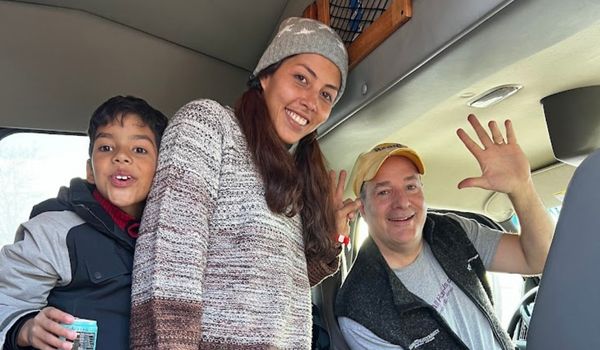 Angelo Cambin, Meilyn Pulgar Rivero, and Director of Student Engagement and Leadership Dave Law smile for a photo as families depart Regis. (Photo courtesy of Ludy Yevara)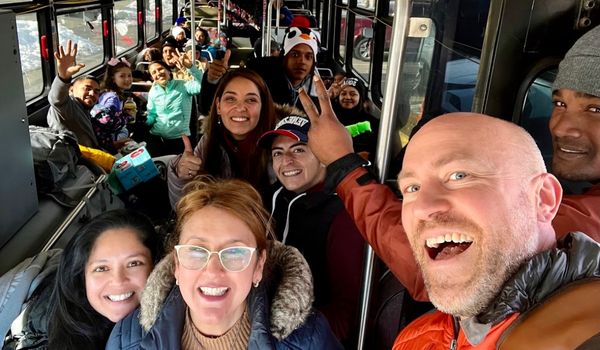 Volunteers and guests smile for a photo as asylum seekers prepare to depart from the Regis Welcome Center. (Photo courtesy of Ludy Yevara)
Ludy Yevara translates for the Nuñez-Pulgar family, Angelo, Alexander, and Meilyn, during an interview. (Photo by Sheryl Tirol)