With a $100,000 challenge, Regis Trustees Andy Anderson and Derek Scarth invite others to help shape the future of Regis
Regis University thrives on the generosity of forward-thinking individuals dedicated to advancing its mission. Two such individuals — Regis University alumni and trustees Derek Scarth and Andy Anderson — exemplify the many ways that our Regis community cares for and ensures a vibrant future for this University and all who will experience the transformational power of education here at Regis. They recently took a bold step forward with a $100,000 challenge to Regis supporters: They will match the first ten gifts of $10,000 to The President's Innovation Fund.

I am deeply grateful that Derek and Andy have made such a meaningful commitment to The President's Innovation Fund, which empowers Regis to tackle opportunities and challenges with agility and flexibility, and to drive positive change within the University and the Denver community. It is my privilege to take the lead by making the first $10,000 gift towards the challenge that Derek and Andy have put forward.

This challenge marks a new vision for The President's Circle, an exclusive donor society for Regis supporters. Members of The President's Circle commit to making annual gifts of $10,000 or more to The President's Innovation Fund. They also enjoy benefits including a welcome gift and invitations to special events throughout the year, including the President's Breakfast.

Derek, who serves as the Chair of the Regis Board of Directors, told me that his gift was inspired by a deep connection to Regis, a place where he found a mentor in Father Charles Shelton, whom he calls his "guardian angel," and where he met his greatest love, his wife, Lisa. I am honored that Derek also attributes his support to his faith in my vision for where Regis can and must go in the coming years.

"Dr. Aceves exemplifies everything I hold dear about the personal characteristics required for this job," he said to the crowd gathered in St. John Regis Chapel for my Inauguration last month. "Because of his amazing blend of competence and lived Jesuit values, Dr. Aceves has demonstrated himself to embody the core persona of even the best Jesuits. Since his appointment as President, he has reinvigorated this place with his aptitude and grace. We want to work as hard for Dr. Aceves as he is and will be working for us. This is how Regis will achieve aspirations and continue to set those standards higher and higher for years to come."

Andy's profound attachment to Regis – and to the Jesuit values that have influenced every aspect of his life – has driven a series of transformational gifts to the University. In 2018, he committed $10 million to establish the Anderson College of Business and Computing, one of Regis University's three colleges. Rooted in critical thinking and values-based experiential learning, the college aligns with the Jesuit mission by enhancing the world's economic, environmental, and social well-being through an innovative and tech-forward approach to business education.

"I can't tell you how many times looking at the world through the Jesuit eye has brought me good outcomes," he recently told me. "It's all about doing the right thing and doing for others. That focus has always proved me well. Even in business, there have been times, in a negotiation, when the Jesuit principles have reminded me that it's not all about money; it's about doing the right thing. In my life, in raising my kids, it's been about learning from mistakes and being able to apply a good heart and a good mind as a fundamental principle of life."

I hope the contributions Derek, Andy and I have made to The President's Innovation Fund inspire others to follow suit. I invite you to join me in The President's Circle, which will play a powerful role in creating a thriving, innovative future for Regis.
– Salvador Aceves, President
The President's Circle
To learn more about The President's Circle and giving opportunities at Regis, please visit https://campaign.regis.edu/ or contact Justin Zuiker, Assistant Vice President of Development, jzuiker@regis.edu. Look for information on a new donor society for those who give $1,000 or more annually, coming soon.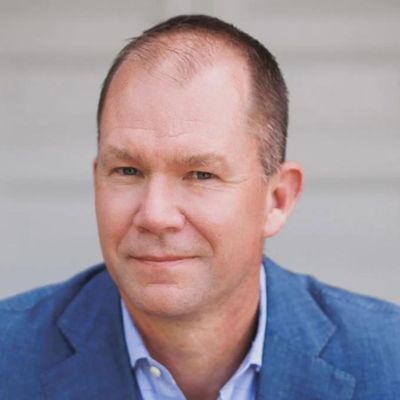 Derek Scarth
Andy Anderson