Is a Master's degree worth it?
Jennifer Forker
April 30, 2020
Congratulations. You have your bachelor's degree in hand. Are you wondering, "What comes next?"  
For many, including graduates who've been working in their chosen careers for years, deciding whether to pursue a master's degree is a big undertaking.  
And frankly, it ought to be. It's a big step to take, preferably after some forethought and planning.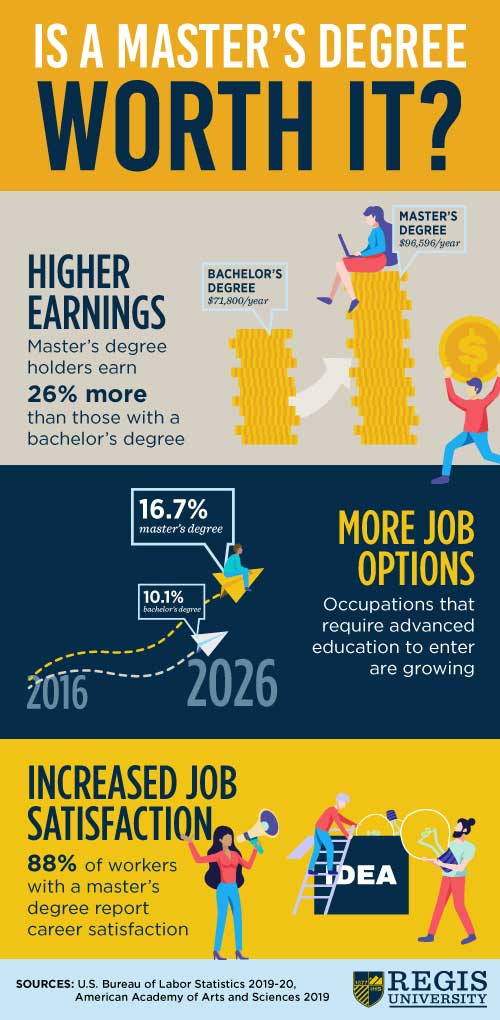 The Center for Career and Professional Development at Regis University counsels students, staff, faculty and alumni about this very issue. In fact, it's a frequent career topic, according to Sarah Smith, LPC, the Center's director. 
"I love this topic. I really think it's important that people consider why they want to pursue a master's degree," Smith says.   
Smith shared some of her top issues to consider before making the master's degree leap:  
• How will this degree benefit your personal life and career? What are your career values?  
Do you seek a higher salary?  
Do you need work-life balance?  
Do you desire a leadership role? 
Do you want to be able to make decisions? 
Do you need a master's degree to advance in your career?   
• Are you in an industry that requires it? 
• Do you work at a company that could help you pay for your degree? 
• What is your time frame, i.e., will you be able to pursue a master's degree full time or part time?  


"Graduates need to think about their life as a whole."

 
She graciously shared some of the tricks of the career counseling trade: 
Learn the skill requirements, projected salaries and related statistics of more than 900 occupations at  O*Net Online. The site includes a "My Next Move" section for students and job seekers to drill deeper into each industry and career path.  

A second helpful tool is provided by Smith and her team via Regis' website: Every year the Center for Career and Professional Development asks recent Regis alumni to fill out a jobs-related survey; the results are shared here. Toggle around the "Graduate Outcomes" site to learn salary averages, employment rates and even unique data around "How effective was Regis University in guiding your post-graduate decision?" 
"What's your ultimate goal?" asks Smith. "What do you want out of your degree and how do you want to use it?" 
If you can answer these questions, Smith says you're on the right track.  
Ultimately, graduates may want to view a master's degree as an investment rather than a cost.  
You are investing in yourself. Your future. Your potential.  
Interested in learning more about specific master's degree programs? Visit our Graduate and Doctoral Programs page and contact an Admissions counselor at 303-458-4900 or ruadmissions@regis.edu.