Ken Phillips Weaves a Tempest in Tapestry
Inside his hidden studio, Regis' Ken Phillips uses fabric and inspiration to weave Prospero's magic
Photos by Barry "Bear" Gutierrez
Ken Phillips' studio sits unmarked in a strip mall in North Denver. From the outside, it blends in with the neighboring restaurant and laundromat. Passersby would hardly know it's there.
But step inside the nondescript door, and it's like walking into Phillips' creative mind, through the wardrobe and into Narnia. Tapestries inspired by Shakespeare's The Tempest hang from ceiling to floor, depicting the play's main character, Prospero the magician. Graphic prints inspired by Phillips' drawings of scenes from the play sit near frames. Crates of cloth and spools of thread are stacked along the perimeter of the space, and works in progress sit on large tables.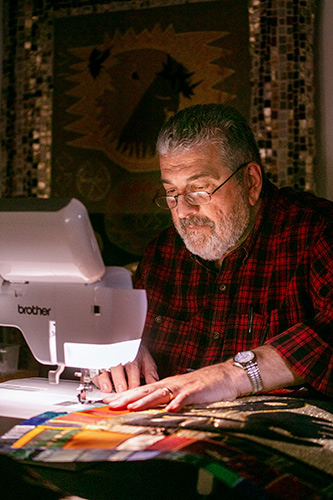 Most days, Phillips sits in front of his sewing machine, his face lit by the machine's lightbulb and the hum of the needlework providing tempo for Russian composer Alexander Scriabin's album "Poem of Ecstasy" that plays in the background. As he works, Phillips usually sips herbal tea and burns incense, letting himself become inspired by the parts of the earth and air that aid Prospero in his magic.
Phillips' artistic talents are well known on the Regis campus. But now, he wants to get his work out into the world, beyond his studio. In April, Phillips displayed his print graphic works in a show titled "Transformations" at Regis' Dayton Memorial Library. For his tapestries, Phillips hopes for an exhibition in a space that could "successfully show fabric, graphic and cut metal works together. The culmination would create a special, magical space, indeed."
Phillips started working at Regis's University Ministry office in 1986, and stayed for more than 34 years before he retired in 2020. He still volunteers with University Ministry, working in the office a few times a week.
His work hasn't always been hidden away: He often created religious tapestries that were displayed in Regis' St. John Francis Regis Chapel. His artist's eye made him an asset for helping select campus artworks.
Now, the works he is creating in his studio parallel his own life.
"It's a meta-story for Shakespeare saying goodbye to the theaters because it [The Tempest] is his last known play," Phillips said. "Part of the reason it attracted me was that hopelessness of saying goodbye to your friends and I really thought I was coming to a period of my life where I was going to say goodbye to all of this. Part of it was that it interfaced with my retirement from Regis."


The Makings of an Artist
As a teenager in the 1970s, Phillips was immersed in a Catholic Church environment that was opening its doors to more involvement from lay members. In Catholic schools, students were making banners for liturgies although at the time, the banners weren't too sophisticated.
"I thought banners were the coolest. And I was gluing felt burlap like everyone else," Phillips said. "But my sense of design took me beyond that. I started getting into sewn banners and that was a part of my artistic life up to and including graduate school."
After completing a bachelor's degree in art, with an education license and a minor in creative writing at Siena Heights College in Adrian, Mich., he earned a Master of Fine Arts in printmaking and ceramics from Bowling Green State University in Ohio. He later earned a Master of Arts in Adult Christian Community Development from Regis.
For Phillips, it felt natural to connect art with the life of the Church.
"The reality is, all of the arts, but in particular textile art, have played a role in the liturgical life of the Church, certainly before the Middle Ages, and especially in the Middle Ages," Phillips said. "Tapestries were part of Church environments and smaller banners were part of ongoing liturgical celebrations in the life of the liturgy and masses."
Phillips made it part of his career to take inspiration from this tradition.
"I was very fortunate at Regis that most of the parts of my creative life could be tapped into and become part of the life of the university," he said.


Bringing a World of Art to Regis
Phillips was hired to be part of a University Ministry team of three, but the department grew to include dozens of work-study students. That allowed him, eventually, to take on more roles, and by the end of his career, he had worked as a campus minister, directed Chapel music, worked as an instructor in the art department and served as minister for ecumenical programs.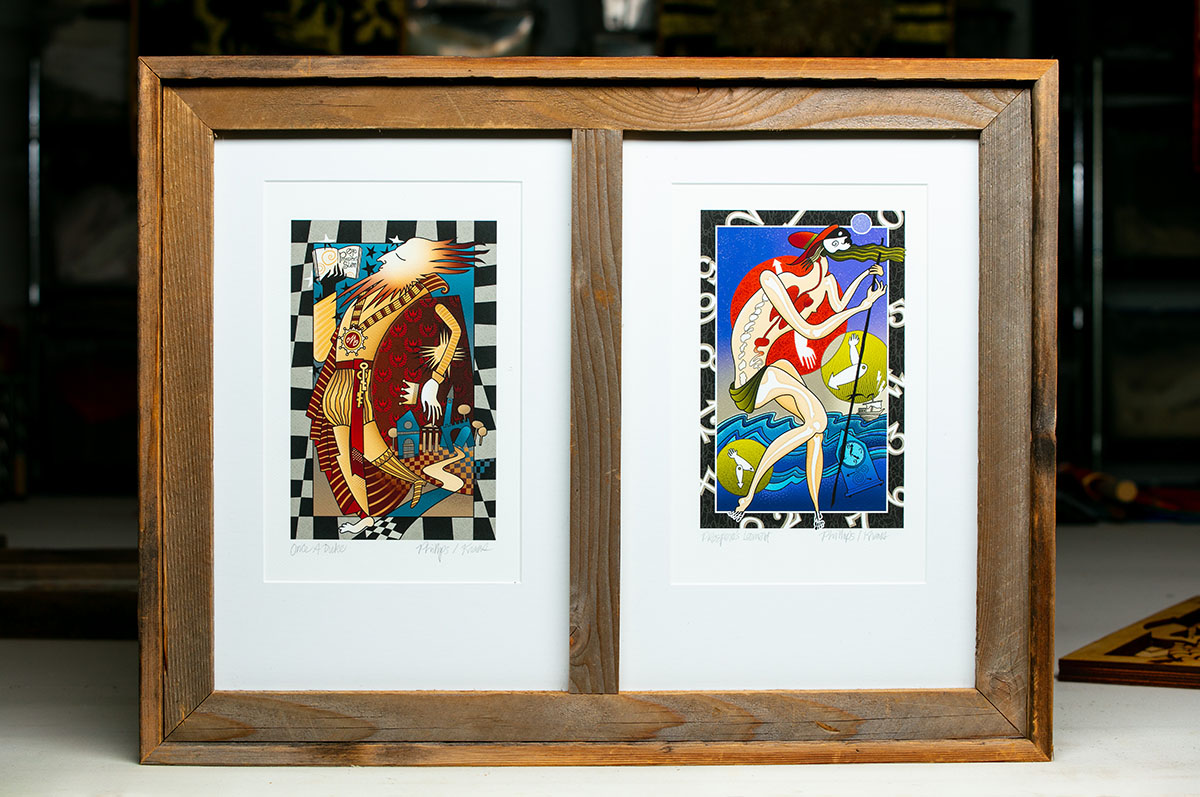 Halfway through his time at Regis, he became responsible for selecting art on campus as it related to mission. After a donation from the John and Florence Fortune Foundation in 2000, there was funding to bring art into University classrooms, particularly in Carroll, Loyola and St. Peter Claver, S.J., halls. The goal of the grant was to represent the University's Jesuit mission through art in classrooms, meeting rooms and public spaces on campus.
In 1998, students at another Jesuit institution, Georgetown University, proposed that crucifixes should be placed in every classroom. The idea spread to Catholic universities throughout the United States. At Regis, this started a discussion about which types of art should represent not only the Christian story, but also Regis' mission as a Jesuit institution.
"It was at that time that we were working toward trying to get art images that told more parts of the Christian story," Phillips said. "We sought to get images from Judaism and some of the Eastern religions."
Phillips also was responsible for acquiring campus bronze statues, working as the liaison between artists and the University. Phillips had a role in bringing to Regis some of the most recognizable pieces on campus, including the St. John Francis Regis sculpture just inside the Regis chapel doors and the Van Ek-Fedde Crucifix, which depicts Jesus as an African man. "I could talk artist's talk," he said. "I was able to articulate what the mission needs were, as well as what the artistic needs were."
Working at Regis, Phillips was immersed in religious inspiration. But the media he centered his earlier arts education on, ceramics and printmaking, didn't necessarily lend themselves to the resources available to him on the Regis campus. Both forms require specific equipment — and time.
"We didn't really have the equipment," Phillips said. "And I didn't really have extended amounts of time with my ministry job." But his love of tapestries fit well with his work. At Regis, Phillips found studio space in the University gallery, and later, the basement of O'Connell Hall.
"And so, I could work on the banner, and then go do ministry work," Phillips said. "Because it was fabric, I didn't lose parts of the production. So that was really the start of the [current Tempest] work."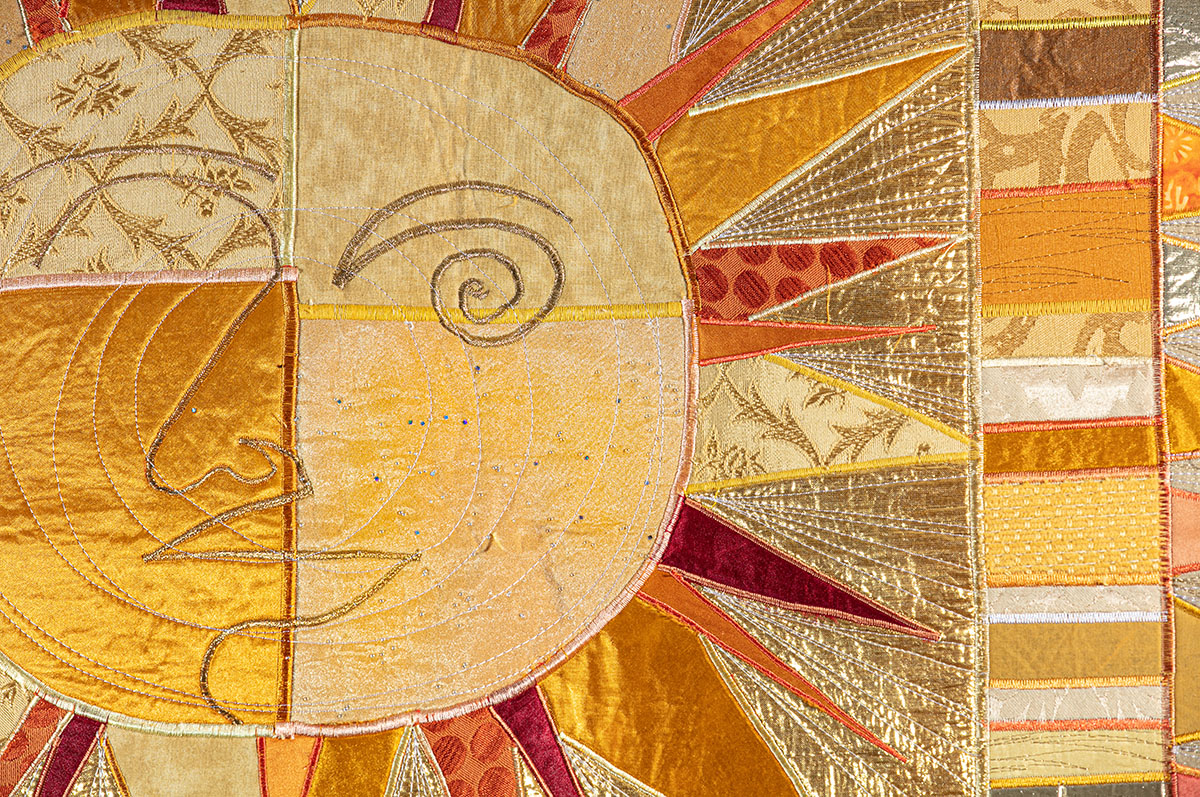 Phillips' friend of 40 years, Regis affiliate faculty member Eileen O'Brien, has been a key part of applying the finishing touches to the pieces. An experienced sewer, O'Brien applied the backing of the tapestries, teaching him sewing principles that allowed the pieces to hang straight.
"He's my very best friend in the world. And so, I wanted to be able to help him," O'Brien said. "His creative mind moves so quickly. He wants to move on to the next piece, and so, I could finish up the pieces."
O'Brien and Phillips met in Ohio when they both taught at Catholic schools. Before O'Brien accepted a teaching position at Regis and moved to Colorado, she visited Phillips to see his tapestry work for the first time.
"I was just kind of blown away," she said.
Their work together has continued ever since.
In all of his years at Regis — and even after he retired — Phillips contributed banners to University liturgies. He also wrote poetry and liturgical writing, publishing two books.
"I like the concept of movable and temporary art for [a] specific event or season," Phillips said. "As projects come up with the school, I'd still like to be involved and hopefully can still contribute to ministry."
For the past four years, he's taken inspiration from Shakespeare.


Swept Away by Shakespeare
When Phillips works in his studio, it's easy for him to become absorbed in the world of The Tempest.
"I kind of get carried away, like with the pieces that are now 10-by-10," he said. "I never intended for them to quite get that big, but they just kept growing on the table."
This is typical for most of his work. Phillips generally starts with a sketch in mind, he said, "but a lot of it's happening just spontaneously on the table." This work has been in progress for the past four years with O'Brien's help.
His current collection includes four 10-by-10 tapestries of Prospero, eight smaller pieces and a few banners. The large tapestries represent Prospero, who in the play, wears a cloak to aid in his magic. Phillips imagined that his magic could be translated into the four seasons, each with its own alchemical references, magical creatures and spirit entities. In the summer tapestry, for instance, he uses gold as a metal alchemical reference and the sun and jungle cats as spirit entity inspiration. His smaller works in the collection depict spirits or characters from the play.
The collection of tapestries has been a significant part of Phillips' life since he retired. His dream is to be able, one day, to show all of the pieces at once.
Unlike Shakespeare, he doesn't see The Tempest as his goodbye. "I don't know that I'm really ready to stop artwork entirely," he said. "I don't want to say goodbye to it altogether."