Is a certificate in data science right for you? 
Douglas I. Hart, Ph.D.
September 16, 2020
Discover a new career in big data – your way.
Would you like to change the direction of your career? Have you noticed on web sites like Glassdoor and Business Insider that the data science jobs are always listed among the top careers? 
Maybe you've automated your home with sensors, new light switches, thermostats and more, so that you can monitor and control your home with your phone?  
Perhaps you wonder how facial recognition or self-driving cars work, or how technology might help improve the human condition. Could machine learning and artificial intelligence help develop better healthcare? Could they be used to understand longstanding environmental and societal concerns?
This is the world of data science.
It is vast and far reaching, touching upon every aspect of our modern-day lives. 
Data science is a combination of statistics, computer science and computer systems that are used to produce analysis for successful decision making. In other words: decisions backed by data. 
Data analysis can be used to refute widely held beliefs. It can predict the future of business operations. It can help a business develop better-informed strategies.
Intrigued and wondering where to begin? Education is the start of your journey into data science. But where should you begin?
You could start by taking online classes. This is a low-cost entry point. However, this path requires a great deal of self-discipline. And at the end of the path, all you can claim on your resume is that you took some online classes. As time flies by, the value of these classes diminishes. 
Alternatively, you can sign up for a bootcamp experience. Bootcamps provide a more structured environment for learning. They also may provide an immediate boost for your resume. However, bootcamps can be more intense than a full-time job and the up-hill battle isn't done when the classes end. Many bootcamp students spend almost 90 hours a week on classwork.   
A data science education from an academic institution provides the educational structure to support learning and yields a credential that lasts a lifetime. If you are ready to take that step, then Regis University can help you. In our on-campus and online Master of Science in Data Science degree program, students balance fundamentals and theory with industry-relevant applications and projects that help solve real-world problems. Students also explore two primary components of data science: data engineering and data analytics, with an emphasis on ethics in data and how it can be used for the good of society. 
However, if a bootcamp or full master's degree is too much of a time-commitment, then start with an academic certificate. Dip your toe into the waters; see how that feels.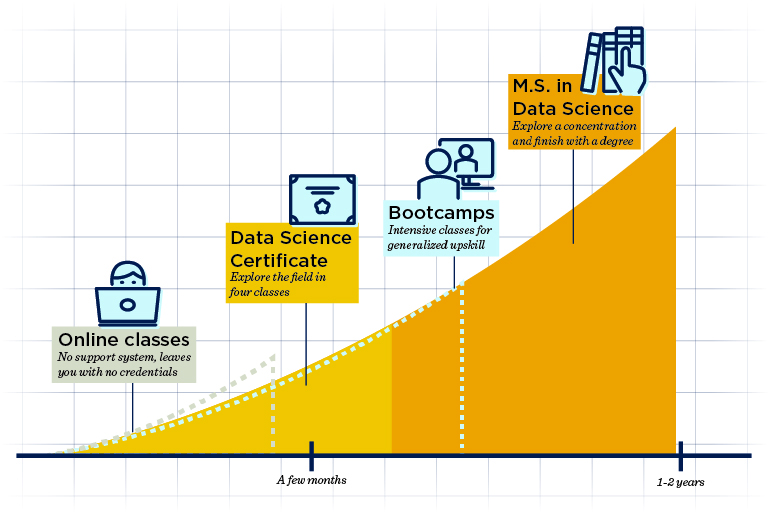 Not all education is equal. Certificate programs offer more support compared to random online classes - with the option to stack the certificate into a master's degree.
More skills than a bootcamp, with half the stress and pressure
A graduate academic certificate in data science is a four-course commitment. It will provide you with foundational knowledge and experience in data science. Should you choose to end your education upon completion of the certificate, you have both the academic certificate and the education to bring data science knowledge and experience into your career.  
You can take it further and use the certificate as a steppingstone toward the Master of Science in Data Science. The classes you complete for the certificate will equally apply toward completion of the master's degree. Completing the master's will allow you to further explore data engineering, machine learning and artificial intelligence or business intelligence, and then direct your career into the exciting field of data science. 
The demand for data scientists isn't showing any sign of slowing down. From insurance companies to retail brands and in many other industries, employers recognize the importance of having a staff of data scientists who can analyze and interpret with precision and ethics. You're on the right track – now it's time to choose the education that works for you. 
Continue your research with some fast facts about data science careers.